O4 Hubs detail
O4 1 Column (Full)
O4 1 Column (Full)
O4 Text Component
Article
Gene therapy: Big potential, big prices
New strategies needed as revolutionary but costly therapies emerge.
Published: March 2023
O4 1 Column (Full)
O4 Text Component
A fundamental shift in how we treat genetic diseases occurred in December 2017 when the first gene therapy was approved for use in the U.S. by the Food and Drug administration (FDA).
Known as Luxturna (voretigene neparvovec-rzyl), the drug is used to treat patients with a rare, inherited form of vision loss that may result in blindness.1
Gene therapies herald a new way of treating genetic diseases, offering hope to people with these conditions. Another consideration for gene therapies, however, is cost. The high price tag on these therapies requires rethinking how treatment costs are managed. Below, we'll explore what makes gene therapies different, why plan sponsors should care, and what you can do to prepare as more gene therapies reach the market.
What are gene therapies?
As the name implies, gene therapies work by modifying genetic code. However, it's important to distinguish between in-vivo and ex vivo approaches to gene therapy. With ex vivo therapies, cells are removed from a person, genetically modified in a lab, and reinserted back into the patient.2  This approach is responsible for CAR T-cell therapies now commonly used to treat certain cancers. 
Alternatively, in-vivo gene therapies are designed to work inside the body. For example, to administer Luxturna, the therapy is injected directly into the eye of the patient.3 In-vivo gene therapies can either replace a faulty gene responsible for an illness with a healthy one, add a gene to help the body to fight off a disease, or turn off a malfunctioning gene.4
For the remainder of this article, we'll focus on in-vivo gene therapies. One important aspect of gene therapies is that they aim to permanently cure or provide long-term symptom alleviation for disease. This "one and done" potential represents compelling new treatment options for those with diseases caused by malfunctioning genes.
Why should you care?
For plan sponsors, the primary consideration about gene therapies is cost.
For example, Luxturna costs $425,000 per eye or $850,000 per patient. On Nov. 22, 2022, the FDA approved a gene therapy for hemophilia B, Hemgenix, which has a list price of $3.5 million.5
Thus, it only takes one claim for a gene therapy to have profound financial implications for a plan sponsor. For smaller or mid-sized groups, a million-dollar claim for a gene therapy may meet or exceed their expected annual pharmacy drug spend for a given year.
As gene therapies become more prominent, the likelihood of plan sponsors encountering such a claim will only increase. For example, during 2023 we anticipate seven gene therapies being in the market. For a group covering 10,000 lives, this would equate to ~4.5% chance of 1 or more claims in that year.6
How you can prepare
Gene therapies are not just another new drug class. They come with new logistical and procedural complexities for providers, patients and caregivers. Considering their cost, they also come with unprecedented financial risks for plan sponsors.
Given this, new thinking is required. Optum is working to integrate the marketplace of gene therapies, from pharmaceutical manufacturers to the payer. We are also focusing on creating a seamless patient experience for those receiving these therapies.
O4 1 Column (Full)
O4 Text Component
To help plan sponsors manage the risk exposure to gene therapies, we created  Optum Gene Therapy Risk Protection. This risk management approach reduces the volatility presented by catastrophic claims for gene therapies by spreading out the cost into a manageable, predictable per member per month (PMPM) fee for plan sponsors.
In addition, partnering with Optum Rx gives plan sponsors access to client-specific risk modeling. This analysis will help predict their unique gene therapy risk exposure.
Optum Rx also has proven expertise in negotiating outcomes-based contracts with manufacturers. This approach ensures the price paid for a gene therapy aligns with value delivered. This is especially important for gene therapies. As significant questions remain about their durability over time, long-term monitoring of patients is essential. Optum Rx will monitor patients for as long as 15 years to ensure the gene therapy they received is continuing to function as planned.
Talk to your Optum Rx representative to learn more about Optum Gene Therapy Risk Protection and other ways we are helping plan sponsors prepare for gene therapies.
O4 Complex Card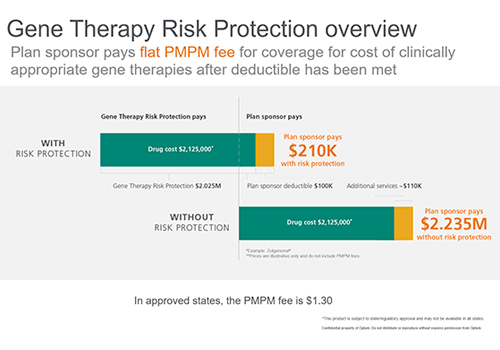 Controlling the unprecedented costs of gene therapies
See how you can leverage cost benefits from gene therapy.
O4 Complex Card
A better path to managing specialty
Learn the actions you can take to better manage spend and trend.
O4 Complex Card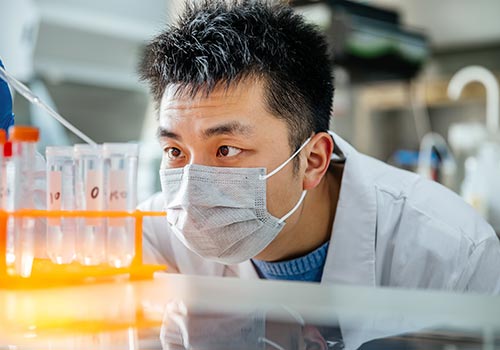 The big picture on cancer
How high cost oncology drugs are changing specialty pharmacy.
O4 1 Column (Full)
O4 Text Component
STATEMENT REGARDING FINANCIAL INFLUENCE:
This article is directed solely to its intended audience about important developments affecting the pharmacy benefits business. It is not intended to promote the use of any drug mentioned in the article and neither the author nor Optum Rx has accepted any form of compensation for the preparation or distribution of this article.