O4 Hubs detail
O4 1 Column (Full)
O4 Text Component
Consumer withdrawal, staffing challenges, coverage shifts, M&A activity, new market entrants and disruptions are all threatening profitable growth. These dynamics have forced significant adjustment by clinicians and administrators alike. But they have not altered the compass points of The Quadruple Aim — those still apply.
What has changed is the need for real-time, holistic and in-depth insights into consumer behavior, organizational performance and competitive threats. In today's environment, it's critical to spot risk and opportunity — and then respond quickly.
As we determine where to look for risk or growth indications, let's focus on three areas with respect to the changing dynamics of consumer relationships:
How well you engage and understand your consumer

How well you facilitate a complete care experience

The lifetime value of your consumers

The metrics of consumer engagement
Consumer engagement is paramount to growth. As people face their own economic and safety concerns, they are exploring the virtual and direct-to-consumer options now available in the market. As COVID-19 has proved, consumers will flock to simple, cost-effective, convenient care.
Here are several ways to track, measure and grow consumer relationships:
Net promoter score (NPS): This is an important, foundational method. Consider automating the collection of these scores often — throughout the customer experience via text or email. This approach can show the specific areas where you are at risk. It also pinpoints areas of the customer journey that are doing well and that you could scale or replicate across your system.
Customer effort score (CES): Another key to consumer sentiment, this metric looks at convenience (or inconvenience). It illustrates how hard a consumer has to work to engage with you. It can tell you where you need to adjust to make it easier for consumers to do business. It can also be an indicator for how competitive you are in the market.

The metrics of a complete care experience
Consumers, payers, employers and clinicians are all focused on optimizing cost-effective health services that deliver quality outcomes. But as the care experience spreads into retail, ambulatory and in-home environments, these performance metrics are harder to track and improve.
Providers can use traditional and digital channels, performance dashboards, predictive analytics and data sharing to confirm that their services are competitive, efficient and contributing to a high-performing health continuum.
Monitoring and managing quality: Data analytics tools can measure quality at the physician, team, facility and/or program level. Performance dashboards bring transparency and act as change management support. Physicians can see how their performance compares to their peers and to market benchmarks. Clinical leaders can measure how competitive performance is within their market and focus on improvements needed to drive growth. However, understanding measures in silos does not result in the clear understand of where improvement may be required. It's critical to understand key performance indicators in both the acute (for example, average length of stay) and ambulatory (for example, time to third next available appointment, no-show rate) environments, as performance is inextricably linked.
Tracking staff productivity and sentiment: Serving more lives with existing resources is a strong growth indicator. Increasing consumer engagement in the low-cost channels consumers prefer — such as telehealth, remote monitoring and other digital channels — can increase physician capacity. At the same time, it's important to establish and track standard performance expectations across domains to improve efficiency and set consistent expectations for both clinicians and patients. Finally, monitoring staff satisfaction levels is another valuable dimension for productivity and growth.

Lifetime value
If you understand the population that you are best suited to serve, you can calculate the lifetime value (LTV) of each. The formula may change depending on areas of specialty, the services you offer and your reimbursement structures. But basically, annual revenue × years of service = LTV.
It's also worth exploring what population you aspire to serve. Different metrics measure different aspects of engagement and experience. Ultimately, you want to pull it all together and define what value means to your organization.
The metrics associated with achieving the lifetime value of your population are all related to relevancy.
Do you understand their journey well enough to be relevant over the long term?

Are you the most convenient, affordable option they have?

Can you engage them at the right time and place with the right information and services that align with their expectations and desires?

If you are tracking and reacting to your consumer metrics and those associated with the complete care experience, the answer to these three questions should be "yes." And as you move forward, this level of tracking will help you spot new shifts in consumer behavior, react to competitive activity and build your organization's ability to continually adapt.
O4 Complex Card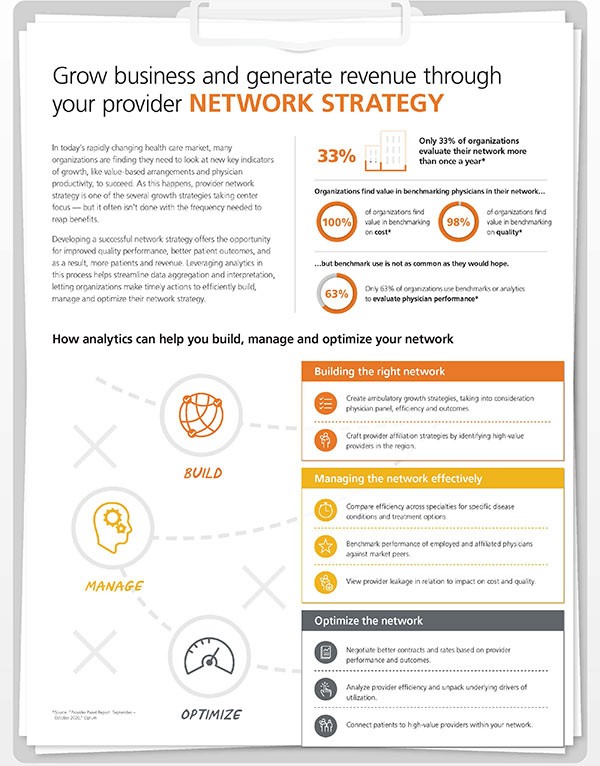 Developing a successful network strategy
Grow business and generate revenue with network planning.
O4 Complex Card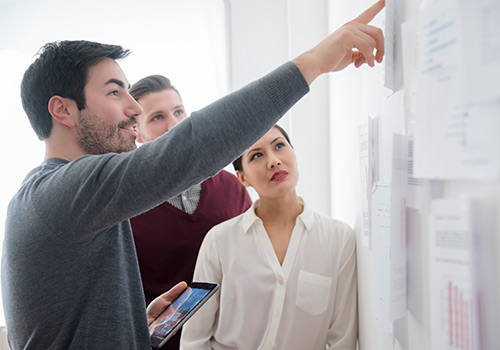 Develop your growth strategy
Our research has uncovered four main reasons today's planning executives struggle to find the right data to make the best decisions.
O4 Complex Card
Health care network planning & optimization success
Learn how leaders can use data and analytics to make informed decisions on their network and drive actionable conversations with providers.
Learn how Optum can support your growth priorities