Text
Empowering transformation
Your challenges — our capabilities. We support you with expertise and innovative, data-driven solutions that span the health ecosystem, creating a healthier world for all.
Video Component
A Healthier World Is Driven by Data & Insights
Steve:
Let's talk about data, let's talk about analytics and let's talk about people. All of these are essential to creating a modern high-performing healthcare system that serves every person equally. And we can make the most impact when those three things are brought together in innovative ways, across the entire spectrum of clinical, financial, operational, and administrative functions.
Steve:
Now, the integration of data and of analytics and of people, now, this is how you simplify the processes, how you deliver actionable insights, and how you improve outcomes so that the health system can work better for everyone. And when were used responsibly, a broad array of data and advanced analytics, including artificial intelligence and machine learning methods brings multiple benefits. It makes it possible to identify and care for people in a holistic way. It also allows us to augment the expertise and decision making of care professionals by supporting them as they guide patients along the entire care journey. And it has been potential to support a multidimensional strategy to empower people to manage their healthcare more effectively, more personally, and more simply.
Steve:
So, what do I mean by multidimensional? Well, what I mean is really a strategy that factors in individual pieces of information and concepts like patients conditions, their comorbidities, their utilization patterns, how they access care, the doctors that they go to, whether they're on certain types of medications, whether they have social determinants of health, what their individual engagement preferences are, whether they have gaps in care that help us understand their unmet needs, and what the future predictive opportunities are for that person, all compiled in one place to characterize a person's holistic health needs.
Steve:
And when these are deployed thoughtfully and transparently, this broad set of data and analytics can help identify the right care, at the right time, and in the best way to engage a person so that they will stay engaged in the care delivery process.
Steve:
So now let's talk with Dr. Gary Choy, the Deputy Chief Medical Officer for Clinical Systems at UnitedHealth Group about how all of this works. Dr. Choy is an expert in the field of clinically-focused technology and how providers manage and use data to make care decisions. Hey, Gary.
Dr. Gary Choy:
Hi, Steve.
Steve:
So Gary, can you talk a bit about how data and analytics and insight augment or support the care delivery process?
Dr. Gary Choy:
I sure can. Here's the simple answer. When combined with clinical insights, technology and data, this helps clinicians focus on what matters most. It's about quickly homing in on the most relevant information as you take care of the patient, as you start to look at populations as well. Having the right clinical data and tech in front of you, you're able to really take care of as many people as possible. This might be closing gaps in care for individuals or populations at large. Clinical expertise, data and technology, when put together thoughtfully, this is how you make the biggest impact and improvements in health outcomes.
Steve:
And when done right, it's ultimately what makes the process more efficient and focused on value?
Dr. Gary Choy:
That's right. Technology and analytics really drive automation as well as efficiencies. This allows care to be delivered and scaled effectively across the healthcare system. So let me give you an example. Good clinical decision support tools at the point of care really work. We know that. They ensure by giving the most relevant information that is delivered directly to the care team so that they can really deliver the right care consistently, as well as effectively to patients.
Dr. Gary Choy:
With the many technology tools available, point of care tools in particular, imagine the right data being brought to you at the right time without having to switch windows or to click unnecessarily, this allows you to get the most relevant clinical references, workflow resources right in front of you as you really are in the clinical room. And you are able to take advantage of CDS, Clinical Decision Support tools that are well integrated to keep you focused on the patient. With fewer clicks, fearer distractions, you're able to do the essential clinical work. There's less contact switching so that the patient is number one. And therefore you're doing your best clinical work.
Dr. Gary Choy:
Technology also reduces administrative burden. That's important because the velocity of care can be maintained. As you automate processes, these tools allow you to connect systems, ensure eligibility and benefit coverage, for example, in the clinical setting. When they all work together, the friction can be reduced. At the same time, driving workflow efficiencies and empowering decision making allows you to elevate the clinical experience. Ultimately the consumer is the ultimate winner here.
Steve:
Yeah, that's so true. Thanks, Gary. So I guess as we've seen and heard, augmented decision making is really so critical to improving care delivery. It's also critical to elevating your operations, driving greater financial predict and streamlining administrative functions.
Steve:
Now, the real magic happens when you're not only extract insights from multiple disparate types of data, but when all of your solutions are working together across all areas of your business in an integrated and holistic way. Because when everything works together, that's when the health system begins to move beyond just using data and analytics to summarize the past, but instead to use it to illuminate the future. And by focusing on healthcare intelligence, we can do things like improve the speed and efficiency of claims processing or revenue cycle management, or summarizing hundreds of pages of clinical notes to identify people who might benefit from an additional intervention, or summarizing those same notes slightly differently to align the information or clinical documentation with evidence-based guidelines.
Steve:
So we're never replacing decisions. We're always augmenting individual expertise and perspective. We're helping clinicians work at the top of their license to help patients get the care that they need. So we're driving patient satisfaction, we're driving physician satisfaction, we're improving quality outcomes and overall total cost of care. And we're always doing that in a responsible away. Now, do those things ring a bell? Because they should. We just checked all of the boxes of the quadruple aim.
Text
A healthier world is driven by data and insights
When combined with clinical insights, technology and data enable clinicians to focus on what matters most: outcomes.
DPL-WT Lateral Card Item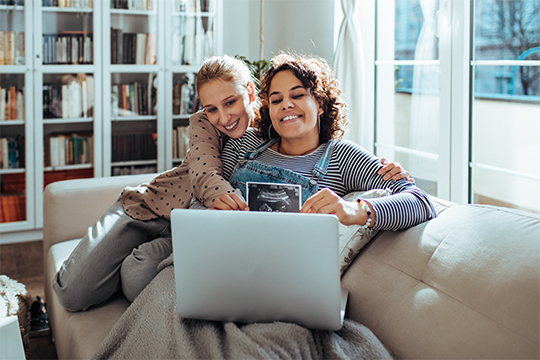 E-book
Opening digital doors to all people
Discover strategies for expanding access and health equity.
DPL-WT Lateral Card Item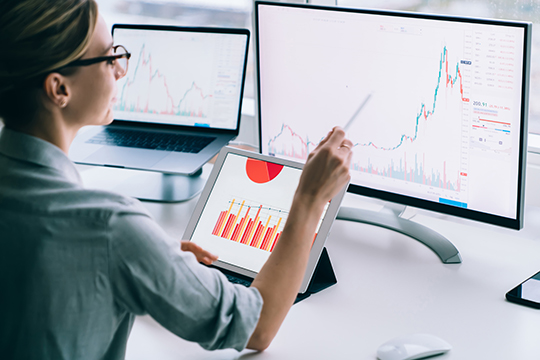 Article
The brave new world of digital transformation
We analyzed the breadth and depth of emerging disruptors to find opportunities for succeeding with digital.
DPL WT 50-50 Content Block
DPL-WT Lateral Card Item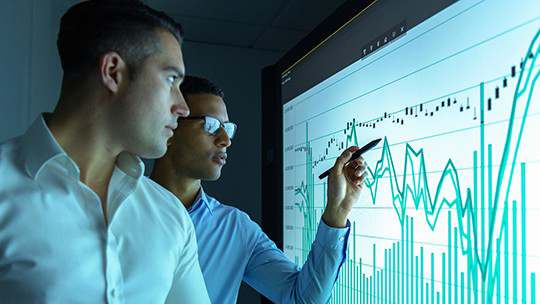 Webinar
How Advanced Data Science Can Predict Disease
Learn how combining advanced data science with risk adjustment can lead to early disease detection and prediction.
DPL-WT Lateral Card Item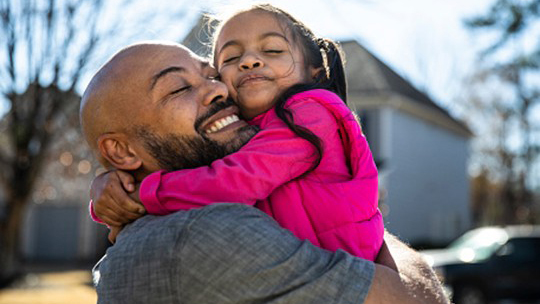 White paper
A holistic view of social determinants of health (SDOH)
A holistic model includes health literacy, health disparities, and personal and social determinants of health.
Video Component
Improving Health Care Through Technology & Scale
- Hi, I'm Braden Lang. I lead the dedicated consulting team that Optum has here partnering with John Muir Health. And I'm joined today by John Muir's CIO, Bill Hudson. Bill, thanks for joining us. Can you just give the audience a high-level introduction of yourself in your role?
- I'm Bill Hudson, I'm the CIO for John Muir Health. We're a community health organization in the East Bay, San Francisco.

- You had a long and successful career with a wide variety of different IT vendors in the EMR space, as well. What convinced you to take a role with a provider organization, and why JMH?

- John Muir is a community health organization in the middle of San Francisco. It's a very mission driven organization. It's a very neat organization that really tries to put the community first, in the middle of a giant metropolis. And it's really cool to become part of that. And I talked to Cal Knight, the CEO, and he talked about the strategy for how John Muir was going to be successful in a very competitive market. I looked at that and said, you know, I really want to be part that.

- I know that part of what drives your strategy is that JMH has some really ambitious goals around expanding access to care for underserved communities. Can you tell me a little bit about what your digital transformation strategy will do to allow you to reach those goals?

- This was really exemplified in how we made sure that when we rolled out the vaccinations for COVID that we used data and technology combined with our clinical staff to make sure that the entire community was being served. And what we saw was when we started our initial efforts utilizing digital and analog technologies, to reach out to our patients and community, we saw that those communities specifically were not getting vaccinated at the same rate, whether minorities are prevalent in those communities. But when we took a proactive step of using data analytics to target, to make sure that we were getting the message out to them about the vaccination, about the vaccination that was available to them, the vaccination was safe for them, and making sure they understood that, we saw those numbers increase dramatically.

- Can you tell us a little bit about how you see your digital transformation strategy involving virtual first care delivery models, when you'll get there, how you think they'll work?

- At John Muir, we want to make sure that our patients don't just have access to that digital care for that one digital care type of event, they have care for the entire continuum. I'm not going to start all over again with somebody new explaining everything new. I'm going to continue my same visit with a physician that I have a relationship with, that understands me, that has listened to me, that hears me, understands me. And I think that is a very powerful differentiator that I don't think any of these organizations that are focusing on digital only or digital first can match. And I think that's one of the powers of being a digitally integrated organization that is focusing on consumer experience and, you know, not forgetting the physical component of that. And I think that is a big differentiator for John Muir.

- You are a big believer in a sprint-based approach, having been a sort of key to John Muir Health's success. Can you tell us a little bit about why this approach through sprints, and what that means to you?

- You know, you break off things into these bite-size elements, work with cohorts of physicians that are tightly aligned, making sure you're solving for a very specific problem, don't get it overly complicated and move that forward in a good and safe way, and make sure that you communicate, educate along on the way. And so, one of the things that we've done just recently, which I think is pretty cool, we've implemented translator services for our digital visits. And so, if you don't speak English, and you speak one of 200 languages, we can bring an interpreter in to that call within 30 seconds.

- What recommendations would you have for other health systems, as they're thinking about engaging external partners for supporting their digital transformations?

- You know, when I talked to Cal Knight, and Cal talked about his vision about how we're going to leverage partnerships, it was really a partnership vision. It wasn't like, we're going to do these things, and the things we don't want to do, we're going to give it to somebody else. We're gonna focus on the things that we're really good at. And we're going to bring partners in for the things they're really good at. And those two organizations being really good at their own individual things, is gonna create some synergies where, you know, it's not one plus one is two, it's one plus one is something really interesting, which is we're providing care in a different way.

Text
Improving care through technology and scale
Bill Hudson, CIO of John Muir Health, provides insights on expanding care for a single continuous patient journey.
DPL WT 50-50 Content Block