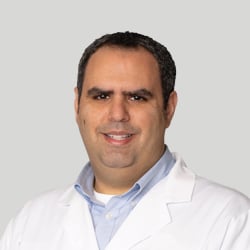 Marc Ghabbour, MD
Marc Ghabbour, MD
Please contact clinic directly to confirm appointment availability
Board certifications
American Board of Internal Medicine
,
Internal Medicine
Overview
Biography
Marc Ghabbour, MD, is board certified in internal medicine. Dr. Ghabbour earned his medical degree from Ross University of Medicine in Miramar, Florida. He completed his internship and residency at Florida Atlantic University in Boca Raton, Florida. An approachable and empathetic problem solver, Dr. Ghabbour provides each of his patients with the tools they need to make informed decisions about their health. His passion for helping people live their healthiest lives motivated him to pursue a career in medicine. Dr. Ghabbour strongly believes in treating every patient like a friend or family member. When he's not caring for his patients, Dr. Ghabbour enjoys boating, traveling, gardening, and spending time with family. In addition to English, Dr. Ghabbour also speaks Arabic and French.
Qualifications
Internship
Florida Atlantic University
2016
Residency
Florida Atlantic University
2018
More information
Languages
I speak
Arabic,
English and
French.