Horizontal Rule
features and benefits
Text
We can help you thrive in a value-based environment. Our dedicated, multi-disciplinary teams harness analytics technology and apply their expertise to find new opportunities to help you improve clinical and financial performance.
Video Component
Optum Analytics Managed Services Detailed Video Transcript
Introducing Optum Analytics Managed Services.
[Optum logo]
Another out-of-the-box innovation from Optum.
Reimbursement models in healthcare are shifting, and value-based care continues to grow.
It's never been more important to increase clinical and financial performance, while understanding and managing risk. Most health systems and plans invest in analytics technology to do that.
But extracting insights from mountains of data and using it in practice require applied methods and expertise.
Enter Optum Analytics Managed Services.
We partner with health plans and care delivery organizations to infuse analytics into everyday operations - linking strategic plans with clinical and operational transformation.
Analytically-driven insights equip clinicians and administrators to make informed decisions that better engage patients and coordinate care across the continuum.
They also allow leaders to monitor and improve quality and cost within their organization and across contracts - enabling more effective collaboration between health plans and providers.
What sets Optum apart from other technology and services companies is our broad and deep expertise in both health care and in data and analytics technology and services.
More important is our ability to translate this expertise into success for our clients, wherever they are in their journey.
Our long-term partnership model allows us to embed a team of multi-disciplinary experts, unparalleled data curation capabilities and analytics technology to become our clients' trusted partner.
The result?
Our partners see a return on their analytics investments, working side-by-side with a team of skilled experts to thrive in a value-driven environment and offer patients the best care possible.
Optum Analytics Managed Services: Another innovation from Optum - helping to make the health system work better for everyone.
[Optum logo]
Text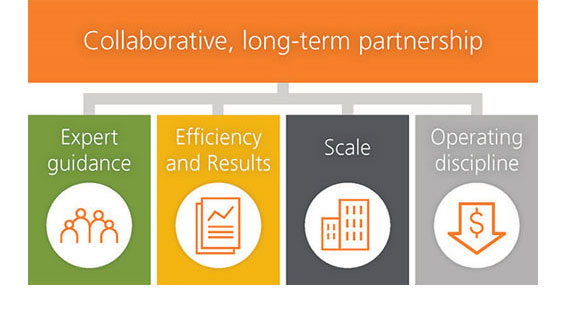 Text
Delivering outcomes as a managed service
Transform your operations and drive outcomes across the continuum of care, collaborating with over 1,000 analytics specialists and a global services organization.
Actuaries and health economists
Biostatisticians and epidemiologists
Physicians, nurses, pharmacists
Strategy and management consultants
Data scientists, analytics programmers and other IT professionals
Fact Sheet: Analytics Managed Services
[Configure Slider]
Resource Library
Text
PHM Company of the Year – North America
Text
We are honored to receive Frost & Sullivan's award for population health management. Learn more