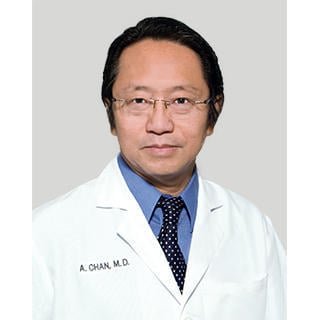 Alexander Thuya Chan, MD
Alexander Thuya Chan, MD
Please contact clinic directly to confirm appointment availability
Board certifications
American Board of Internal Medicine
,
Internal Medicine
Overview
Biography
Alexander T. Chan, MD, is board certified in internal medicine. Dr. Chan earned his medical degree at the Institute of Medicine in Rangoon, Burma. He completed his internship and residency in internal medicine at Booth Memorial Medical Center in Flushing, N.Y. Dr. Chan also completed a rotating residency at Bronx Municipal Hospital Center in Bronx, N.Y. and NYU Hospital for Joint Diseases in New York City. In addition to English, Dr. Chan speaks fluent Burmese and Fukienese.
Qualifications
Internship
Booth Memorial Medical Center
1990
Residency
Booth Memorial Medical Center
1992
More information
Languages
I speak
Burmese,
English and
Fukienese.