At Optum, we're dedicated to helping make the health system work better for everyone. As a health services and innovation company, we combine data and analytics with technology and expertise to power modern health care. In collaboration with our partners, we're driving real change for a healthier future. We see that future as one that delivers improved health outcomes, better health care experiences and reduced costs for all.
Four unique factors give us the distinct ability to modernize the system infrastructure, advance care and empower consumers:
People — We are a global team of 80,000 professionals with expertise matched only by the commitment and compassion that drives our work every day.
Technology — Our deep and powerful solutions are purpose-built to meet the rapidly changing demands of health care.
Data — The depth and quality of our data resources and analytics support smarter decisions and innovation across the system.
Action — We have the broad scale, flexibility and courage to take decisive action and deliver the solutions our clients and consumers need, where and when they need them.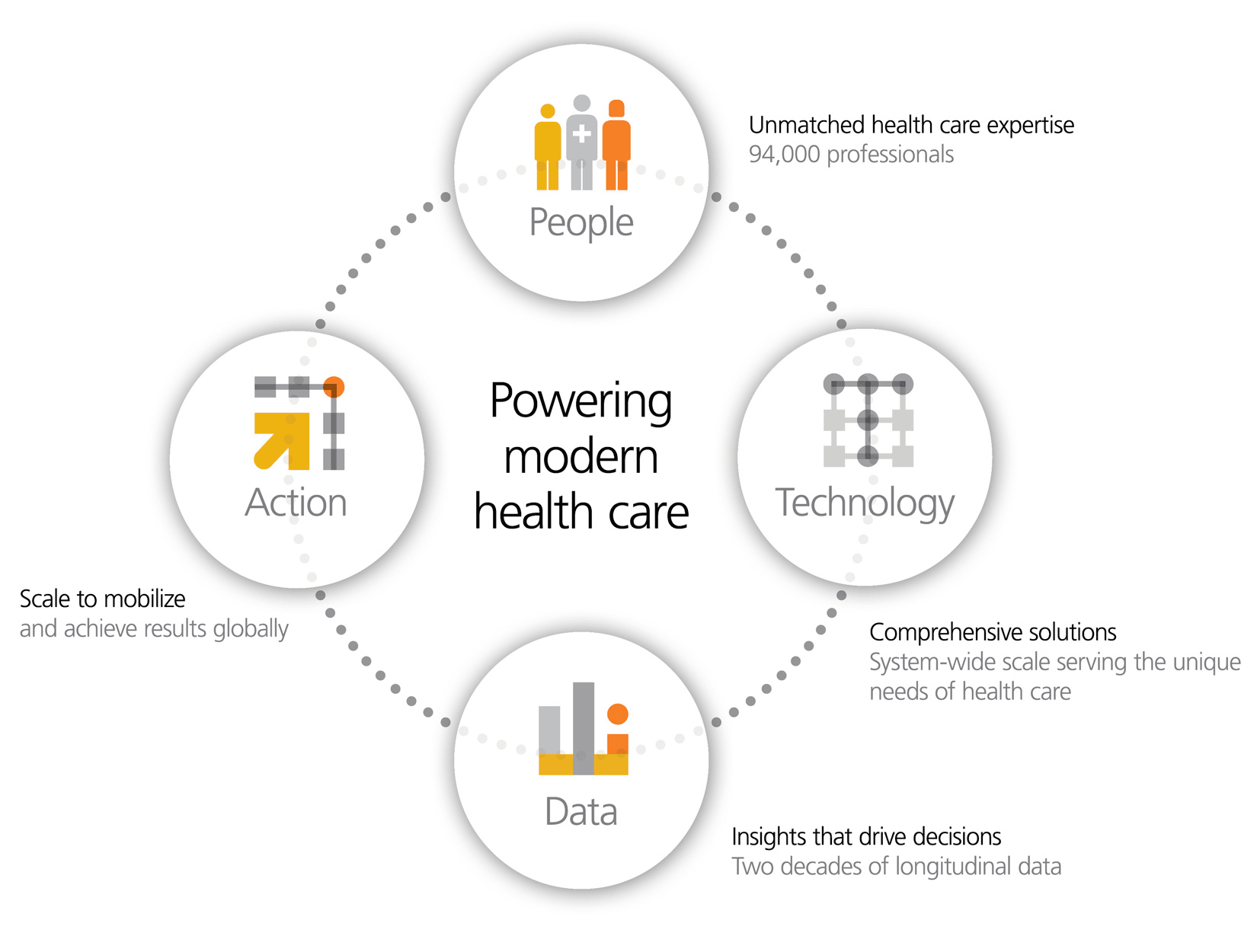 Serving the whole system
Partnering with 300 health plans to ensure positive changes take root in the broader health system and benefit the most possible people.
Supporting hundreds of life sciences companies as they research and develop new treatments.
Working with 67,000 pharmacies to help people get the care and treatments they need.
Helping half of the Fortune 500 employers meet their employees' health and wellness needs
Serving care providers and health systems — including four out of five U.S. hospitals — to support their focus on quality care, better patient experiences, operational efficiency and cost savings.
Partnering with government agencies in 40 states and, increasingly, around the world.
Helping 74 million people find the right care at the best value, understand their options and take charge of their health and wellness.

Four steps of population health management
See how four well-planned steps can unify the physician and patient experience.
Read more
The seven steps to care coordination

Success depends not just on your ability to provide care, but also on removing barriers to health.
Read more
Learn the five stages of health spending and saving

To promote financial health for employees, it's essential that you meet people where they are.
Read more
Optum locations
San Francisco, CA; Colorado Springs, CO; Denver, CO; Rocky Hill, CT; Duluth, GA; Lenexa, KS; Overland Park, KS; Louisville, KY; Eden Prairie, MN; Minneapolis, MN; Basking Ridge, NJ; Providence, RI; Salt Lake City, UT; Reston, VA: Milwaukee, WI
Optum also maintains operations across North America, South America, Europe, Asia Pacific and the Middle East.