O4 Hubs detail
O4 2 Columns (1/3 - 2/3)
O4 Text Component
As an Optum doctor, Dr. Neil Gokal loves getting to know his patients as people. When Laurie first limped into his office, he could see right away she needed help. In that instant, he knew he had to help turn her life around.
Las Vegas resident Laurie, age 67, once had lived a full life. But over the years, her health and confidence sank. She struggled with her weight, which went as high as 345 pounds.
One health problem led to another. Depression. High blood pressure. Sleep issues. Stomach problems. The list went on and on.
Laurie was in constant pain. It got so bad that she didn't even have the strength to watch her grandson's baseball games. Not being there to support him broke her heart. She knew it was time for a change but didn't know where to turn.
O4 1 Column (Full)
O4 Text Component
Dr. Neil Gokal helping Laurie, his patient.
O4 Text Component
Care focused on you, with a heart
Little did she know that change was right around the corner. Next door, in fact. Dr. Gokal also just so happens to be Laurie's neighbor. While she knew him socially, she wasn't yet under his care.
One day, while chatting, he suggested she make an in-office appointment. With her insurance agent's help, she found the right Medicare Advantage plan and became his patient.
From the first time she stepped into Dr. Gokal's office two and a half years ago, Laurie could feel the difference. Laurie opened up and told him about her struggles and pain.
She told him she knew she couldn't keep living the way she was. Some years earlier, she had surgery to help her lose weight. Although the weight came off, it caused a lot of other health problems. After 18 years with the same doctor, she felt stuck.
Nearly in tears, she told him all about the life she used to have. She spoke about the event planning business she built, her 2 children and 9 grandchildren, her community and the charity work she loved. Sadly, she talked about all these things in the past.
But Dr. Gokal had other plans for Laurie. He wanted to change the past tense into the present and future.
"I was excited for what we might need to do as next steps," Dr. Gokal explained. "Because it didn't all need to be in the past. And I was hopeful that we could get her back to all these things that were bringing in so much joy."
For the first time in a long time, Laurie felt hopeful. "When I left his office, I was so impressed. It was like the weight came right off my shoulders," Laurie said.
"I finally found someone that's going to help me. I couldn't believe someone actually cared enough about me. He wanted to listen to my story and understand."
Listening is what Dr. Gokal calls a privilege. He listened to understand her life, her dreams and her goals. Dr. Gokal gets joy from building relationships with his patients. "I love getting to learn about them as individuals," said Dr. Gokal.
"Their story, what makes them shine and what they bring to the table. It brings me energy and I get to do the reverse. I get to share the same with them. And I absolutely love that."
That level of focused care is what sets Optum doctors apart. Doctors like Dr. Gokal take the time to listen and understand people's needs. Dr. Gokal believes in building trust with patients like Laurie.
His approach includes getting to know each patient as a whole person. He also focuses on what makes them unique. "Personalized care is being able to know somebody," said Dr. Gokal. "Knowing their 'walk' in life. And everything that impacts all of their health care and their challenges."
Dr. Gokal is a prime example of the care people can expect from an Optum doctor. He understands that each person has their own needs. He takes the time to get to know each of them individually.
One-on-one care isn't just about medical advice. It's about building relationships. It's also about helping people like Laurie reclaim their joy.
To start, Dr. Gokal looked at Laurie's living and eating habits. Together, they came up with a step-by-step plan to get her health back on track. He suggested some tests and medicines to try out. And he also helped her find a specialist to care for her knee and back problems.
Dr. Gokal helped Laurie get better by showing he truly cared. He also helped her improve her quality of life. Dr. Gokal spent time talking to Laurie and listening to her needs. This meant that she got the care she not only needed, but also deserved.
A new lease on life
Today, Laurie feels like a new person. She's living her best life. She's pain-free and eating healthy foods again. Laurie was also able to cut back on her medicines. And she has the energy and stamina to do the things she once loved.
Laurie tries to walk between 10,000 to 20,000 steps a day. But she doesn't just limit her activity to land. She also enjoys paddleboarding on Maui, her second home.
And to top it off, this proud grandma is back in the stands. Cheering on her grandson while he plays baseball, you can see she's full of life. She radiates joy. A huge grin spreads across her face. She's in her happy place, watching him do what he loves.
Sometimes, Laurie's friends and family ask why she's so darn happy. "I'm taking care of myself," she tells them proudly. "Dr. Gokal is probably the best doctor I have ever met. And I have the best Medicare Advantage plan that anybody could ever have."
And what does her doctor think of this success story? "It fills my cup to hear that from a patient," Dr. Gokal said, smiling. "To see someone who is able to do what they want to do. To see a person truly live a great, healthy, active life. All because of the changes we were able to make together. That makes me so happy."
Get more personalized care, like Laurie
Inspired by Laurie's story? To see how you get more personalized care from your care team, call or click today.
Call now to find a doctor and plan:
(Calling this number will direct you to a licensed insurance agent.)
We can help you find an Optum doctor in your area. We can also put you in touch with a Medicare expert. They can help you choose a Medicare Advantage plan.
Helpful resources
Learn more
At Optum, everything we do is centered around you, so you can live your healthiest life.
O4 Complex Card
Get the right care made easier
Learn how Mickey's care team and community center helped him though COVID-19 and type 2 diabetes to find a healthier, happier life.
O4 Complex Card
Find healthier care at a lower cost
Learn how Margaret found new ways to care for several long-term conditions with the support of Dr. Goldansky and her entire Optum care team.
O4 Complex Card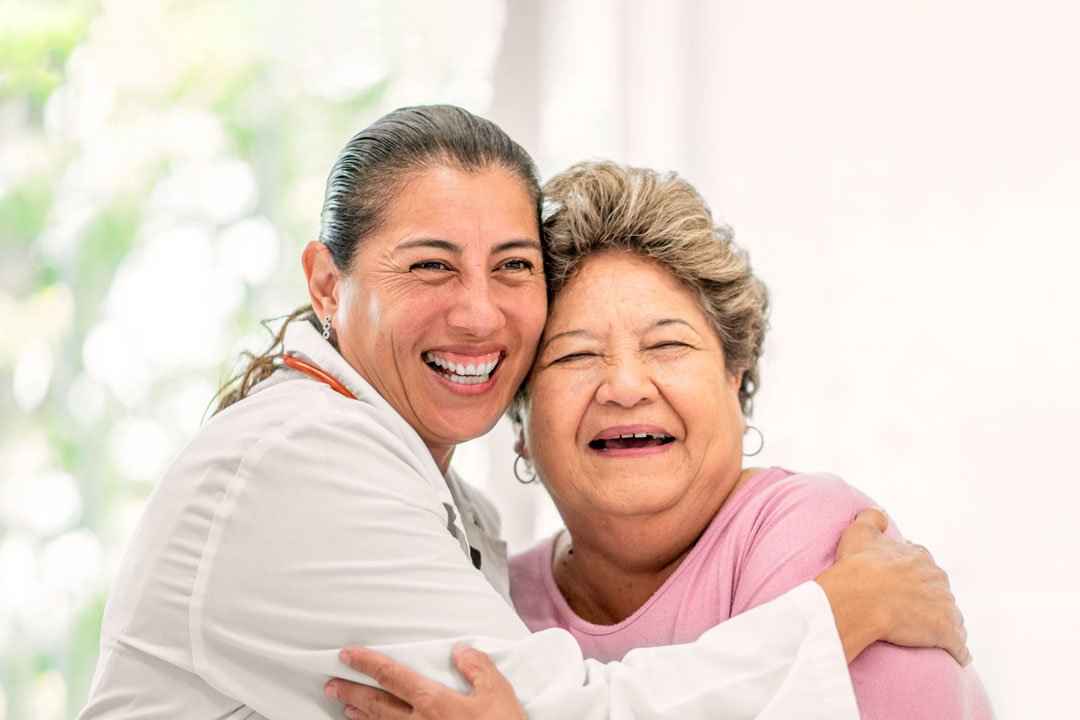 Discover the Optum difference
We're one care team, dedicated to helping you get the best care possible.
O4 1 Column (Full)
O4 Text Component
*The contact information listed will direct you to a licensed representative that works with Medicare enrollees to explain Medicare Advantage and Prescription Drug Plan options. There may not be plans available in your area. Any information provided is limited to those plans offered in your area. Please contact Medicare.gov or 1-800-MEDICARE to get information on all of your options.