O4 1 Column (Full)
O4 1 Column (Full)
O4 Text Component
Watch now
Volunteer opportunities
See how Optum Care encourages providers to give back to their local communities.
O4 1 Column (Full)
O4 Video Player Component
Lena: So one of the things that Optum Care has encouraged me to do is participate in patient care outside my clinic. So not only do you get the benefit of taking care of patients one on one every day, but in the community that I live in, I've stepped outside my clinic and become part of the medical reserve corps through the county that I live in. So I've taken FEMA classes to become certified in certain areas of emergency response. And so that when there is an occasion such as Hurricane Harvey, when that affected Texas, that we are prepared and certified to be deployed to be able to help in those instances.
Neil: We have a new medical school in our city and that's a huge asset to our town. And through Optum Care we've partnered with them. So we are training these students—they're all coming to us. We're all connected individually to a student. We're all associate faculty. Um, and it not only helps us grow, but we're training new physicians into a brighter future. Because I feel like, when I started in private practice and years into it, felt so inundated and, I hate the term but burned out, it was too early in my career to be feeling that way. And when a joined Optum Care it was because it seemed like a well-oiled machine, I could just do what I needed to do and be fine. And I did for a short time until I realized how easily it was to really grow in that career that I really wanted to be in. And I didn't know that really existed. Um, and it, and you have the resources there to, to guide you in that. Your management around you is so positive—they enjoy what they do. It was easy to take on the leadership that was available.
O4 1 Column (Full)
O4 Text Component
Optum Care encourages providers to fulfill passions by giving back to their local communities and providing care to underserved markets.
O4 Complex Card
The importance of value-based care
See how we're putting patients first.
O4 Complex Card
Technology and the patient experience
Optum Care provides the tools to succeed.
O4 Complex Card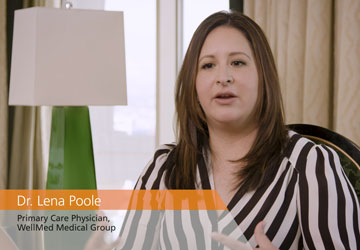 More informed patients
Well-informed patients lead to better health decisions.
Clinician insights partners with Optum Care providers to share best practices, research and more.