O4 Hubs detail
O4 1 Column (Full)
O4 Text Component
Gene therapies represent a revolutionary approach to treatment and have the potential to have a major impact on the course and outcome of genetic diseases.
However, this potential can come at a substantial cost for plan sponsors. For example, Zolgensma®, a gene therapy used to treat a rare disorder known as spinal muscular atrophy, has a one-time cost of $2.1 million.
For now, the few gene therapies on the market target rare diseases. Yet, this will not always be the case. The FDA is expected to approve as many as 10–15 gene therapies per year by 2025. Moreover, many of these new gene therapies will be aimed at more common diseases such as hemophilia and sickle cell anemia.
As more gene therapies enter the market, the likelihood of a plan sponsor having a claim and incurring the associated cost will only increase. To help plan sponsors prepare for and manage this unprecedented financial risk, Optum Rx® created Gene Therapy Risk Protection. Leveraging the principles of stop loss insurance, this product helps convert the risk of substantial one-time cost into a manageable monthly fee while ensuring clinically appropriate access to these therapies.
O4 Complex Card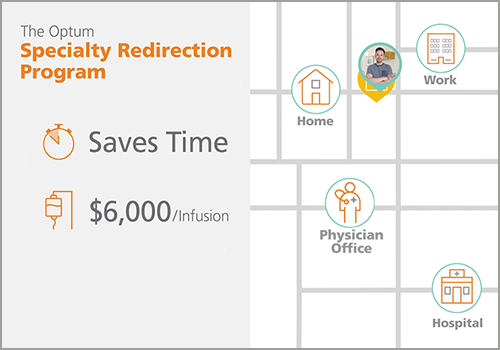 Redirecting Specialty Infusion Costs by Redirecting Site of Care
See how you can lower your plan costs by up to 52%.
Learn how we can help solve your challenges