O4 Hubs detail
O4 1 Column (Full)
O4 Text Component
Synopsis
Here is a quick summary of the topics contained in this edition of the Regulatory Update:
Sex discrimination: Court ruling expands the Affordable Care Act's prohibition on sex discrimination to include sexual orientation and gender identity.
Drug pricing: U.S. House of Representatives issues new report and holds hearings on drug pricing practices.
Federal pricing legislation: Both parties introduce legislation aimed at lower drug prices, out-of-pocket costs. The approaches differ, but neither is expected to pass.
State legislative update: Four states have enacted laws affecting PBMs by limiting ERISA exemptions and other pricing and plan design rules.
"White bagging" dispensing: Interest groups are lobbying to ban or limit this method of distributing specialty medications. Learn why and how you can make a difference.
O4 Text Component
Expansion of sex discrimination banned by Affordable Care Act
On May 10, 2021, HHS announced that the Office of Civil Rights (OCR) will include sexual orientation and gender identity as it enforces the Affordable Care Act's prohibitions on discrimination based on sex. This stems from a recent U.S. Supreme Court decision in Bostock v. Clayton County. Section 1557 of the Affordable Care Act prohibits discrimination on the basis of race, color, national origin, sex, age or disability in covered health programs or activities.
Why this matters: Health care providers and hospitals can now face sanctions if they discriminate based on sexual orientation and gender identity.
O4 Text Component
U.S. House of Representatives drug pricing investigation, report
Report
In mid-May, the U.S. House Committee on Oversight and Reform issued a report on its two-year investigation into the actions of drug manufacturer AbbVie Inc. The report finds that AbbVie pursued a variety of tactics to increase drug sales while raising prices for two of its blockbuster drugs: Humira and Imbruvica. Specific report findings:
Since launch in 2003, Humira has seen 27 separate price increases, raising its price by 470%. The price of Imbruvica has increased by 82% since launching in 2013.

Price increases for Humira and Imbruvica have far outpaced any discounts and rebates paid to PBMs.

AbbVie obtained or applied for over 250 patents on Humira to block competition from lower-priced biosimilars, the last set to expire in 2037. Approximately 90% of AbbVie's patent applications were filed after Humira was approved and brought to market. This suggests that they were intended to protect revenue rather than drug development. Over 150 patents on Imbruvica were also filed; the last of these patents expires in 2036.

AbbVie delayed competition from lower-priced biosimilar versions of Humira until January 2023 by entering into settlement agreements with potential competitors. Earlier biosimilar entry would have saved the U.S. health care system at least $19 billion from 2016 to 2023.

AbbVie protected its Humira monopoly by abusing the Orphan Drug Act, a law intended to promote drugs that treat rare diseases that are otherwise unprofitable. Humira is a blockbuster drug with billions of dollars in sales each year.

AbbVie and its largest competitor, Amgen, engaged in "shadow pricing." This is an anti-competitive practice where one company consistently follows another company's price increases.
New hearings
Following the release of this report, a House Oversight Committee panel held a hearing on the drug pricing practices of a dozen pharmaceutical companies. They questioned the AbbVie CEO about Humira's price increases and the company's tactics to protect the drug against competition from biosimilars. Three lawmakers asked the Federal Trade Commission to investigate whether AbbVie violated the law through pay-for-delay agreements.
Why this matters: The documented anti-competitive activities around Humira demonstrate the weaknesses in today's patent and regulatory system. The current system can be manipulated to prevent lower-cost generics and biosimilars from quickly reaching consumers. A vital step to address the high cost of prescription drugs is to modernize intellectual property protections. They need to promote true innovation and minimize abuses — ensuring that novel treatment options are affordable and sustainable.
O4 Text Component
Federal pricing legislation
Drug prices remains a hot topic among federal legislators with many new and renewed proposals being brought forward in recent months. Two competing proposals have been introduced in the U.S. House of Representatives: The Democratic version is H.R. 3, the Elijah E. Cummings Lower Drug Costs Now Act. The Republican version is H.R. 19, the Lower Costs, More Cures Act of 2021. H.R. 3 would authorize HHS to negotiate Medicare prescription drug prices (current law prohibits HHS from doing so). It would also:
Cap beneficiary out-of-pocket spending for prescription drugs.

Limit drug price increases to no faster than faster than inflation.

Invest in federal programs to address the opioid crisis.

Some believe price controls of the kind envisioned in H.R. 3 may lead to diminished R&D in future drug development. Medicare beneficiaries and others could face reduced access to newer treatments, particularly in the long term.
H.R. 19 mainly addresses prescription drug prices under Medicare and Medicaid. It would:
Expand the covered outpatient drug definition and create a value-based pricing agreement pathway under the Medicaid Drug Rebate Program.

Establish a variable average sales price (ASP)-based payment rate methodology for drugs and biologics under Medicare Part B. (Instead of the existing payment rate of 106% of ASP).

Eliminate the coverage gap and reduce cost-sharing to $3,100 under Medicare Part D.

Establish several drug pricing reporting requirements for manufacturers. Additionally, in June, Senator Ron Wyden, Chairman of the U.S. Senate Committee on Finance released his priorities on drug pricing. Previous versions of the Senate Finance proposal have garnered bipartisan support. Senator Wyden noted the following priorities:

Authorize the Federal Government to negotiate prescription drug prices in Medicare.

Restructure the Medicare Part D prescription drug benefit to realign incentives and reduce out-of-pocket spending.

Rescind the Trump Administration's Part D Rebate Rule, while proposing rebate reforms and increased transparency in the Medicare and commercial market.

Require drug manufacturers to provide rebates on drugs with price increases that exceed inflation..

Extend drug pricing reforms to the commercial market.
Why this matters: Many of the principles underpinning the prior Senate Finance proposal enjoyed bipartisan support in the past. However, there is a low likelihood of either H.R. 3 or H.R. 19 gaining enough support to pass both chambers of Congress today. However, certain elements of the bills may be included in another legislative package.
O4 Text Component
State legislative update
Many states are enacting new laws impacting OptumRx clients. This highlights new laws in Arkansas, Tennessee, Texas and West Virginia.
Arkansas HB 1804 expands an existing Arkansas PBM law to self-insured plans in the state, including ERISA self-insured plans for some requirements. The law previously applied only to fully insured plans. It prohibits traditional (spread) pricing, mandates NADAC pharmacy reimbursement and requires non-affiliated pharmacies be reimbursed in parity with PBM-affiliated pharmacies.
Arkansas SB 617 imposes new prescriber and patient consent requirements. It requires pharmacies owned by a PBM or health plan to obtain written consent from prescribers and patients before a new prescription is filled.
Tennessee HB 1398 prohibits spread pricing arrangements and mandates reimbursement for pharmacies equal to or greater than their actual acquisition cost. It also prohibits steering to specific pharmacies and member price comparison tools.
Texas HB 1763 requires reimbursement parity between PBM-affiliated pharmacies and non-affiliated pharmacies. Pharmacy contracts must have a specific fee schedule outlining services and fees. The law also prohibits recoupment of previously paid claims and certain pharmacy fees.
Texas HB 1919 prohibits employers and plan sponsors from designing an employee benefit plan that requires the use of preferred pharmacy networks to realize maximum benefits.
West Virginia HB 2263 regulates numerous PBM activities. These include:
Removing an ERISA exemption for oversight of PBMs

Minimum pharmacy reimbursement

Pass through pricing for state and local government employee plans

Point-of-sale rebates

Prohibition on affiliated pharmacy steering

PBM transparency reporting
O4 Text Component
"White-bagging"
"White-bagging" dispensing refers to one of several ways specialty pharmacies help manage and distribute provider-administered specialty drugs. These are typically high-cost drugs, for example, infused oncology drugs, that require special handling and storage.
With white bagging, a specialty pharmacy ships a patient's prescription directly to the provider, such as a physician office or an outpatient clinic. The provider holds the product until the patient arrives for treatment.
Interest groups including state hospital associations, health system pharmacists and individual hospitals are meeting with state boards of pharmacy and legislators to express concerns related to white bagging. They allege that this practice places patients at risk, creates medication integrity issues and limits provider control over ability to change dosing where necessary.
White-bagging opponents have created increased potential for legislation limiting or banning these practices altogether. For example, Louisiana recently passed a ban on white-bagging dispensing that went into effect June 1.
OptumRx believes that white bag dispensing has numerous benefits. These include improved access to drugs, improved affordability for patients and payers, timely delivery of medications in temperature-controlled packaging, and real-time claims billing. In particular we find that:
Physician-administered drugs dispensed by a specialty pharmacy usually are for maintenance medications. Dosing is well-established and changes in the dosing are uncommon.

Specialty pharmacies commonly contact the provider before dispensing. They confirm the dosage amount and clinical information that may affect dosage (e.g., blood test results, weight changes).
Why this matters: State legislatures are acting to prohibit or limit many of the tools PBM clients use to offer affordable pharmaceutical benefits to members. In many cases they may remove a safe and cost-effective option for Optum Rx clients, resulting in higher costs for clients and members.
Get involved: Our trade association is the Pharmaceutical Care Management Association PCMA. They work with our external affairs team to zealously advocate against changes that will negatively affect clients. However, legislators need to hear more than just the voice of the PBM industry. They need to hear directly from the clients who are impacted. If you are interested in learning how you can help advocate to protect members, contact your Optum Rx account management team.
O4 Complex Card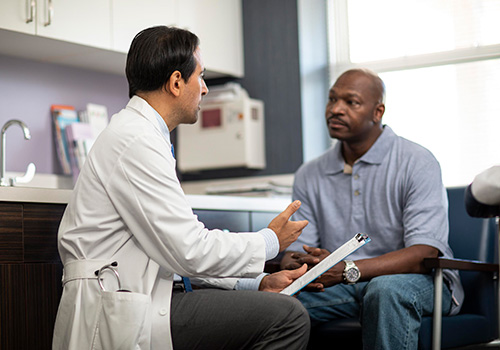 Reducing disparities in care and outcomes
Achieving health equity is a community-wide effort.
O4 Complex Card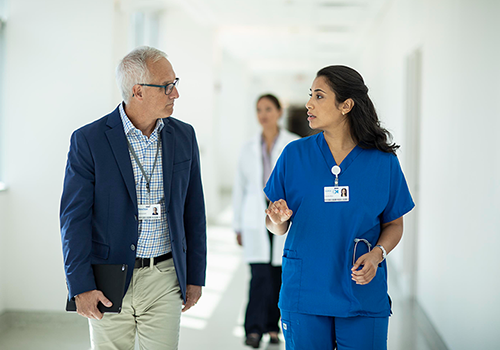 A new approach to rising specialty costs
See how contracting with medical providers can reduce drug costs
O4 Complex Card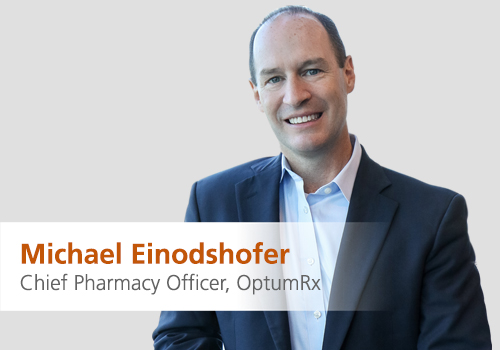 5 questions: Optum Rx chief pharmacy officer
Michael Einodshofer addresses the risks, challenges and opportunities facing the industry.
O4 1 Column (Full)
O4 Text Component
STATEMENT REGARDING FINANCIAL INFLUENCE:
This article is directed solely to its intended audience about important developments affecting the pharmacy benefits business. It is not intended to promote the use of any drug mentioned in the article and neither the author nor Optum Rx has accepted any form of compensation for the preparation or distribution of this article.