Text
The Nutrition Facts label helps you compare one food product to another so you can make smart choices. Let's look at carbohydrates.
Carbs are used to make glucose, which is your body's main source of energy. Fruits, vegetables, beans and whole grains are great sources of healthy carbs. These healthy carbs also contain fiber, essential to keep your body running right.
Text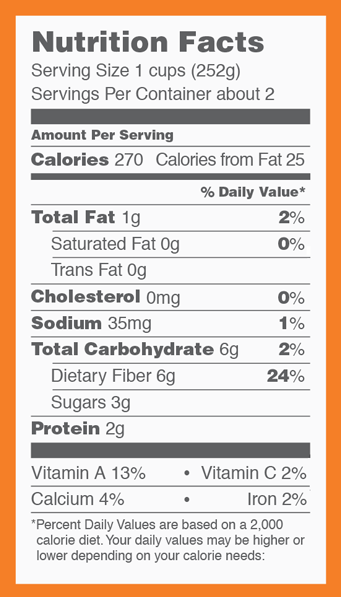 Text
Total carbohydrates.
Includes dietary fiber and sugar. It is recommended that you try not to exceed 300 grams of carbohydrates on a 2,000-calorie eating plan. Your Daily Values may be higher or lower, depending on your calorie needs.
Dietary fiber.
The recommended Daily Value is 28 grams of fiber on a 2,000-calorie diet. Good food choices for fiber include whole grains, beans, and certain fruits and vegetables. When eating grains, choose whole grains for at least half your day's grains.
Sugars.
There is no percentage Daily Value for sugars included on nutritional labels. However, it is recommended that you limit added sugars in your diet as foods with added sugars may add more calories with less nutrients. Examples of added sugars are ingredients such as sucrose, fructose, corn syrup and maple syrup.
Sample label provided by the U.S. Food and Drug Administration. For illustrative purposes only.
Text
The information provided is for general informational purposes only and is not intended to be medical advice or a substitute for professional health care. You should consult an appropriate health care professional for your specific needs and to determine whether making a lifestyle change or decision based on this information is appropriate for you. Some treatments mentioned may not be covered by your health plan. Please refer to your benefit plan documents for information about coverage.