Text
Implement faster, improve outcomes and scale more easily to meet demand and changes in policy. Transform the management of fee-for-service populations with an efficient, services-based platform for the delivery of Medicaid business modules.  
Text
Modular and fully compliant
with CMS requirements
Text
Implement faster
with less risk

Text
Process 1.5 billion
claims per year at 99% accuracy
Text
Handbook details services-based MMIS approach
Center for Digital Government's handbook provides planning and implementation tips.

Text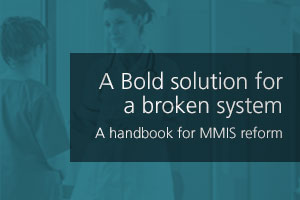 Solution Tile Component
Horizontal Rule
LEARN ABOUT OUR SOLUTIONS
[Configure Slider]
Resource library