Horizontal Rule
Features and benefits
Text
Helping individuals get the support they need
Military Service Members and Veterans need easy access to high-quality behavioral health and substance use disorder services. It's essential to restoring and maintaining their health and well-being. Our programs are uniquely positioned to help them get the support they need.
About one-third of returning service members report symptoms of a mental health or a cognitive condition.1 And only 50 percent of returning Veterans who need mental health treatment will receive these services.2 Reasons for this include:
Stigma or fear of being seen as weak
Symptoms not always easily recognized
Unsure about how to approach the health care system
Long wait times to receive mental health treatment
Logistical problems, such as long travel distances to receive care
Lost hope that their condition and life can improve
OptumServe™ understands these challenges, and we work to remove these barriers. We help people reach a stable place and maintain recovery on their terms, so individuals and their families can live their best lives.
We are the largest managed behavioral health care organization in the country. We have the expertise, scope and scale to support any population across the nation:
Provide behavioral health services to 34.5 million Americans
Nation's largest performance-tiered network with 185K+ active network providers
Vendor for 42 percent of Fortune 100 and 34 percent of Fortune 500 companies
Serve 6.4 million Medicaid and 4.4 million Medicare lives
Achieved NCQA's highest Full Accreditation status and URAC accreditation
Text
Our guiding principles
1. Focus on coordinating care for the whole person
The rigors and trauma of military service can make a unique impact on a person's physical and mental health. Social factors such as where a person lives and works also play a role. We look at all aspects of a person's health and well-being, physical and behavioral.  
We identify and address co-occurring physical, mental and social issues to help people get better treatment. This whole-person approach helps manage the long-term effects of complex conditions that many Service Members and Veterans struggle with, such as: 
Post-traumatic stress disorder
Traumatic brain injury
Depression
Suicide ideation
Substance use disorders
Our program connects clinicians with a person's health-status data. We work across the health system to identify under-treated problems early. We manage conditions following evidence-based best practices. 
We also bring together community social support services that help people maintain their quality of life and live as independently as possible.
Text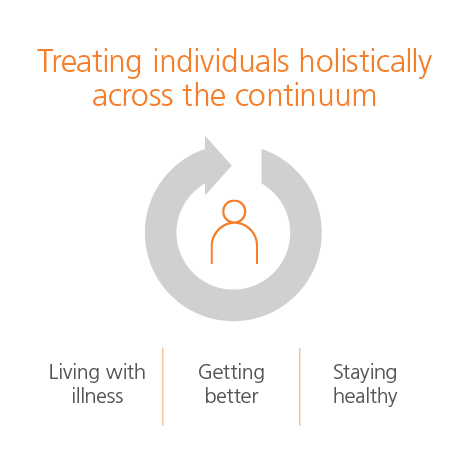 Text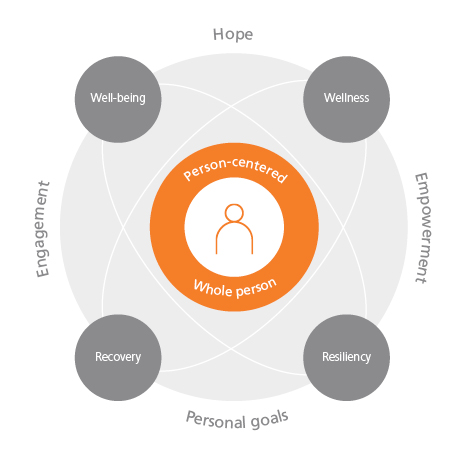 Text
2. Focus care on person-centered recovery principles
When individuals are fully committed participants in their treatment, recovery and well-being, the best outcomes are achieved. That's why engaging and empowering the individual is at the heart of our programs.
We listen to individuals to understand their desires, goals and what motivates them to take action. Abilities and strengths become part of their recovery plans. Self-care tools and resources keep individuals engaged and support recovery and wellness between visits.
Text
3. Make care accessible and relevant  to the military and Veterans.

People respond best to care that meets them where they are. We've invested in the services and capabilities to make this possible:
24/7 emergency mental health care
Care that is sensitive to gender, cultural and service-related issues
Services close to home, including virtual tele-mental health visits
Family and couple services to support immediate family members
Our care advocates understand the specific needs of the populations we serve. They actively guide individuals to specialized services when needed. These may include:
Personal and family counseling
Treatment for substance use disorder, including opioid use disorder
Suicide prevention programs
Care for post-traumatic stress disorder
Treatment for traumatic brain injuries
Sexual trauma services
Programs for those involved with the justice system
Home-based evaluations for elder veterans 
Text
1. RAND Center for Military Health Policy Research. Invisible wounds: Mental health and cognitive care needs of America's returning veterans. Research Highlights. 2008.
2. Substance Abuse and Mental Health Services Administration (SAMHSA). Veterans and military families. samhsa.gov. Last updated Sept. 2014.
Text
Learn more about how Optum can help the VA's mission to improve Veteran health care.
1-800-765-6073
solutions@optum.com