Color Block
Text
COVID-19: Supporting communities in need
When California was faced with a need to create 80 testing site locations for COVID-19, OptumServe was there to help. Read the blog to learn how the Reserve Health Readiness Program helped prepare screening stations for underserved communities.

Horizontal Rule
How we help
Text
Make an appointment for COVID-19 testing
California and Indiana residents can make an online appointment for COVID-19 testing here.
Text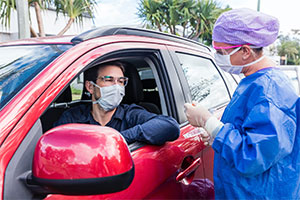 Text
Supporting California COVID-19 Testing
OptumServe is honored to assist California in expanding COVID-19 testing.
Text
Find the latest on COVID-19
Text
Learn more about coronavirus disease 2019 (COVID-19), ways to protect yourself and get answers to frequently asked questions.
Text
OptumServe can help you improve the health and well-being of the people you serve. Find out how.