Color Block
Text
Thank you for your dedication
At OptumServe, we express our sincere gratitude to our health care partners sacrificing on the front lines of the COVID-19 pandemic. We are honored to stand with you during this challenge. Watch these videos, where you'll find stories of courage and compassion.
Horizontal Rule
How we help
Text
Make an appointment for COVID-19 testing
California and Indiana residents can make an online appointment for COVID-19 testing here.
Text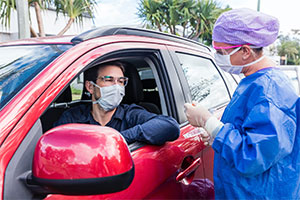 Text
Supporting California COVID-19 Testing
OptumServe is honored to assist California in expanding COVID-19 testing.
Text
Find the latest on COVID-19
Text
Learn more about coronavirus disease 2019 (COVID-19), ways to protect yourself and get answers to frequently asked questions.
Text
OptumServe can help you improve the health and well-being of the people you serve. Find out how.