Horizontal Rule
Features and benefits
Video Component
Patrick: I remember this from Santa Cruz.
Ron: You used to look younger.
[Laughing]
Patrick: We do everything together; we're a team. We're just always happy – I'm always happy. I'm a happy guy, I think that's why Ron and I like each other. 2013, we'd been to Maui and so I thought I had a tan and apparently, I was getting a little jaundiced. They started testing me and finding that my liver was going bad and the transplant list in California is huge.
Ron: And they told us that by the time he would be sick enough to reach the point where you could get a liver, he might be too sick to operate on. We went home.
Patrick: And we cried. Then, I called Optum and they hooked me up with Audrey, sweetheart.
Audrey: The first time that I spoke to him, I could see that he was going to do anything and everything possible to survive. After reviewing Patrick's case, I recommended the Optum Network of Transplant Centers of Excellence.
Patrick: She explained --
Ron: And she knew what she was doing.
Patrick: --the process.
Ron: She spoke our language, she was really great.
Patrick: She was a friend.
Audrey: Over the next six weeks, we had approved Patrick at six different facilities that actually tended to transplant a lot sooner.
Patrick: And so, we flew to Indiana.
Ron: Met with the head of surgery and he said, "Well, I know you're looking around." He says, "Well, stop looking, and just come here."
Patrick: And then, just a couple of days later, the phone rang, and they said, "We have an offer for you." We got to the hospital.
Ron: But, we're not sure we're going to get the liver because he was the backup.
Patrick: I was the backup.
Ron: And all of the sudden, he's in surgery.
Patrick: After the transplant, of course, Ron came in the room. I called my mom and then I called Audrey.
Ron: [Laughing]
Patrick: She needed to know because she was my buddy and she helped me make it turn out.
Audrey: I'm a nurse and whether I'm at your bedside or I'm on the phone miles away, you're still my patient.
Patrick?
Patrick: Hi.
Audrey: I'm Audrey.
Patrick: Oh my God. I changed my mind.
Audrey: Every day, I pray that that day I will be able to touch somebody's life and in Patrick's case, I have touched his life and he has touched mine.
Patrick: I can't believe you're here, I want another hug.
Every day, I feel grateful, every day.
[End of Audio 00:02:26]
Text
A market leader for value 
The Managed Transplant Program (MTP) protects self-funded groups while enhancing the clinical experience for patients. We partner them with experienced transplant nurse case managers who help educate and guide them through the transplant experience.
Text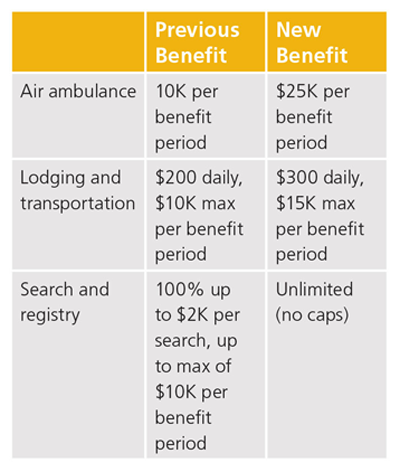 Text
New benefits, same low rates*
Effective October 1, 2017, MTP expands risk protection for employers and offers greater value for patients with enhanced coverage in a number of key areas.
*The updated benefits may not be available in every state, reach out to your Optum representative for more information.
Managed Transplant Program
Managed Transplant Program Stop Loss
Managed Transplant Program for Employers