Text
For years, employers have offered incentives to encourage employee engagement in health and wellness programs. In 2009, 78 percent of employers were providing incentives. Today, almost all employers (87 percent) provide health and wellness incentives.1
Incentives can help drive engagement, create a culture of health and decrease the financial burden of a high-deductible plan. When used strategically, incentives can be very powerful. But when used tactically, they can fail to deliver a meaningful return on investment.
Text
This article will explore:
Current incentive design practices
Effectiveness of incentives
Five ways that incentive design can evolve to enhance engagement
Text
Current incentive design practices
Today's incentive designs are focused primarily on three engagement metrics:
Increasing participation in health and wellness programs
Improving health awareness
Achieving health outcomes
These goals have remained fairly stable over time. But we have yet to see a rapid expansion in incentives aimed at achieving specific health outcomes. In fact, this approach may be hampered by a lack of data consistently connecting incentives to improved outcomes.2
Text
How effective are incentives?

To assess the impact of financial incentives on program participation, Optum conducted a two-year study comparing two groups of employees ages 18–64. All had access to health and wellness programs. One group received financial incentives.2
The study found that incentives can be effective in driving participation in one-time, awareness-building activities. For instance, nearly 25 percent of the group receiving incentives participated in health assessments. Compare this to 9 percent of the other group.2
Likewise, at 37 percent, participation rates for biometric screenings were higher for the group receiving incentives. The participation rate for those not receiving incentives was 9 percent.2
Incentives may be an effective tool for driving participation in one-time activities. However, there is little evidence to suggest that incentives drive participation in longer-term behavioral change programs such as wellness coaching.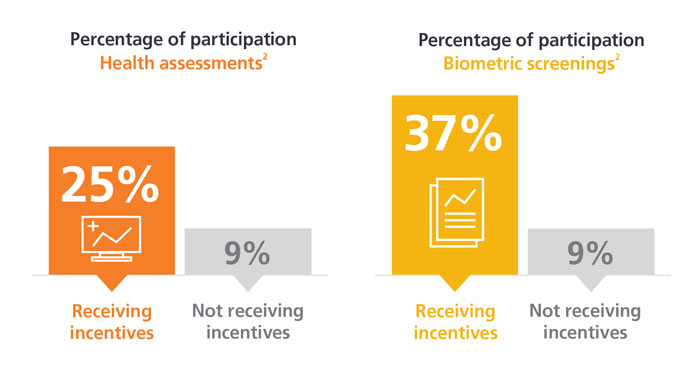 Text
Next-generation incentive design
Optum identified five transformative strategies:
Incorporate nonfinancial rewards.
Financial rewards remain a critical motivator for employees. However, employers might strive to find a better balance between financial and nonfinancial rewards. Consider extending your existing incentive strategy.

A next-generation approach motivates and engages employees based on the perceived intrinsic value in the effort. Moving toward social recognition of intrinsically motivated behavior paves the way for long-term behavioral change.

Examples of nonfinancial rewards:



Social recognition from peers and managers
Tangible recognition such as certificates and plaques
Providing more resources to a division
Having an end-of-the-week party or a casual dress day
Preferential parking

Expand group-based benefits.
Incorporate group-based rewards into your incentive mix. Rewarding an employee with a premium discount for achieving an outcome like lower cholesterol benefits that individual. But it doesn't help build a firm-wide culture of health.

Consider giving all employees an extra paid-time-off day if 70 percent of the workforce completes a health assessment or they collectively walk 100,000 miles. This helps build culture, strengthen peer support, improve transparency and make the activities more enjoyable.

Group-based incentives may also help employers comply with federal wellness program guidelines because individual employees who are unable to reach a specific goal — lowering their body mass index (BMI) or cholesterol, for instance — would not be penalized.


Recognize total well-being.
Take a holistic approach to health that encompasses domains of physical, mental, emotional, social, career and financial. Expand the boundaries of health to include measures of well-being, quality of life and financial security.


Don't delay rewards.
Behavior change is directly related to reward proximity. If employees know they will receive a benefit soon after completing a task, they are more likely to do it. Mix short-term rewards with longer-term ones such as reducing next year's premiums.


Make it personal.
One person may need to create a personal budget and meet with a financial counselor. Another person may want to improve his diet and lose weight. Base activities on what is relevant to each employee from both a personal and clinical perspective.
Text
Concluding thoughts
Incentives have proven to be an effective tool to increase program participation. As applied today, however, their usefulness may be limited in driving long-term behavioral change. The next generation of incentives will incorporate:
Financial and nonfinancial rewards
Group benefits
Activities geared to well-being
High-frequency currency
And they will be tailored to individual needs and motivators. In turn, this improves employee engagement and helps drive sustained, healthy behaviors.
Text
Where to start
We understand that most employers aren't ready to fully adopt all of our suggested next-generation strategies. In the interim, employers can strive to blend current practices with tomorrow's tactics.
Contributors:
Seth Serxner, PhD, MPH, Chief Health Officer, Optum
Doug Kitrell, Sr. Director Digital Health Consulting, Optum
Brian Oss, Director, Digital Health Consulting
Text
References
1. Optum "7th Annual Wellness in the Workplace Study."
2. Optum Book of Business Research, 2013/2014, Health Rewards customers.

[Configure Slider]
Related Resources