Text
Not so poor: The world of orphan drugs
Text
Orphan drugs can be thought of as another layer of drug specialization. Generally speaking, specialty drugs are used to treat rare or complex conditions, like cancers, multiple sclerosis, rheumatoid arthritis, hepatitis C, and others.
Orphan drugs are aimed at extremely rare diseases or disorders. These markets are so small, (less than 200,000 patients in the U.S.) that historically drug firms couldn't justify devoting resources to them.1
Approximately 7,000 rare diseases have been identified. They tend to feature high mortality rates and significant quality-of-life burdens. And they truly are orphans: 95% of them still have no approved therapies.2
Despite the small number of affected persons for any one specific disease, collectively, about 30 million Americans are impacted by a rare disease today.2 Given the extremely high prices for many orphan drugs – up to $500,000/year per patient, they exert a large and growing impact on drug costs overall.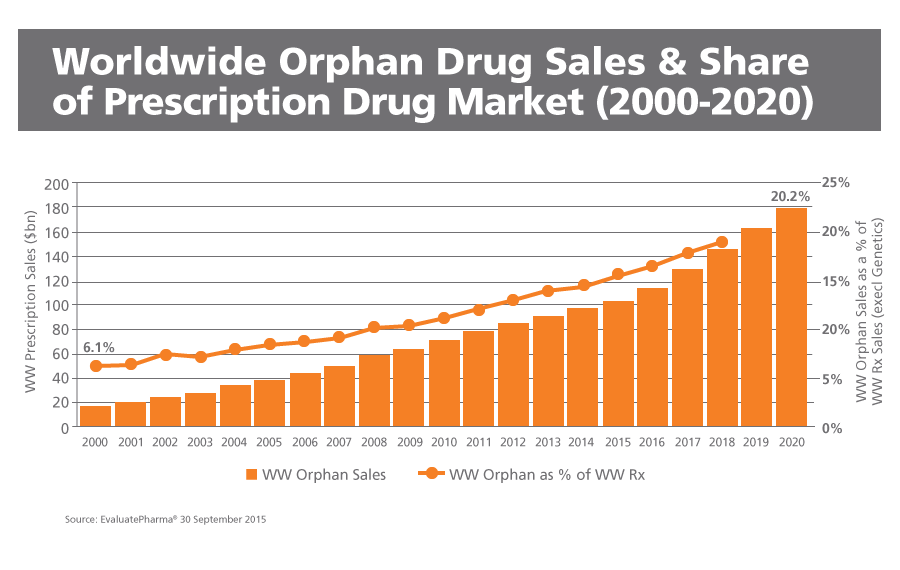 Orphan drugs operate within a very specific business model shaped largely by the 1983 Orphan Drug Act.3 In the years prior to then, it was considered impossible for pharmaceutical makers to earn a reasonable return on their research investment in therapies for conditions with so few patients. For example, fewer than 10 orphan disease products came to market between 1973 and 1983 when supported just by the industry.1
Even though the science of drug discovery was making rapid progress at that time, these advances tended not to be applied to rare diseases. It took a powerful political movement led by the National Organization for Rare Disorders (NORD), to lobby for new legislation that would change the incentives around developing drugs for rare diseases.3
The 1983 act featured grant money for studies, tax credits and exemptions from fees, plus an allowance for 7 years of market exclusivity, during which a company could recoup some of the expense of drug development.3
The orphan drug program is considered quite successful. During the past 25+ years, FDA has granted more than 3,600 orphan drug designations, of which 552 have received full FDA marketing approval.4 (Note that for a drug to be "designated" only means it qualifies for the incentives associated with orphan status. Actual FDA approval comes later.)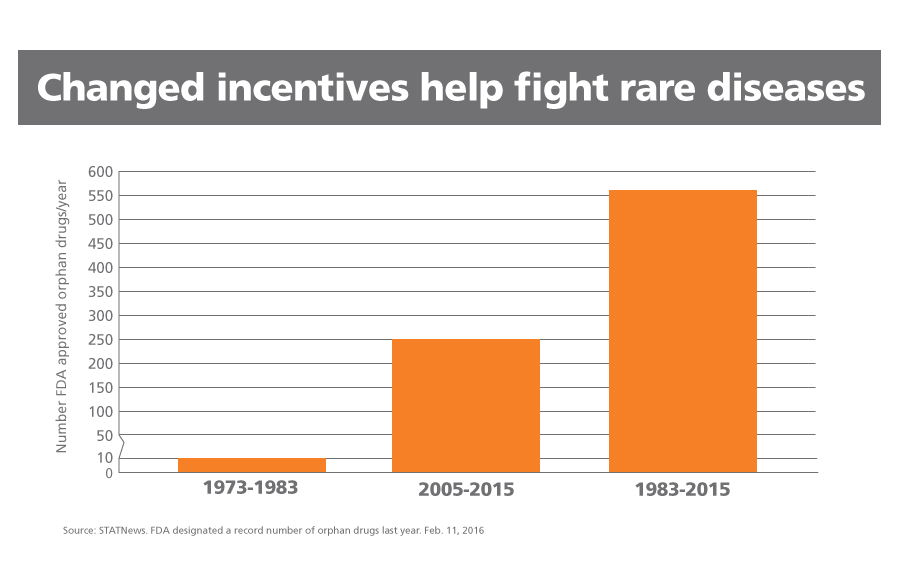 But drug makers have figured out that if they can produce orphan drugs with compelling clinical advantages, they can wield tremendous pricing power within that limited market. The reason is simple: there is little to no competition.4
And because of this lack of competition, regardless of cost, the vast majority of the prescriptions for these orphan drugs will be paid for by insurers, public and private.
One analysis found that, as you would expect, the cost for an orphan drug rises steeply as the number of potential patients declines. For example, if there are more than 10,000 patients, drugs costs average from $25,000 - $150,000 per year. But when there are fewer than 10,000 patients, the average drug cost was around $200,000 per year.5 See the scatter-graph below for a visual illustration: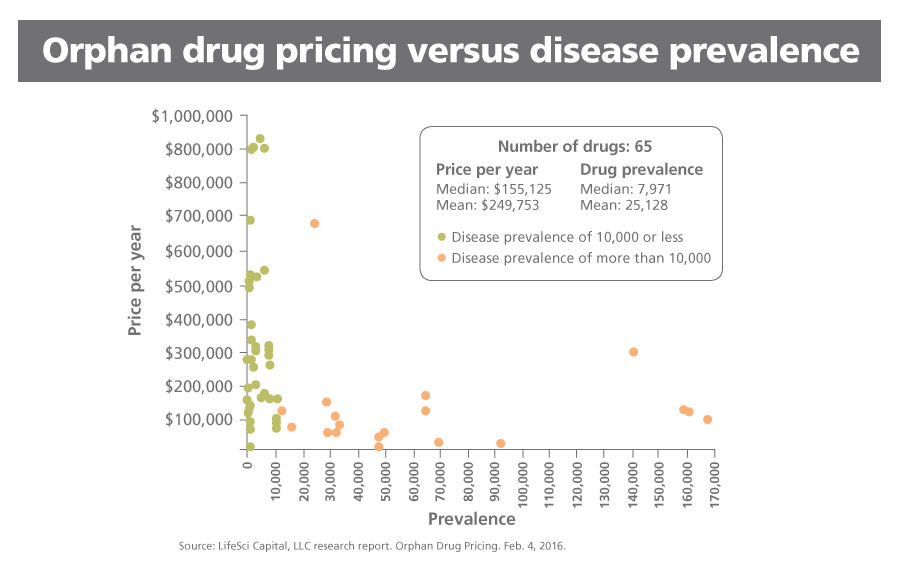 Biologics
Increasingly, orphan drugs are biologic drugs – drugs that are based on complex organic chemistry and genetic engineering principles. Biotechnology received a major expansion thanks to the Orphan Drug Act. In addition to the over 1,800 orphan drug designations since the orphan law was established, thousands of scientific and commercial opportunities were made possible by the Act that otherwise might not have occurred.3
Biologic drugs offer a number of advantages thanks to their unique design. One advantage is that, in many cases (although not all) they offer precise clinical targeting, which may translate into better outcomes and perhaps fewer toxic side-effects compared to existing drugs.6 Recently, this biotech expansion has been accelerating, as the large pharmaceutical manufacturers began to recognize the commercial value of investing in orphan drug development.3
When we analyze prices for biologic orphans, the data show that biologics command an average price two times higher than traditional small molecule drugs. Even more important, patient population size made no difference:5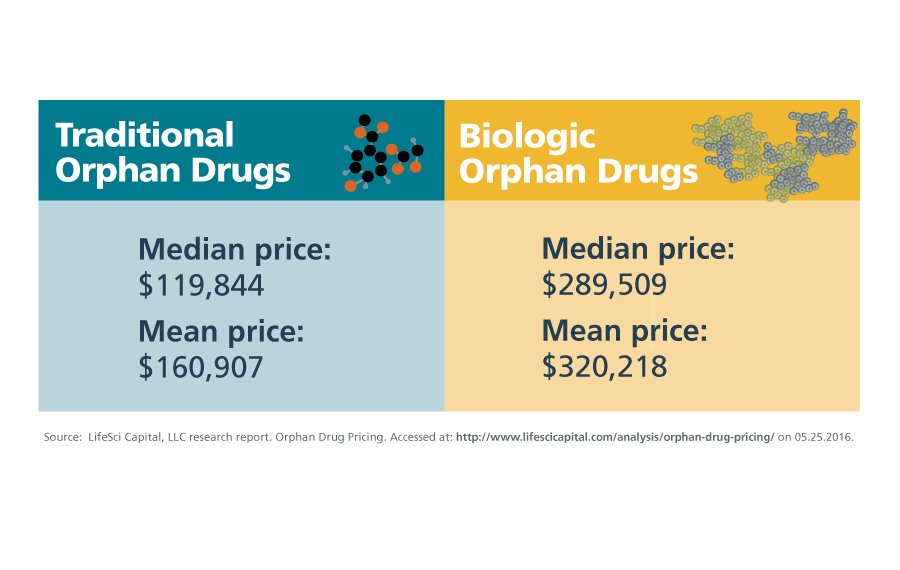 See our series on Biologics, Biosimilars & Patents for more on this development.
Gaming the system?
The rapid growth of the orphan drug market has led to mounting questions about the use of programs to incentivize rare disease drug development.4 Seven out of 10 blockbuster drugs, and nearly half of all drugs approved last year are orphans.4, 7 This has some doctors crying foul.
By definition, orphan drugs are aimed at very small target populations, but increasingly, they may not stay that way. A recent trend to note is for the number of indications for each drug to expand.
In a recent paper in the American Journal of Clinical Oncology, a team of researchers argue that drug makers sometimes seek orphan drug approval, but actually have a long-term plan to ensure that the medicines are used more broadly.4 In their view, drug companies are distorting the original purpose of the law. They design a drug aimed at rare disease patients, but cash-in on a taxpayer-funded benefit. Then they exploit loopholes in the Act that allow them to widen the market.4
One well-known example of this involves Johnson & Johnson's Remicade. It was not originally an orphan drug when it was first approved in 1998. Instead, it was intended to treat Crohn's disease, a chronic bowel disorder that affects about half a million people in North America. But it subsequently received orphan-drug designation when it was shown to be effective in children.8
Today, Remicade has received FDA approval for 16 indications, some orphan, some not. Most important of these is the indication for rheumatoid arthritis, which, with some 1.5 million affected, is much more common than Crohn's.8
Analysts stress that steadily widening the list of indications for orphan drugs is part of a conscious strategy by the manufacturers to manage the product life-cycle of these drugs. The table below shows that there are many examples of "orphan" drugs whose sales come primarily from treating more common conditions: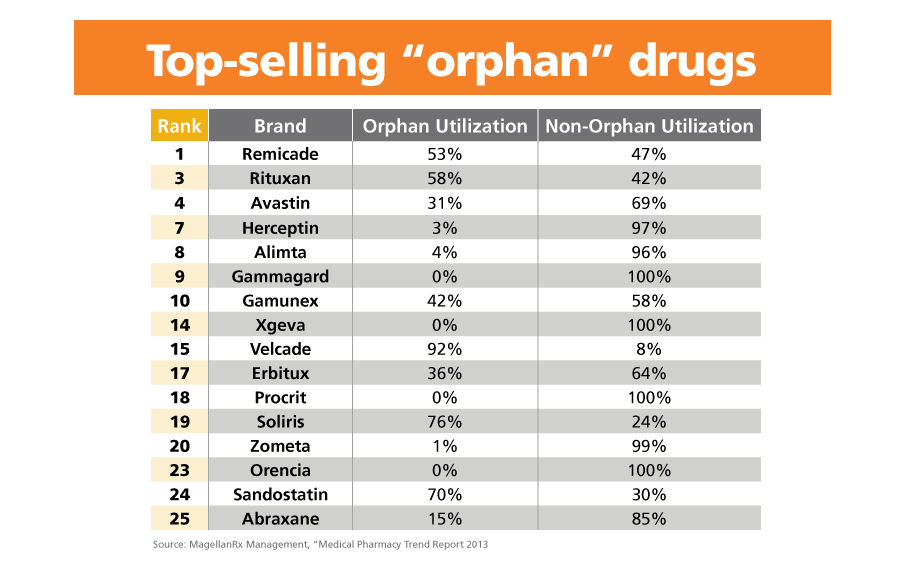 Looking ahead, the problem of expanding indications will continue to grow. One very recent example is the recently approved drug Ocaliva™ (obeticholic acid). In May of this year Ocaliva was approved for its initial FDA-rare indication of primary biliary cholangitis (PBC) at a price just under $70,000 per year.9 With the PBC indication, the total number of patients that Ocaliva could reach is less than 20,000. However, the manufacturer intends to later file for FDA approval for the much more prevalent condition of nonalcoholic steatohepatitis (NASH), which may affect up to 16 million Americans.10
Cancer
Another new development relates to the way we understand cancer. Changes happening right now in oncology could have a big impact on potential numbers of patients to be treated by the orphan drug market.
Where in the past cancer was considered one disease with many faces, today we think of it more as a large number of individually rare diseases. Each of these can be highly differentiated based on the presence or absence of specific genetic biomarkers, and each affecting relatively small populations.2
Today more than 40% of all approved orphan drugs are intended to treat narrowly defined patient subgroups within oncology.2 In addition, of the 550 or so new orphan drugs in development, 40% of these are also aimed at various forms of cancer.7
They are helping more patients with dangerous cancers like advanced melanoma to live far longer than before:6
3 year survival rates improve by up to 300%
5 year survival rates improve by up to 127%
The corollary is that unique, effective drugs can command big price margins in their class. How big? One projection is that in just a few years we will be spending more just for new cancer immunology drugs like Opdivo® and Keytruda® than we currently spend for all cancer medicines: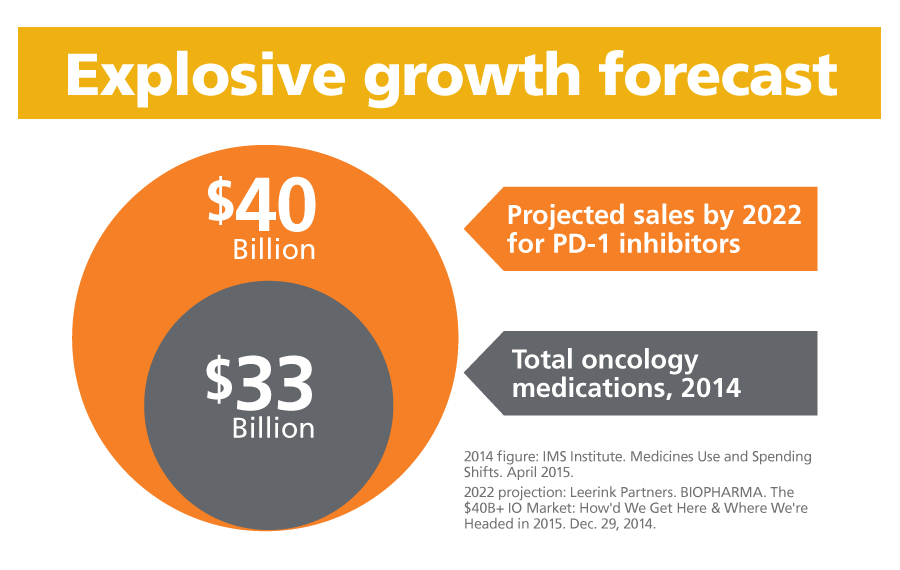 Looking ahead
Despite their premium price, payers have historically demonstrated relatively little pushback on coverage for orphan drugs. This is partly because of the demonstrably high medical need, plus the fact that the budget impact was relatively small.2 As the scale of orphan drug use continues to grow, this hands-off attitude may no longer be sustainable. Please look for Part 2 of this series, which will address managing orphan drug costs.
Text
STATEMENT REGARDING FINANCIAL INFLUENCE:
This article is directed solely to its intended audience about important developments affecting the pharmacy benefits business. It is not intended to promote the use of any drug mentioned in the article and neither the author nor OptumRx has accepted any form of compensation for the preparation or distribution of this article.