Fall, 2016: OptumRx trend update
The pharmacy world is a complex, fast-moving field. Those who pay for and receive pharmacy benefits face multifaceted challenges. These include more demand for medication, more expensive specialty medicines, significant price inflation for many traditional medications, and more chronic illness than ever before.1, 2, 3, 4
When we look at national averages, employers' pharmacy costs are rising about twice as fast as other medical costs, at about +10% versus 4.5-5%.5 However, national averages can be misleading, as they fail to account for the trend experience of specific pharmacy benefit plans.
For example, the most recent trend experience for OptumRx customers is less than one half the national average figure. Building upon the earlier look at trend presented in August, we are pleased to deliver this updated report on the drivers that are influencing pharmacy benefit spending.
Scope
This analysis is based on our carve-out commercial, and carve-in ASO commercial book of business.
This article reflects some early insights based on the first eight months 2016 claims data (January – August). All of the numbers are expressed by comparison to the same period of 2015.
Overall trend (3.8%) is based on post rebate data. All other metrics reflect pre-rebate figures.
As we move through the numbers, we will see examples where applying different types of programs and services – whether it be moving to a strategically designed formulary, or applying OptumRx utilization management programs, – all can be used to help clients get the most value out of their pharmacy benefit plan.
Optum Commercial Book of Business Trend (Jan-Aug 2015 versus Jan-Aug 2016)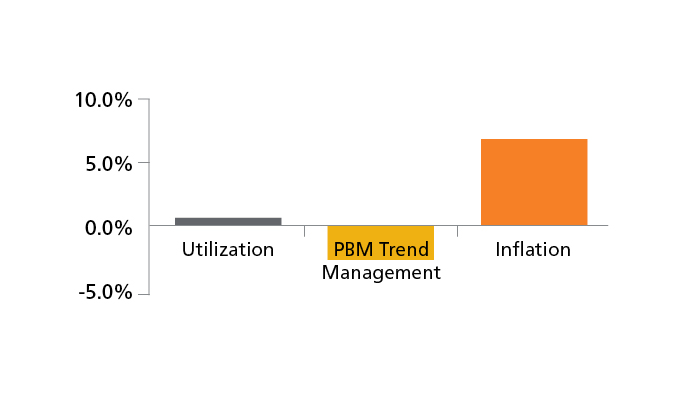 Our year-to-date 2016 (Jan-Aug 2015 vs. Jan-Aug 2016) trend is 3.8%. Inflation is the most significant driver of trend for both traditional and specialty drug classes. Utilization increased slightly, but trend management efforts resulted in a favorable reduction in overall trend (-3.1%).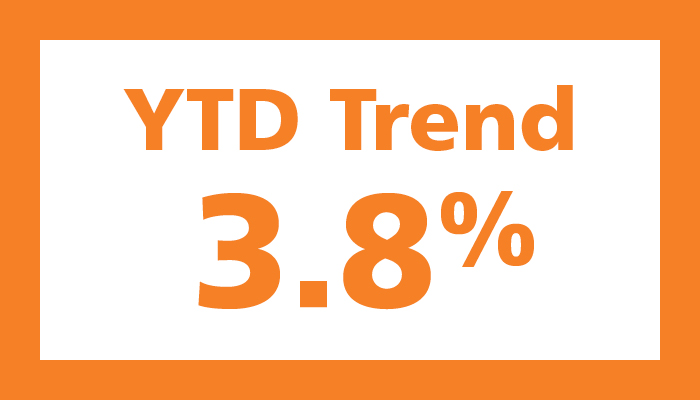 OptumRx trend management activities include, but are not limited to, active programs and strategies employed to improve care and reduce costs. This includes plan management strategies and rebate strategies such as price protection, as well as plan design and formulary management for driving generic and preferred brand utilization and rebate aggregation. We also manage specialty drugs to ensure appropriate utilization for proper clinical use and reduced waste and improved fiscal responsibility. Our network management programs drive negotiated best price adjudication programs to for lowest net cost products.
Specialty Medications (87% of overall trend)
Specialty Trend, although significant at 13.0%, is lower than we saw in 2015 (2014 vs. 2015 data) where trend was over 20%. Inflation is the major driver, responsible for three-quarters of increase. Utilization increased by 4%, but was offset slightly by a favorable drug mix.
Specialty spend was mainly influenced by two therapeutic classes, medications used to treat chronic inflammatory conditions, and hepatitis C. Each pushed trend in opposite directions.
Chronic inflammatory class
Drugs used for the treatment of conditions like rheumatoid arthritis, inflammatory bowel disease and plaque psoriasis accounted for 30% of specialty spending and 66% of specialty trend. Most (60%) of the trend increase was due to price inflation, as some of the key medications saw dramatic AWP (average wholesale price) increases.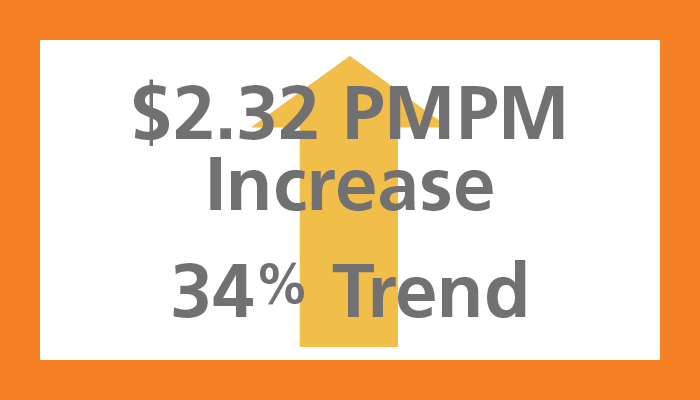 Class leaders Humira® and Enbrel,® drugs with the highest market share, experienced between 47% and 70% AWP increases, during the comparison periods. This resulted in the average cost for those drugs increasing by almost 25%.
Utilization also increased for the class, by 11.3%. Humira is continuing to steal market share from Enbrel, but simultaneously experienced the highest utilization increase in the class. Additionally, other medications are seeing increased use. These include Stelara® (psoriasis), Otezla® and Xeljanz® (oral options for psoriasis and arthritis), and relative newcomer Cosentyx®.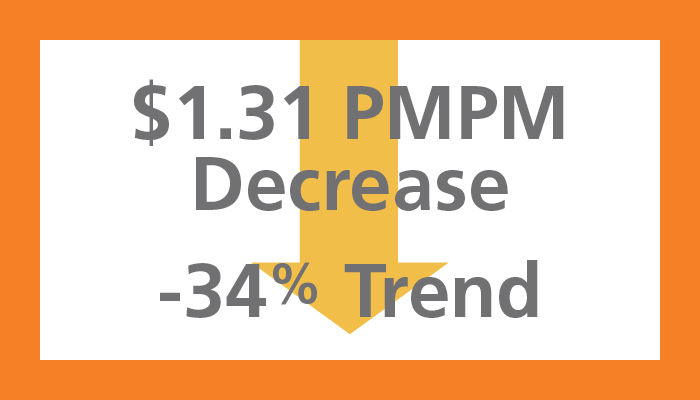 Hepatitis C therapy went from third-highest ranked for specialty spending in 2015 to fifth in 2016. Similarly, it went from being the second-largest contributor to class trend to actually exerting a negative influence on trend thanks to the decrease in spending marked by a 33% reduction in claims volume. Harvoni® had the greatest decrease, as it went from over 10,000 claims to about 5,700 claims, a 42% decrease in utilization.
Other changes include the following:

The oncology class was influenced by all three drivers: drug mix, inflation and utilization. More expensive medications such as Ibrance® and Imbruvica® (both at ~$10,000/prescription) saw increased utilization. There was a slight reprieve in this trend, as generic Gleevec® increased in utilization as well, with pricing during this time period at about 88% of the brand (i.e. 12% savings). As many of the drugs are brands, inflation resulted in a 7.2% trend, led by Revlimid® (9.8% increase) and Gleevec (5.0% increase). Utilization increased by 4.9%.

Within the available medications approved to treat HIV infection, single-tablet, complete treatment regimens (which include multiple medications) had a significant increase in utilization, while other medications experienced decreases in market share. This reflects how HIV treatment is shifting to newer single-tablet treatment regimens. The older method of combining multiple, single-drug options to treat HIV is no longer desirable, due to poor adherence. Newer agents, such as Triumeq® and Genvoya,® experienced the highest utilization increases, while the existing HIV treatment Truvada® continues to gain market share due to increased awareness of its FDA-approved use to prevent HIV infection in patients who are at higher risk of acquiring HIV. (The use of Truvada as HIV prevention is also known as PrEP, or, pre-exposure prophylaxis.)

Inflation was the main trend driver among MS medications. Highly utilized drugs, such as Tecfidera,® Copaxone,® and Gilenya,® experienced AWP increases over the comparison periods. Two mitigating factors: overall 2.6% decreased utilization for all drugs in the class, and increased utilization (370%) of Glatopa® (generic Copaxone) helped to temper the trend. Glatopa was available at 20% price advantage versus brand Copaxone.

Cystic Fibrosis doubled in spend due to new drug Orkambi®. This is a new treatment for cystic fibrosis, one that treats a protein defect implicated in the underlying cause of the disease. As a new introduction to the market in 2015, utilization increased substantially during this time, and the product carries a lofty price tag of approximately $21,000 per prescription. The necessity and optimism for this treatment is evident by the quick uptake of this breakthrough therapy.
Traditional: 0.9% Trend (13% of the Overall Trend)
Traditional drug spending was influenced by some substantial PMPM increases within select drug classes, offset by some favorable trends in other classes. While inflation was the most significant driver, however, a favorable drug mix almost negated the effect of Inflation. Along with a slight increase in utilization, the resulting trend was less than one percent.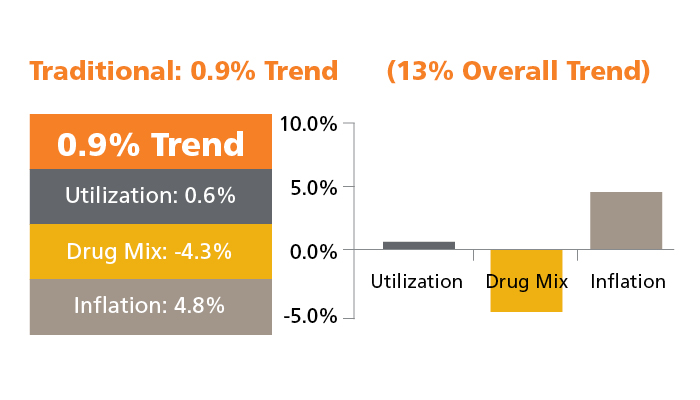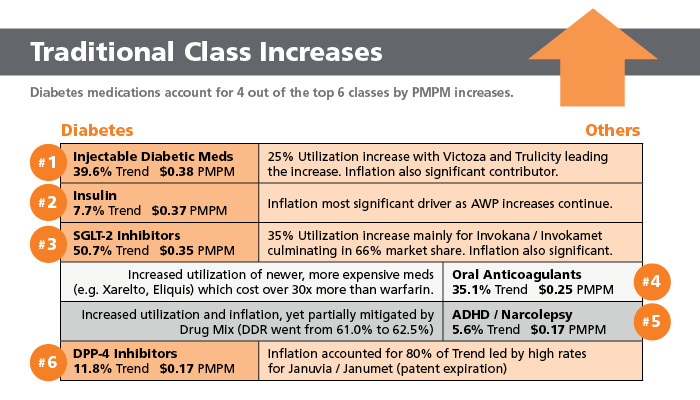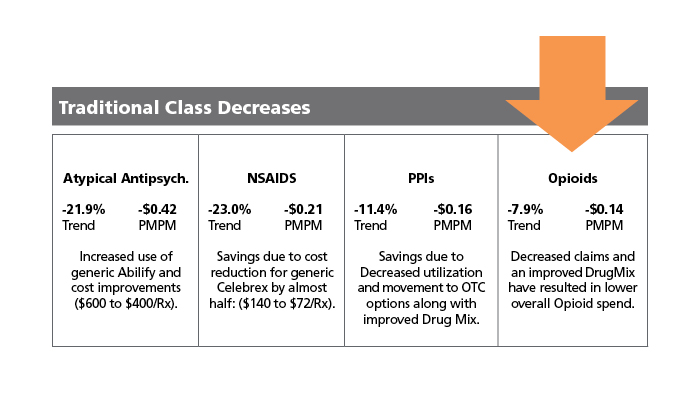 Other noteworthy changes
Epi-Pen: Compounding the effect of the recent pricing increases, which doubled the cost per-prescription over the past year, was an increase in utilization. After Auvi-Q (main competition) was pulled from the market in October 2015 due to inaccurate dosages, there was no suitable alternative for this life-saving drug. This combination of market forces resulted in a $0.15 PMPM increase, a 44.7% trend.
Nasal Steroids: Similar to the effects experienced for the non-sedating antihistamines and the recent changes observed for the PPIs, nasal steroids have decreased Rx utilization as viable options are available OTC and most highly utilized Rx brands have become available generically.
Statins, ARBs, Antidepressants: Marked increase in generic dispensing for Statins and ARBs (over 3 percentage points for each) and significant savings in generic pricing for Antidepressants. For example, the Avg. Cost/ Rx for duloxetine (Cymbalta) decreased by about $40 – a 33% reduction.
H.P. Acthar: This drug is approved for infantile spasms and treatment of multiple sclerosis exacerbations. The package label for Acthar, originally approved in 1952, also notes it may be used in many other disease states. Its utilization increased by 28.3% during the analysis period which has had a considerable effect, given an average cost per prescription of $76,000.
Management strategies
How did we arrive at such a low trend for traditional drugs? In the management of drug trending, we recognize and embrace the fact that there is no one-size-fits-all approach, and no one strategy that can help overcome the multitude of factors driving upward pressure on drug spending. Different clients will need to adopt different strategies according to their preferences and needs, and it is our job to afford clients a variety of flexible, well-tested and clinically-sound solutions to do so. Some may include more health management focused strategies, while others, more cost management-specific strategies. Options like exclusionary formularies (i.e., OptumRx Premium Formulary) and focused utilization management programs, as well as our unique suite of Vigilant Drug Lists can go a long way toward limiting access to higher-cost branded therapies; mitigating egregious drug manufacturer price increases; and countering efforts by manufacturers to circumvent traditional payer trend management solutions.
This chart shows a number of strategies, each of which contributes its part to the overall lower trend: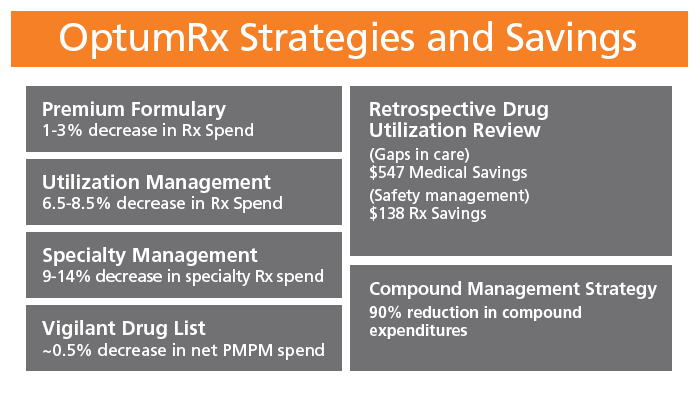 For OptumRx, our focus will consistent center around strengthening existing programs and proactively developing new solutions that can assist our clients in effectively managing trend without compromising in any way the quality of clinical care afforded to the individual member ultimately served by these efforts. Today, there are nearly 12,000 people who work across OptumRx who are focused on this every day. Whether it's from the operationalizing our core services, evaluating new, existing and pipeline drug therapies, driving our data management and analytics to identify trends, or working directly with our clients to provide strategic clinical consultation and support, we remain committed to these goals and objectives each and every day.
We continue to look forward to the opportunity to truly partner with you in better understanding your needs and your values as it relates to the management of your pharmacy benefit, and helping to deploy an array of customized, innovative solutions that can you gain that optimal balance of effective trend management, high quality pharmaceutical care and member satisfaction.