Text
Millions of Americans live with acute or chronic pain. Many of them rely on prescription drugs to improve their ability to function and maintain their quality of life. While all prescription drugs have some risk of misuse, some drugs, identified by the Drug Enforcement Administration (DEA) as controlled substances, are particularly dangerous. Specifically, prescription opioids have high abuse potential and can lead to life-threatening adverse events when taken in excess or in combination with other drugs.1
Opioids are a class of drugs that include the illegal drug heroin, as well as legal prescription pain relievers like oxycodone, hydrocodone, codeine, morphine, fentanyl and others.2
Drug overdose is the leading cause of accidental death in the U.S., with 47,055 lethal drug overdoses in 2014.2 Opioid misuse, abuse, addiction, and overdose accounts for over 60% of this epidemic, with four in five new heroin users starting out misusing prescription painkillers. In 2014 there were 18,893 overdose deaths related to prescription pain relievers, and 10,574 overdose deaths related to heroin.2
Here is a graphic depiction of the rising wave of opioid deaths. Notice in particular the sudden acceleration in recent heroin deaths: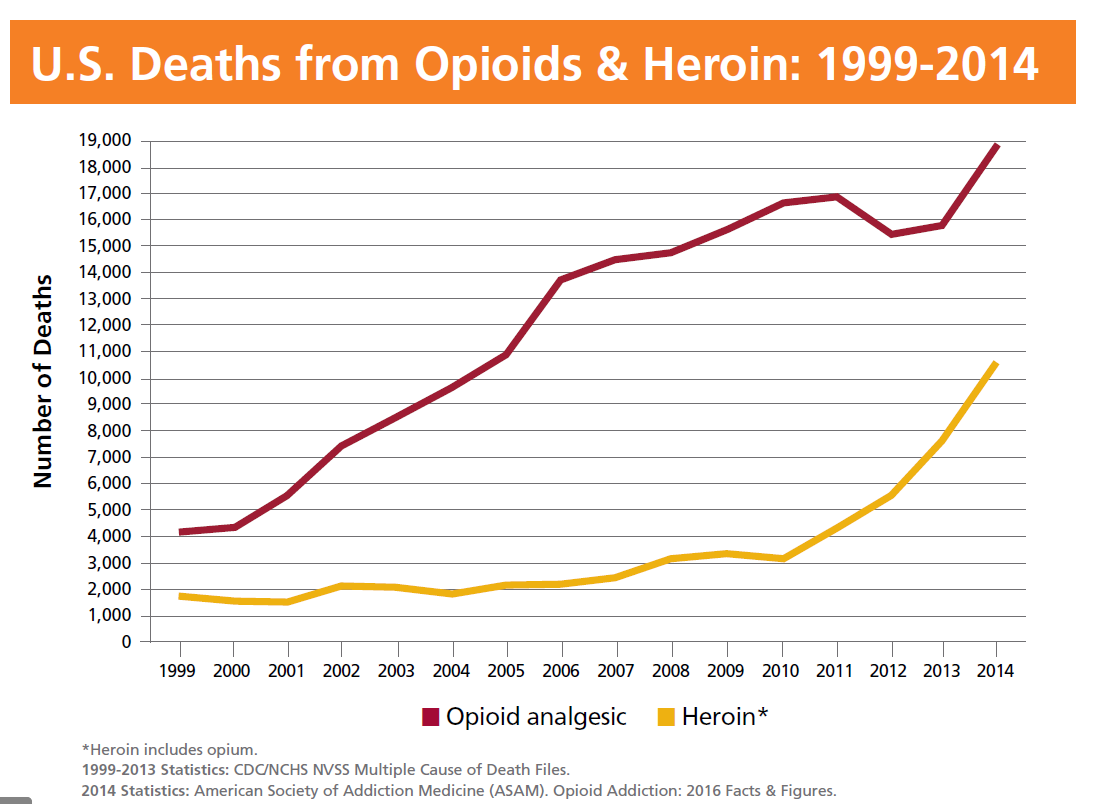 This graph puts the death toll into perspective. After 20 years of heavy combat in South Vietnam, U.S. military casualties represented only one-third of the death toll from 10 years of opioid overdoses.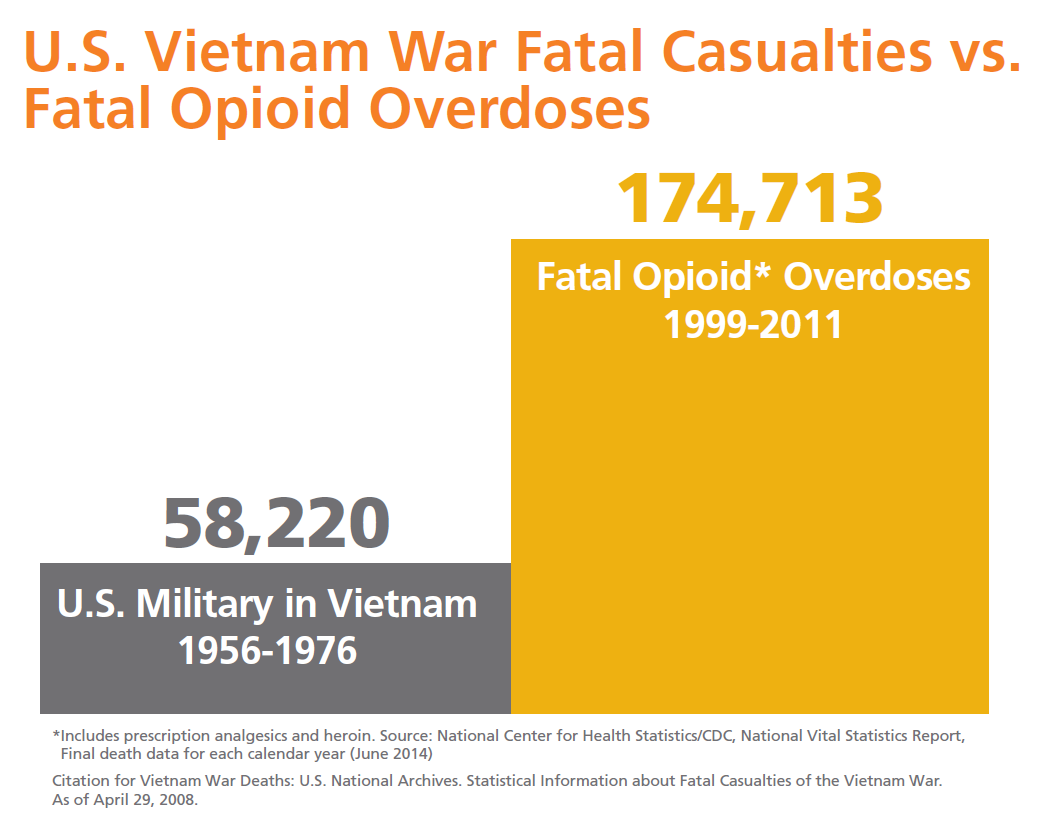 But simply focusing on the number of deaths – tragic as they are – actually obscures the true dimensions of the problem. According to the National Survey on Drug Use and Health (NSDUH), in 2012 an estimated 2.1 million Americans were addicted to opioid pain relievers and 467,000 were addicted to heroin. These estimates do not include an additional 2.5 million or more pain patients who may be suffering from an opioid use disorder because the NSDUH excludes individuals receiving valid opioid prescriptions.1
How did we get here?
Physicians trained in the 1960s and 1970s were taught to reserve opioids for the most severe forms of pain, such as cancer or end-of-life care. That approach continues to be appropriate.3 Then in the late 1990's, opioid prescribing policies changed. Patient advocacy groups and pain specialists (with some not-so-subtle help from pharmaceutical companies) began to argue that doctors were undertreating common forms of pain that could benefit from opioids, such as backaches and joint pain.3
Around this time the American Pain Society introduced the "pain as the 5th vital sign" campaign, (adding pain to the four original vital signs representing essential body functions: heartbeat, breathing rate, temperature, and blood pressure). 4
This effort garnered impressive institutional support, including sponsorship by the Joint Commission on Accreditation of Healthcare Organizations, the National Pharmaceutical Council, and the U.S. Department of Veteran's Affairs.5
According to the National Pharmaceutical Council, the "5th vital sign" message was built on a simple logic:
That pain is the most common reason individuals seek health care. Each year, an estimated 25 million Americans experience acute pain due to injuries or surgery and another 50 million suffer chronic pain.6
The adverse consequences of undertreated pain may cause serious medical complications, impair recovery from injury or procedures, and can progress to chronic pain. Undertreated chronic pain can impair an individual's ability to carry out daily activities and diminish quality of life.6
Advocates for enhanced pain treatment successfully lobbied state medical boards and state legislatures to change statutes and regulations. One particular goal was to lift any prohibition of opioid use for non-cancer pain. In Washington State, for example, state law was modified to stipulate that "no disciplinary action will be taken against a practitioner based solely on the quantity or frequency of opioids prescribed."1
In at least 20 states, these new guidelines, statutes, regulations and laws dramatically liberalized the long-term use of opioids for chronic non-cancer pain, reflecting the prevailing thought at the time that there is no clinically appropriate ceiling on maximum opioid dosing.1
Here is a view of the guide issued by the Department of Veteran's Affairs that describes their approach to more aggressive pain management: http://www.va.gov/PAINMANAGEMENT/docs/Pain_As_the_5th_Vital_Sign_Toolkit.pdf.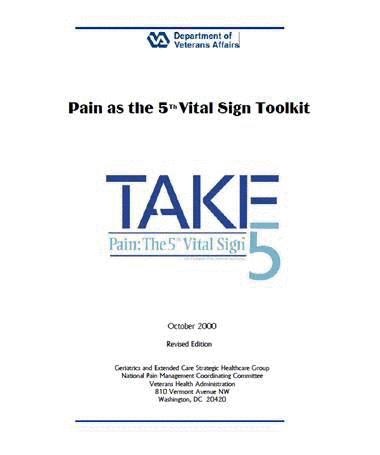 The "fifth vital sign" pain relief message was amplified by multimillion-dollar promotional campaigns aimed directly to prescribers.1 Newlong-acting drugs like OxyContin® were promoted as less addictive.4
The combination of a more aggressive approach to pain management and pharmaceutical company marketing efforts led to a dramatic increase in prescription opioid sales. Subsequent studies have shown a strong, linear relationship between opioid sales volume and the morbidity and mortality rates associated with these products.1
Looking back with the benefit of hindsight, it seems clear that the 5th vital sign initiative badly misfired. Whatever advantages gained in terms of alleviating pain were swamped by steeply increased opioid utilization and subsequent epidemic of addiction and overdose. These abuses led the U.S. Centers for Disease Control and Prevention (CDC) to see a need for new prescribing guidelines for narcotic painkillers.
New guidelines
In March of this year, the CDC published The Guideline for Prescribing Opioids for Chronic Pain aimed at improving patient care and safety and preventing opioid overdose.9
Out of the 12 recommendations that comprise the new guideline, three stand out as key:
First, non-opioid therapy is preferred for chronic pain. (Aside from active cancer, palliative, or end-of-life care.) When used, opioids should be added only when their expected benefits are likely to outweigh their substantial risks.10
Second, use the lowest possible effective dose to reduce the risks of opioid use disorder and overdose. The rule of thumb is "start low and go slow."10
Third, doctors should monitor all opioid-using patients closely. This includes, for example, avoiding concurrent use of conflicting drugs, reviewing data from prescription-drug monitoring programs, and having a clear "off-ramp" plan to taper and discontinue therapy.10
Here is a sample online banner message aimed at changing doctor prescribing patterns for opioids:

In general, the new CDC guidelines try to shift the entire perspective on opioid use by stressing the importance of avoiding opioid prescriptions as the first-line of treatment for patients with chronic pain.3 Doctors are being asked to question whether they need to prescribe opioids as early in treatment as they have become accustomed. The guidelines also remind prescribers that the evidence in support of starting opioid treatment early and keeping people on them for prolonged periods is thin. It sets stricter limits on who should be eligible for treatment with chronic opioids, the maximum dose that should be used, and the kind of cautions they need to understand in order to avoid serious risk. The guidelines also establish new rules for monitoring patients who are taking opioids.9
What will doctors do?
While the new CDC prescribing guidelines are welcome, they are only a first step toward a solution. At this point, the tendency to aggressively treat pain using opioids is firmly entrenched in the medical community. For example, just this year the National Safety Council conducted a national survey of physicians who spend over 70% of their time seeing patients for pain. What they found was revealing:
99% of doctors prescribe highly addictive opioids for longer than is recommended by the CDC (three days).11
74% of doctors incorrectly believe morphine and oxycodone – both opioids – are the most effective way to treat pain.11
99% of doctors have seen a pill-seeking patient or evidence of opioid abuse, but only 32% usually refer the patient to treatment.11
67% of doctors are, in part, basing their prescribing decisions on patient expectations.11
Many question just how much, or how fast the average doctor will actually change his or her prescribing behavior. Recently, CDC Director Dr. Tom Frieden admitted as much when the new guidelines were released, saying that changing medical practice is not quick, or easy.3
One question that arises is whether there are external influences acting on doctors that make it harder for them to limit opioid use. Some cite the time constraints affecting physicians' practice in this era of healthcare reform that emphasizes quality and value-based payment. This argument says that it's much easier for a busy clinician to prescribe a 30-day supply of oxycodone or Percocet to treat a patient's chronic pain than it is to convince him or her to do physical therapy.3
Do hospital rankings play a role?
Another potential external influence acting on opioid prescribing patterns concern the ways hospitals are ranked and reimbursed. As part of the 2010 the Affordable Care Act, the Centers for Medicare & Medicaid Services (CMS) developed the value-based purchasing program to shift from pay for volume to pay for value.7
Hospitals are scored based on their performance on various measures, including outcomes of care, readmission rates, efficiency and the patient experience. Crucial for this discussion, the patient experience includes patient scoring of their satisfaction with their pain control.4
Hospital administrators were quick to develop initiatives to improve their scores and avoid penalties. For example, many hospitals have instituted readmission avoidance programs because these scores are closely monitored.7
Because CMS attached significant reimbursement penalties to patient satisfaction, some doctors believe that administrators began to hold physicians directly responsible for patient satisfaction, to the point of withholding pay or bonuses. As a result, some physicians felt pressured to prescribe opioids when patients demanded them.4
In a recent editorial in the Journal of the American Medical Association, CMS responded to suggestions that pain management questions should be taken out of the satisfaction survey in order to remove any potential for misaligned incentives to prescribe opioids.8 They began by insisting that effective pain control is a critical quality issue for inpatients, and that therefore they ought to measure that part of the patient experience. CMS went on to point out that nothing in the survey suggests that opioids are a preferred way to control pain. Finally, they observed that there is no empirical evidence showing that failing to prescribe opioids lowers a hospital's patient satisfaction scores.8
Where do PBMs fit in?
There are at least two potential ways PBMs can participate in a solution to the opioid epidemic. The first is via their clinical management programs such as step therapy or prior authorization. These are simple measures that can directly influence both physician prescribing patterns and patient use.
There is undoubtedly going to be a major effort to re-orient physicians away from opioid prescribing over the coming years. The data in this chart, published in 2015, shows that, while some areas of specialization have dramatically cut opioid use, in others the trend is still high and rising.
The second way PBMs can help is through a more forensic approach designed to uncover instances of fraud or abusive prescribing patterns that contribute to excessive opioid use. Most PBMs already perform prescription claims reviews to uncover potentially fraudulent use of dangerous drugs.9 For example, OptumRx uses retrospective claims analysis to identify members who meet certain criteria, such as using multiple prescribers, multiple dispensing pharmacies, and multiple controlled substance claims over a set period. The next step is to proactively work to get this patient specific data into the hands of the prescribers, so each of them can have a complete picture of the patient's behavior.
Going forward, these existing programs could be enhanced with new enabling legislation.1 For example, PBMs could vastly enhance their insight into individual behaviors if they had access to each patient's complete controlled substance claims history, including cash claims, and access to state-run prescription-drug monitoring programs (PDMP). However, at the present time many state laws prohibit PBMs from accessing this data.1
Summary
The new prescribing guideline constitutes an important step toward a solution for the opioid crisis by presenting the best available evidence to provide options for patients and clinicians. But, it is just one step. Experts agree that, while guidelines are important, much more action will be required in order to translate guidelines into new patterns of behavior. These will necessarily include not just doctors, hospitals and PBMs, but also pharmaceutical manufacturers, educators, addiction treatment specialists and communities.1
A combined Optum response
At Optum, we recognize that controlling the opioid epidemic will require a comprehensive approach. Therefore, we are preparing to deploy the resources from across the entire United Health Group family of companies – not just OptumRx.
Optum companies help deliver better outcomes in three key ways: by connecting all parts of the health system to the right data for better outcomes; by advancing beyond traditional pharmacy cost management by engaging members in programs to improve their health; and by empowering consumers with self-managed well-being and care programs, to better manage their health and take control of their own wellness.
Please watch for much more about this major initiative in 2016.
References
Johns Hopkins Bloomberg School of Public Health. The Prescription Opioid Epidemic: An Evidence-Based Approach. Nov. 2015. Accessed at: http://www.jhsph.edu/research/centers-and-institutes/center-for-drug-safety-and-effectiveness/opioid-epidemic-town-hall-2015/2015-prescription-opioid-epidemic-report.pdf on 05.02.2016.
American Society of Addiction Medicine (ASAM). Opioid Addiction: 2016 Facts & Figures. [PDF].
Modern Healthcare. CDC opioid prescribing guidelines unlikely to affect physicians' practices. March 15, 2016. Accessed at: http://www.modernhealthcare.com/article/20160315/NEWS/160319936 on 05.02.2016.
KevinMD. The opioid epidemic: It's time to place blame where it belongs. April 6, 2016. Accessed at: http://www.kevinmd.com/blog/2016/04/the-opioid-epidemic-its-time-to-place-blame-where-it-belongs.html on 05.02.2016.
Joint Commission on Accreditation of Healthcare Organizations; National Pharmaceutical Council. Pain: Current Understanding of Assessment, Management, and Treatments. Dec. 2001.
National Pharmaceutical Council. Pain: Current Understanding of Assessment, Management, and Treatments. Accessed at: http://www.npcnow.org/publication/pain-current-understanding-assessment-management-and-treatments?page=17&Research=1 on 05.04.2016.
Health Affairs. Medicare Hospital Readmissions Reduction Program. Nov. 12, 2013. Accessed at: http://www.healthaffairs.org/healthpolicybriefs/brief.php?brief_id=102 on 03.28.2016.
JAMA. Measurement of the Patient Experience: Clarifying Facts, Myths, and Approaches. Published online March 10, 2016. doi:10.1001/jama.2016.1652. Accessed at: http://jama.jamanetwork.com/article.aspx?articleid=2503222 on 05.02.2016.
Drug Benefit News. Opioid Prescribing Guideline Strikes Needed Balance in Pain Care, Plans Say. April 8, 2016.
New England Journal of Medicine. Reducing the Risks of Relief — The CDC Opioid-Prescribing Guideline. 2016; 374:1501-1504 April 21, 2016DOI: 10.1056/NEJMp1515917. Accessed at: http://www.nejm.org/doi/full/10.1056/NEJMp1515917?af=R&rss=currentIssue on 05.03.2016.
National Safety Council. Prescriber attitudes and behavior related to prescription opioid pain medication. March 13, 2016. Accessed at: http://www.nsc.org/NewsDocuments/2016/Doctor-Survey-press-briefing-32416.pdf on 05.16.2016.
Text
STATEMENT REGARDING FINANCIAL INFLUENCE:
This article is directed solely to its intended audience about important developments affecting the pharmacy benefits business. It is not intended to promote the use of any drug mentioned in the article and neither the author nor OptumRx has accepted any form of compensation for the preparation or distribution of this article.