Text
In this article we will focus on a drug that was approved in 2016, but only for very limited uses (or indications): Ocaliva® (obeticholic acid). Ocaliva is approved to treat primary biliary cholangitis (PBC), a chronic disease that can damage liver cells, resulting over time in cirrhosis.1
What makes this drug interesting is that many observers are predicting that it may soon acquire significant new indications – and a huge increase in new sales. This is because Ocaliva could represent a significant advance in treatment for a condition that affects many millions of Americans where currently none exist: a liver disease called nonalcoholic steatohepatitis, or NASH.
Of course, any new uses will depend on the outcomes of additional clinical trials, and will require new approvals from the Food and Drug Administration (FDA).
Small beginnings
We need to remember that relatively few drugs begin life with the kind of explosive growth we saw when the hepatitis C drug, Sovaldi®, came out. Many drugs actually begin with quite narrow indications, covering fairly small, specific conditions and populations. Only later does the manufacturer obtain approval to market the same drug to larger populations and more common conditions.
One of the most striking examples of this is found in Remicade®, first approved in 1998 to treat Crohn's disease, which affects approximately 1.6 million Americans.2 But in the years since that first FDA approval, Remicade went on to be approved to treat other autoimmune disorders that affect far more people, including ulcerative colitis, rheumatoid arthritis, ankylosing spondylitis, psoriatic arthritis, and plaque psoriasis.3 Altogether, the combined sales for Remicade reached $6.5 billion in sales in the U.S. in 2015, making it one of the largest selling drugs on the market.4
Text
Ocaliva
Made by Intercept Pharmaceuticals, Ocaliva is currently used to treat PBC in patients who either cannot tolerate existing treatments, or who do not respond to them.5 With total sales in 2017 expected to reach nearly $100 million, and peak sales for the PBC class estimated to be about $300 million, it would make Ocaliva a solid if, uninspiring, performer for Intercept, even if there are no changes in its approved use. 6
But, the real story lies with Ocaliva's long-term potential as a promising treatment for nonalcoholic steatohepatitis, or NASH. Some even call NASH "the next hepatitis C," with projected revenues ranging up to $40 billion annually on a worldwide basis.7
It is not clear how many people have NASH, because it causes no symptoms.8 Nevertheless, the National Institutes of Health estimate that NASH may affect somewhere between 3% and 12% of American adults.9
With approximately 243 million adults in the U.S., the upper end of that range produces an astonishing 29 million potential patients (although not all of these would require immediate treatment).8, 10
The image below shows the relationship between NASH and non-alcoholic fatty liver disease (NAFLD). The more severe form of NAFLD is called NASH.11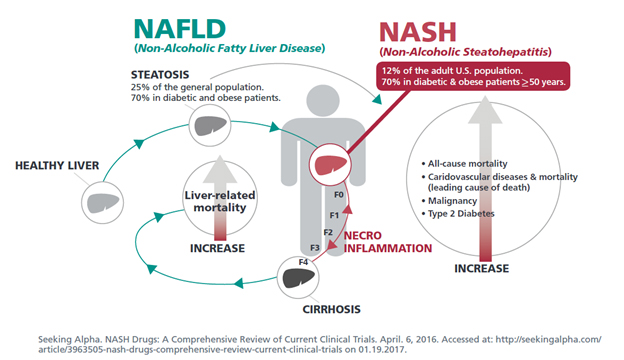 What we do know is that NASH is one of the leading causes of cirrhosis in adults in the United States.8  NASH is now the second most common cause for liver transplantation in the U.S., and it is on track to become the leading cause by 2020.12
With no FDA-approved therapy, NASH has been called "one of the major unmet medical needs of the 21st century."12 Nor is there any way to treat NASH directly: Current treatment focuses on controlling some of the associated medical conditions, such as diabetes and obesity.8
Therefore from a cost perspective, NASH is a far bigger potential source of spending than PBC.
Text
Current testing
Intercept has already completed a mid-stage study for Ocaliva targeting treatment of NASH that showed encouraging results. Another late-stage NASH study includes 1,400 patients with an interim analysis expected in the first half of 2017.12
There are at least two other drugs competing for this space in addition to Ocaliva. While Ocaliva does have its initial (non-NASH) indication approval, the others are strictly developmental.7
Predicting which of the competing drugs will make it to market first is not necessarily straightforward. While late-stage studies often indicate that a drug is drawing close to approval, that's not always the case. In fact, the FDA has just published a study of 22 drugs where phase three test results did not match the results from earlier tests for safety, efficacy, or both.13
Therefore it is not surprising that while Ocaliva seems to be well ahead of in the race to treat NASH, some analysts believe that a product from Genfit (elafibranor) might actually have the better chance to be first-to-market with a NASH treatment. This is due to some potential side-effects cropping up in tests for Ocaliva.12
For the NASH drugs known to be in development right now, none are expected to see market approval before the year 2019, with most slotted into the 2020-2025 time frame.12
Whichever drug can go on to win approval for NASH  will achieve "first-mover" status in this category. While being first does not guarantee market dominance, it does often confer lasting advantages. One study found that first-mover drugs achieved stronger than average sales for up to ten years.14
This makes the race worthwhile.
Under these conditions, Ocaliva would be transformed from a nice, middle-of-the-pack performer into a world-class blockbuster drug. Just to be clear, with peak predicted sales for NASH at around $40 billion, we are looking at a class that would outsell the top four best-selling drugs in the world–combined.  (Humira®, Lantus®, Sovaldi®, and Abilify®, based on 2014 IMS sales figures.15)
Conclusion
As with any new drugs, it is wise to keep expectations low. As the recent FDA study shows, even late-stage testing can reveal unexpected flaws in a drug's performance, whether for safety, or efficacy, or both.13
That said, Ocaliva (or one of its competitors) does appear to offer new hope for many patients who suffer from NASH. While they may provide a substantial benefit over available therapies, as with any new drugs, careful controls need to be in place in order to ensure their most effective use.
OptumRx and BriovaRx specialty pharmacy programs offer a wide range of management tools and strategies. As new drugs grow closer to actual approval, we will already have a plan in place to draw on the appropriate techniques for your plan or your clients' plans.
Your OptumRx representative will keep you informed about these developments.
[Configure Slider]
Related articles
Text
References
1. FDA News Release: FDA approves Ocaliva for rare, chronic liver disease. May 31, 2016. Accessed at: http://www.fda.gov/NewsEvents/Newsroom/PressAnnouncements/ucm503964.htm on 01.12.2017.
2. Crohn's & Colitis Foundation of America. The Facts About Inflammatory Bowel Diseases. Nov. 2014. Accessed at: http://www.ccfa.org/assets/pdfs/updatedibdfactbook.pdf on 01.12.2017.
3. Business Insider. One of the world's blockbuster drugs might not exist if its research hadn't flopped in a major way. Dec. 16, 2015. Accessed at: http://www.businessinsider.com/remicade-would-have-failed-as-a-cancer-drug-2015-12 on 01.17.2017.
4. FiercePharma. FDA vote sets stage for J&J and Pfizer battle over Remicade's $6.5B in sales. Feb 10, 2016. Accessed at: http://www.fiercepharma.com/pharma/fda-vote-sets-stage-for-j-j-and-pfizer-battle-over-remicade-s-6-5b-sales on 01.12.2017.
5. Medscape. Primary Biliary Cholangitis (Primary Biliary Cirrhosis) Treatment & Management. Jun 03, 2016. Accessed at: http://emedicine.medscape.com/article/171117-treatment on 01.12.2017.
6. Motley Fool. 3 Companies Whose Sales Could Double in 2017. Jan 7, 2017. Accessed at: http://www.fool.com/investing/2017/01/07/3-companies-whose-sales-could-double-in-2017-2.aspx on 01.12.2017.
7. Motley Fool. $40 Billion Opportunity: 3 Biotechs Poised to Dominate. Oct 31, 2016. Accessed at: http://www.fool.com/investing/2016/10/31/40-billion-opportunity-3-biotechs-poised-to-domina.aspx on 01.12.2017.
8. UpToDate. Patient education: Nonalcoholic fatty liver disease (NAFLD), including nonalcoholic steatohepatitis (NASH) (Beyond the Basics). Dec 2016. Accessed at: https://www.uptodate.com/contents/nonalcoholic-fatty-liver-disease-nafld-including-nonalcoholic-steatohepatitis-nash-beyond-the-basics on 01.12.2017.
9. National Institute of Diabetes and Digestive and Kidney Diseases (NIDDK), National Institutes of Health. Definition & Facts of NAFLD & NASH. Nov. 2016. Accessed at: https://www.niddk.nih.gov/health-information/liver-disease/nafld-nash/definition-facts on 01.12.2017.
10. Reference.com. How many adults live in the USA? Accessed at: https://www.reference.com/government-politics/many-adults-live-usa-b830ecdfb6047660 on 01.12.2017.
11. American Liver Foundation. NAFLD. Dec. 28th, 2016. Accessed at: http://www.liverfoundation.org/abouttheliver/info/nafld/ on 01.20.2017.
12. Seeking Alpha. NASH Drugs: A Comprehensive Review of Current Clinical Trials. April. 6, 2016. Accessed at: http://seekingalpha.com/article/3963505-nash-drugs-comprehensive-review-current-clinical-trials on 01.19.2017.
13. 22 Case Studies Where Phase 2 and Phase 3 Trials had Divergent Results. Jan. 2017. Accessed at: http://www.fda.gov/downloads/AboutFDA/ReportsManualsForms/Reports/UCM535780.pdf on 01.20.2017.
14. McKinsey & Company. Pharma's first-to-market advantage. Sept. 2014. Accessed at: http://www.mckinsey.com/industries/pharmaceuticals-and-medical-products/our-insights/pharmas-first-to-market-advantage on 01.12.2017.
15. 24/7 Wall St.The World's 15 Top Selling Drugs. April 26, 2016. Accessed at: http://247wallst.com/special-report/2016/04/26/top-selling-drugs-in-the-world/ on 01.20.2017.
Text
STATEMENT REGARDING FINANCIAL INFLUENCE:
This article is directed solely to its intended audience about important developments affecting the pharmacy benefits business. It is not intended to promote the use of any drug mentioned in the article and neither the author nor OptumRx has accepted any form of compensation for the preparation or distribution of this article.