Text
How to increase adherence to specialty drugs
Text

Video consults yield better specialty medication adherence
A recent study from OptumRx® shows that patients who received live video consultations for new medications were significantly more likely to be at least 80% adherent to their regimens.1
Adherence challenges
Medication non-adherence has been called America's other drug problem.2 Electronic monitoring studies indicate that among chronically ill patients who regularly fill their prescriptions, only about half of the doses taken are taken correctly, as intended by a physician.3
Patients with specialty conditions face unique challenges when it comes to understanding and continuing to appropriately administer and use their medications.4 Their medication regimens tend to be more complex and often require injections. They may also have special storage and handling rules for their drugs.4
Lower medication adherence is a major cause of poor health outcomes and increased overall health care costs. One estimate is that patients who were not adherent to their doctors' medication guidance experienced complications that cost $105 billion in annual avoidable health care costs.5
What is being done?
One key to better medication adherence is for patients to clearly understand why, how and when they need to take each prescription.4 So it is fairly common for members to receive patient education services either at the retail counter, over the telephone, through written communication, or with a home health nurse. However, these channels may not always be effective. People can forget their instructions, or misunderstand them, or get them confused with other medications they are taking.6
BriovaRx® is the new name for OptumRx specialty pharmacy. BriovaRx has learned that communicating with patients in ways they prefer increases the likelihood that individuals will understand how to use their specialty medication. For example, someone who might be reluctant to experiment with self-injection technique at a retail counter might be much more relaxed and receptive to learning this technique in the comfort of his or her own home.1
One of the key insights to emerge from decades of research into various electronic education tools is that people will learn more and remember better using teaching methods that involve direct experience, including practical and hands-on exercises. The rule of thumb in education is that people remember only about 10% of what they read and 20% of what they hear, but they can remember up to 90% of what they see and do.7
Interactive videos belong to the "do" category as they enable learners to interact with the content through demonstrations, discussions, role-playing and even performing the real experience.7
Methodology
With these thoughts in mind, BriovaRx decided to test how video conferencing sessions between pharmacists and patients might affect adherence rates. This conferencing service is called BriovaLive™.
The study examined new-to-therapy patients. Those in group one received a video consultation session from a BriovaRx specialty pharmacist. Those in group two used retail or other pharmacies but did not receive the video consult.
Patients in both groups were compared during the same time frame and were matched on age, gender and therapy.
Both groups included persons with hepatitis C, rheumatoid arthritis, multiple sclerosis and other specialty conditions.
Steps in the consultation
A BriovaLive patient is prescribed a new specialty medication from their physician.
BriovaRx coordinates a video consult appointment with a clinical pharmacist who is trained in online patient engagement and motivational interviewing.
The video consult places the pharmacist virtually "alongside" the patient at the exact same time that they unpack their first shipment of a new medication.
Each session takes place over a secure and private connection to ensure patient privacy.
Support during "unboxing"
Much of the actual member support takes place during the unboxing phase. Together with the patient, the pharmacist unboxes a duplicate set of supplies that are identical to what the patient has received.
The pharmacist continues to supply support as the unboxing process continues, including:
Review of medication and supplies
Assistance with assembling any devices
Injection training – with on-the-spot feedback for proper technique
Education about side effects and drug interactions
Important details about proper medication storage
Support, encouragement and reassurance throughout the process
Additionally, spouses and caretakers are invited to participate. Family participation can help ensure that the communication is being well understood and that the patient can continue the regimen on their own post consult. The session can also be recorded, so patients can review and share the instructions at a later date.
Results
Members who used BriovaLive reported increased comfort levels in taking their medication and better understanding of the educational materials included with their prescriptions.1
Live, one-on-one video pharmacist conferencing helps patients engage with their treatment plans and increases the likelihood of better adherence and positive outcomes.1 When surveyed, members reported very positive experiences: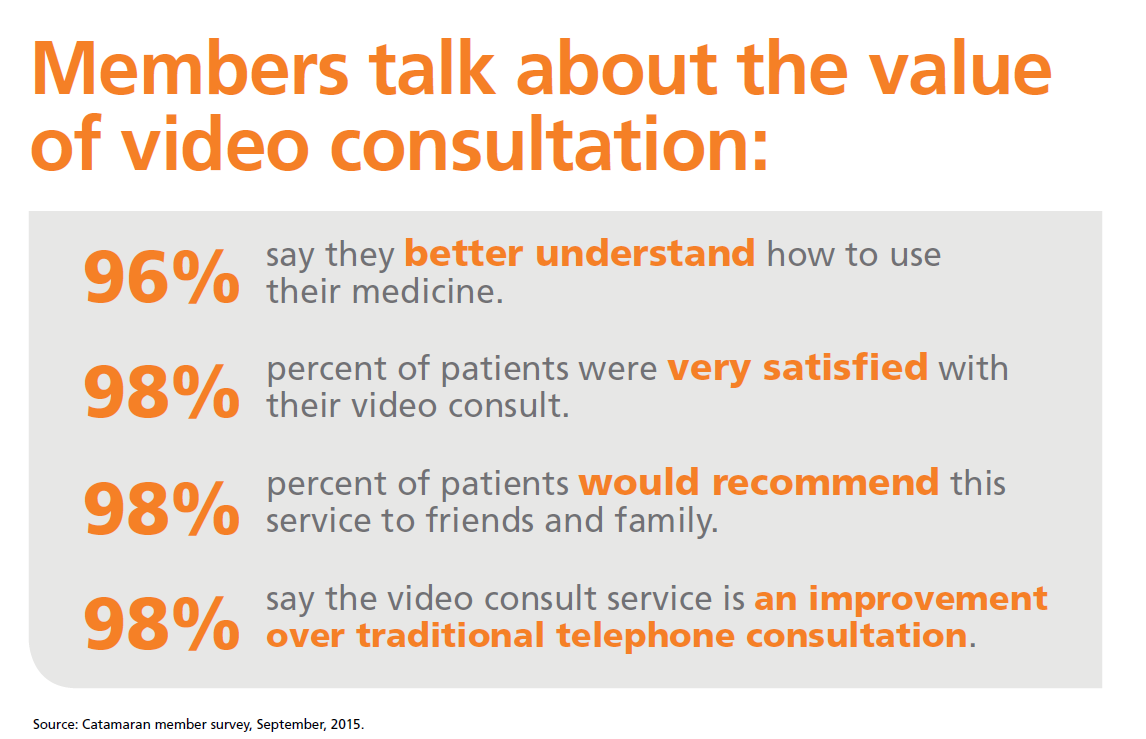 Those who received the video consults were significantly more likely to be at least 80% adherent to their medications that those who did not.1
These and other strategies are available to both carve-out ASO customers as well as to our clients who combine UnitedHealthcare medical policies with pharmacy benefits administered by OptumRx. Talk to your broker, consultant or representative to learn more.
Conclusion
BriovaRx has a reputation for developing innovative ways to make patient care more personalized. This study shows that often the best way to learn about new medications — particularly those that have to be injected — is with face to face counseling in the privacy and comfort of home. BriovaLive is the specialty pharmacy industry's first live video consultation program that gives patients direct, personal contact throughout the course of treatment.
For more information about BriovaLive, contact your consultant, broker or OptumRx representative.
References
Text
STATEMENT REGARDING FINANCIAL INFLUENCE:
This article is directed solely to its intended audience about important developments affecting the pharmacy benefits business. It is not intended to promote the use of any drug mentioned in the article and neither the author nor OptumRx has accepted any form of compensation for the preparation or distribution of this article.