Text
Cancer breakthrough: Immunotherapy is here
Text

In the spring of 2014 we reported on some of the progress that had been made in the area of immunotherapy – using the body's own immune system to fight cancer. In the brief time since, cancer immunotherapy has moved from an intriguing field of research to one of the most rapidly-growing areas of cancer treatment.1
Doctors and patients are excited about immunotherapy because it has the potential to be both more effective – and in some cases less toxic – than many of today's existing options. Immunotherapy may also offer hope for patients with certain types of cancer who have exhausted other treatment options.2
Immunotherapy drugs are considered specialty medications. They require special handling and are administered via infusion under medical supervision.3 In addition, while doctors and patients are excited about the clinical advantages of immunology, employers need to be aware that they represent a significant area for future spending growth. That is because immunology drugs share one other trait of modern specialty medications: They are extremely expensive, with an average cost of over $150,000 per year.3
Immune checkpoints
There are many different categories of immunotherapy, each seeking to leverage a different aspect of the immune system. In this article we describe the type of immunotherapy which is having the most clinical success: immune checkpoint blockade.4
The immune system is a powerful weapon that can successfully identify and destroy a wide range of invading viruses and bacteria. Specialized cells called T-cells are responsible for attacking anything that the system identifies as "foreign" and destroying it.2
But such a powerful weapon must have both an "on" switch and an "off" switch. Immune checkpoints are "off" switches. Many people compare them to the brakes on a car. They are chemical signals that healthy cells send to tell the immune system to stop before it destroys healthy tissue in the body.5
In addition to fighting external threats, the immune system is also very good at discovering cells that are damaged or have mutated. These could become cancerous if allowed to grow. Many cancer cells are routinely destroyed this way long before we ever become aware of them.6
However, with the accumulation of many mutations over time, the immune system can eventually become less effective at fighting cancerous cells. The immune system continues to kill some of them, but the cancer cells evolve, get smarter, and learn to evade or suppress the immune system.2
In these situations the tumors take advantage of the checkpoints in the braking mechanism that tell the T-cell whether to stop or go. The tumors do this by giving-off the same signaling molecules that healthy tissues use to tell the T-cells to stop working. The signaling molecules attach themselves to specific spots on the exterior of the T-cells called CTLA-4 and PD-1.4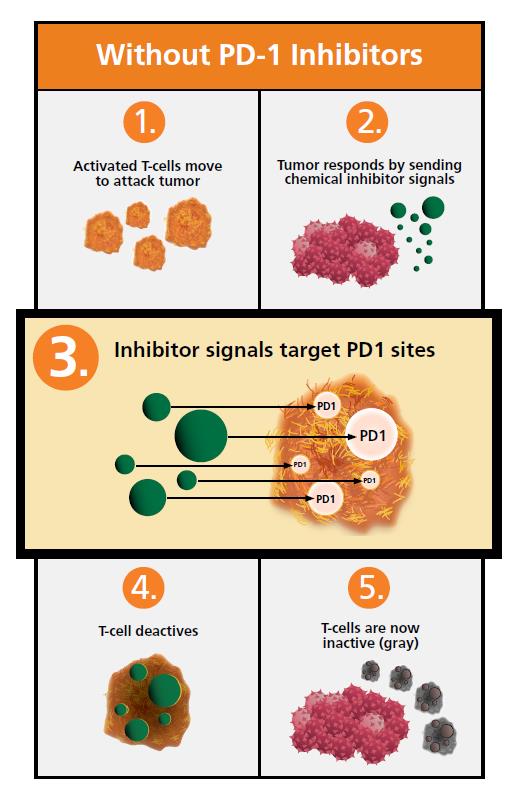 New blockers
Two new drugs that work by blockading the PD-1 checkpoint have been approved within the last year: Keytruda® (pembrolizumab) from Merck & Co, was approved in Sept. 2014, while Opdivo® (nivolumab), from Bristol-Myers Squibb, was first approved in Dec. 2014.7, 8 (Another immunotherapy drug called Yervoy® (ipilimumab) which aims at a different checkpoint, was approved in March 2011.9)
These are immune checkpoint blockade drugs. They work by placing themselves in between the false chemical "off" signal and the attacking T-cells. They physically block the spots on the T-cell where the "off" signal wants to attach.4 This way, the T-cell doesn't receive the "stop" signal and continues to attack tumors.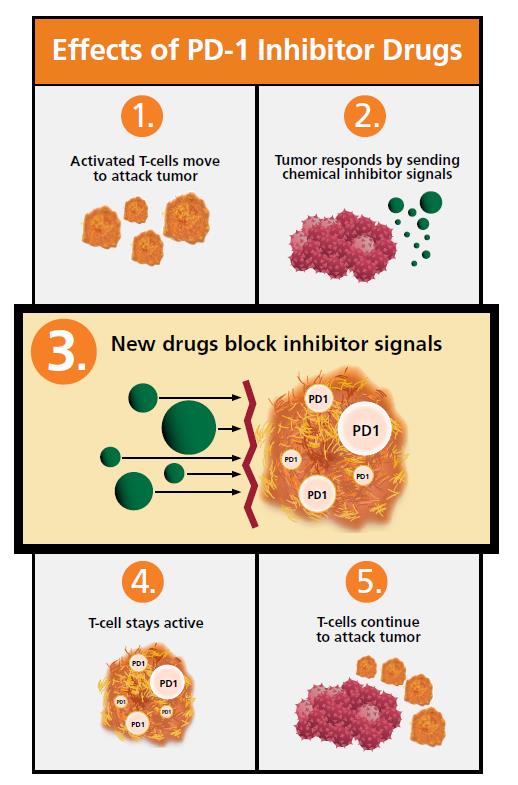 Both Keytruda and Opdivo were approved to treat advanced melanoma skin cancer that can't be surgically removed and isn't responding to other drugs.7, 8 More recently, (March 2015) Opdivo was also approved to treat people with a type of advanced lung cancer called squamous non-small cell lung cancer after they received traditional chemotherapy.10
Then in April, Opdivo's maker announced that they were cutting short another trial for lung cancer because it had achieved its goal for overall survival. This was a Phase III study that compared Opdivo against a standard therapy in previously treated patients with advanced nonsquamous non-small cell lung cancer.1
The reason for this quick succession of events is clear enough: as the American Cancer Society observed last fall, the new checkpoint blockers are producing some impressive results.11 As a result, physicians have been quick to embrace Opdivo in their practices. Already (July, 2015) in squamous lung cancer, about two-thirds of new second-line patients are taking Opdivo.12
New indications?
Looking ahead, Opdivo is being studied in a wide variety of clinical settings, including Hodgkin and non-Hodgkin lymphoma, multiple myeloma, leukemia, colon cancer, follicular lymphoma, ovarian cancer, head and neck carcinoma and renal cell carcinoma.3 Beyond Opdivo, Merck & Co., Hoffmann–La Roche and AstraZeneca all either have a PD-1 blockade drug or have candidates in trials.1
In all, there are more than 900 cancer immunotherapy clinical trials listed on clinicaltrials.gov.2
Future spending growth
The rapid success for the PD-1 blockade drugs, especially Opdivo, has industry analysts scrambling to revise their sales projections; not just for Opdivo, but for its competitors as well.
Sales projections started out with Keytruda and Opdivo at $3.8 billion and $6.7 billion by 2020, respectively. As shown above, new projections must take into account the potential for broader use in multiple cancer indications.3 These additional indications could potentially push the category as a whole to sales of up to $33 billion by 2020 or even $40 billion by 2025.1, 13
For perspective, that's more than was spent in the US for all oncology medications in 2014 ($32.6B).14
Strategies to manage
Every specialty class – every drug – requires a unique, thoughtful management approach. Our total approach to cost management combines multiple strategies that lower total health care costs while helping members make the best use of their benefits.
Regimen Guideline-Based Coverage
There are thousands of different treatment paths oncologists can choose from when treating a patient. Sorting through the exact indications for each cancer type is going to be important for this class of drugs.
We strongly support the National Comprehensive Cancer Network (NCCN) guidelines for several types of cancer. We encourage providers to follow these widely accepted and proven pathways in order to ensure that members get the best possible care.
We will continue to monitor the use of immune checkpoint blockade drugs. We encourage consultants and brokers to contact us for a detailed discussion of how clients can effectively manage the long-term impact of these new drugs, while still allowing their members to benefit from their positive results.
References
Fierce Pharma. BMS' PD-1 drug Opdivo continues on stellar trajectory: Drugmaker cuts short second trial as Opdivo quickly hits survival goal for lung cancer patients. April 17, 2015. Accessed at: http://www.fiercepharma.com/story/bms-pd-1-drug-opdivo-continues-stellar-trajectory/2015-04-17 on 07.21.2015.
American Cancer Society. Immunotherapy: Disrupting the Cancer Treatment World. June 16, 2014. Accessed at: http://www.cancer.org/research/acsresearchupdates/more/immunotherapy-disrupting-the-cancer-treatment-world on 07.24.2015.
Formulary Journal. Drugs in Perspective: Opdivo (nivolumab). March 23, 2015. Accessed at: http://formularyjournal.modernmedicine.com/formulary-journal/news/drugs-perspective-opdivo-nivolumab?page=full on 07.22.2015.
S. Guerra. Science in the News, Harvard University. Blocking the Brakes: Helping Your Immune System Battle Cancer. May 18, 2014. Accessed at: http://sitn.hms.harvard.edu/flash/2014/blocking-the-brakes-helping-your-immune-system-battle-cancer/ on 07.22.2015.
Genentech BioOncology. Evasion of apoptosis: a hallmark of cancer. Accessed at: http://www.biooncology.com/research-education/bcl-2/evading-apoptosis on 07.22.2015.
Science 20 December 2013: Vol. 342 no. 6165 pp. 1432-1433. Available at: http://www.sciencemag.org/content/342/6165/1432.full. Accessed on 07.27.2015.
FDA News Release. FDA approves Keytruda for advanced melanoma. Sept. 4, 2014. Accessed at: http://www.fda.gov/NewsEvents/Newsroom/PressAnnouncements/ucm412802.htm on 07.24.2015.
FDA News Release. FDA approves Opdivo for advanced melanoma. Dec. 22, 2014.
FDA News Release. FDA approves new treatment for a type of late-stage skin cancer. March 25, 2011. Accessed at: http://www.fda.gov/NewsEvents/Newsroom/PressAnnouncements/ucm1193237.htm on 07.27.2015.
American Cancer Society. FDA Approves Opdivo (Nivolumab) for Lung Cancer. March 5, 2015. Accessed at: http://www.cancer.org/cancer/news/news/fda-approves-opdivo-nivolumab-for-lung-cancer.
American Cancer Society. Dr. Len's Cancer Blog. Big Steps Forward In Melanoma Treatment But Tread Carefully. June 02, 2014. Accessed at: http://www.cancer.org/aboutus/drlensblog/post/2014/06/02/big-steps-forward-in-melanoma-treatment-but-tread-carefully.aspx on 07.27.2015.
Medical Marketing & Media. BMS US sales are down, despite growing Opdivo adoption. July 23, 2015. Accessed at: http://www.mmm-online.com/pharmaceutical/bms-us-sales-are-down-despite-growing-opdivo-adoption/article/428229/ on 07.24.2015.
Leerink Partners. BIOPHARMA. The $40B+ IO Market: How'd We Get Here & Where We're Headed in 2015. December 29, 2014. Accessed at: https://portal.leerink.com/IRPDocumentViewer/Web/DocumentViewerCache.aspx?docId=715A4B474C58633748346B3D&pad=50364373476456316A2F6E6F442F4B546E57487949513D3D&userId=535966524A6751617541773D on 07.28.2015.
IMS Institute. Medicines Use and Spending Shifts. April 2015. Accessed at: http://www.redaccionmedica.com/contenido/images/IIHI_Use_of_Medicines_Report_2015.pdf on 07.27.2015.
Text
STATEMENT REGARDING FINANCIAL INFLUENCE:
This article is directed solely to its intended audience about important developments affecting the pharmacy benefits business. It is not intended to promote the use of any drug mentioned in the article and neither the author nor OptumRx has accepted any form of compensation for the preparation or distribution of this article.