Text
One important tool for controlling specialty drug costs is called site of care management. Site of care management (or, site of service optimization) is important, because costs for the same treatment can vary widely depending on where the care is administered.
Site of care optimization simply means having a strategy to seek out and promote the most economical and clinically effective place to deliver care for a particular patient.1 Could this patient benefit by moving their treatment from the hospital to a doctor's office? What about a patient who might be better served being treated at home? Overall, one specialty drug consultant has remarked that "Site of care optimization is often the largest savings opportunity in specialty drug management."2
Some site-of-care management programs focus on infusion therapy. Infusion therapy is when a medication is administered directly into a patient's vein.3 For some medications, this is the only suitable way to administer the medication.
Now we see the importance of where care is delivered. For example, in recent years we have seen a shift from administering injectable specialty drugs in physician offices to hospital outpatient departments. However, costs in an infusion center located at a hospital can be much higher than the same care in a physician's office. These are often the same drugs, but the price for drugs and administration can be up to 200% higher.1
Home infusion may not be right everyone. But some patients, depending on their specific situations, do have the option to receive infused medications in their own homes. For many medications, delivering infusion therapy in the home has been shown to be highly cost-effective, as well as delivering excellent clinical outcomes.4
Ted Kramm, SVP, BriovaRx Infusion Services, observes, "Home Infusion can be a cornerstone in site of care management for health plans. The cost for providing specialty infusion drugs in the home versus infusing in a hospital outpatient setting is less than half."
In this article we want to take a closer look at home infusion therapy, and explore its' potential for superior clinical outcomes and significant cost savings on specialty medications.
Home Infusion can be a cornerstone in site of care management for health plans. The cost for providing specialty infusion drugs in the home versus infusing in a hospital outpatient setting is less than half.

– Ted Kramm, SVP, BriovaRx Infusion Services
Text
Special drugs, special costs
It's important to keep in mind that most infusion drugs are considered specialty medications, due to their need for clinical oversight when used.2 Specialty medications are already a big cost center for employers and health plans.5, 6 Thanks to a combination of critical health care trends, including an aging population, and the growth in chronic disease, we can expect continued pressure on benefit plan costs.7
Many chronic conditions are treated with specialty medications, including infusion drugs.7 Site of care optimization, and specifically home infusion, are just some of the tools we will need to aggressively employ in order to cope with the sharp rise expected in specialty drug expenditures.
Infusion therapy
The word "intravenous" simply means "in the vein."3 The advantage infusion offers is that it can deliver a precise dose of medicine quickly, and in a well-controlled manner throughout the body. It is also used for irritating solutions, which can cause pain and even damage tissues if given by subcutaneous or intramuscular injection.9
Home infusion is typically employed to manage chronic and complex conditions, like immune globulin therapy. The therapies with the most utilization are intravenous (IV) antibiotics prescribed for cellulitis, sepsis, osteomyelitis, urinary tract infections, pneumonia, and sinusitis.10
This graph gives a sense for the relative costs associated with some of the most common applications: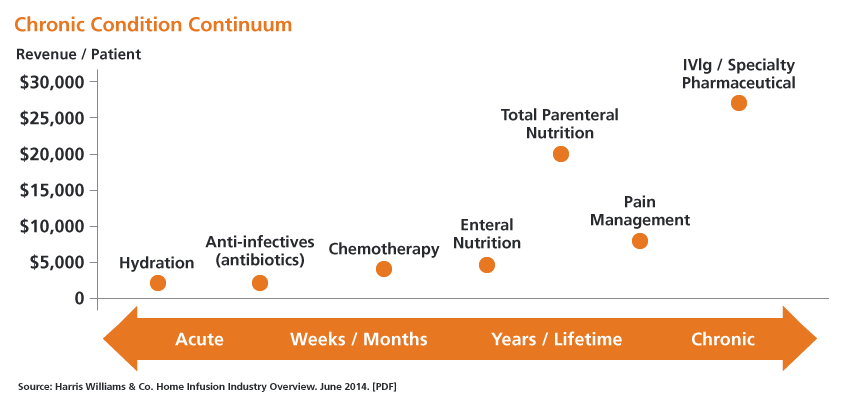 Text
Home infusion therapy
Moving care into the home is a very important change. Home infusion lets patients reduce or even totally avoid outpatient hospital visits, and allows them to resume normal routines and work behaviors – while still treating their illness.10
Home infusion clinical outcomes have been found to be as good, or even better, compared to facility-based infusion. One recent meta-analysis concluded that the available evidence consistently favored the quality, efficacy, patient satisfaction, and costs associated with home infusion.4
The cost differential from moving to the home can also be significant. Per-day savings range up to 90%, and between $2,000 and$3,000 on a per treatment course basis.4
Text
Leaving money on the table?
The high cost-savings potential for site of care management, and with it, home infusion, would seem to make them virtually mandatory strategies for payers. But most employers and insurers have still not implemented site of care management prescription drug strategies, including home infusion.5
One study found that 75% of employers have not implemented a site-of-care management strategy for prescription drugs.5 Another survey, this time looking at insurance plans, found that while use is growing, fewer than half currently have such a program: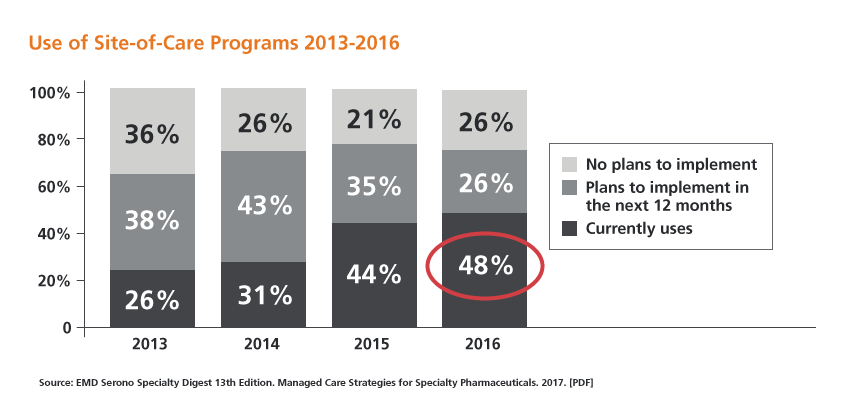 Text
Why the delay?
There are some broad issues that have limited the spread of home infusion therapy, at least until recently. One important factor is the rapid rise in the number of physician practices that are now owned by hospitals. From 2012 to 2015, the number of physician practices owned by hospitals increased by 86%. By mid-2015, one in four medical practices was hospital-owned.11
The reason hospitals acquire physician practices is in order to create integrated health delivery systems. Integrated systems help contain the hospital's patient base, and help keep referrals within the system, which together drive increased revenues.11
However, these vertically integrated medical systems could sometimes be a little too effective. In many cases the systems were driving infusion therapy to relatively more expensive hospital-owned outpatient infusion clinics. While this was great for the hospital bottom line, it was not so great for plan sponsor costs (recall the +200% cost premium for hospital outpatient departments mentioned above).11
More recently, this pattern seems to be changing. Hospitals are beginning to see that home infusion provides not only lower costs, but excellent outcomes, including reduced readmissions, a metric they track keenly.12, 13
Another barrier to more widespread home infusion is incomplete Medicare coverage. While Medicare reimburses most medications under Part D, supplies, pumps and other items and services necessary for the infusion are not covered for use in the home. While this is an important issue, it does not affect employer-sponsored plans.10
Future of home infusion
Today home infusion therapy is a flourishing nationwide market, estimated to represent at least $11 billion in annual spending in the U.S.7 Third-party payers like pharmacy benefit managers (PBMs) and insurers are increasingly deploying site-of-service management strategies for infusing specialty drugs. Under this approach, health plans may restrict patients to a contracted provider of infusion services under certain conditions.14
In addition, plan sponsors are increasingly developing strategies to direct patients to more convenient and less costly sites of service. In these cases, plan designs may redirect specialty medication and administration from hospital outpatient settings to doctor offices, ambulatory clinics, or patient homes, where clinically appropriate.15
While there are many reasons for optimism that home infusion therapy can yield significant care improvements and cost savings, there are still issues that need to be addressed. For example, we know that historically the industry has been dominated by a multitude of small, local participants, with no individual provider holding more than 10% market share: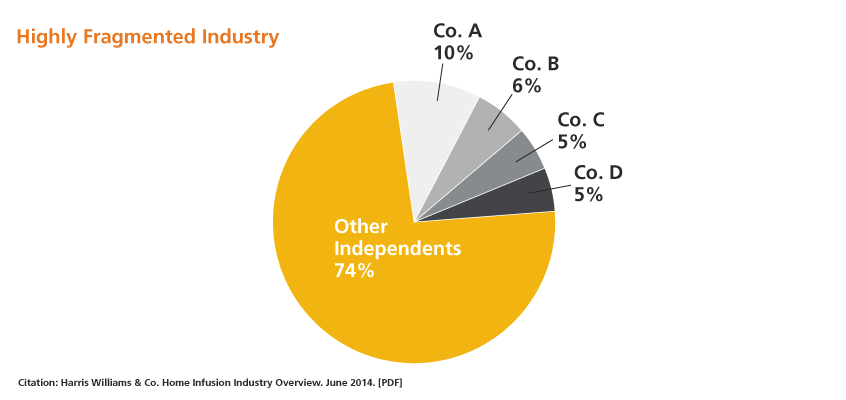 Text
At the time these data were collected there were approximately 800-1,000 small, independently-owned home infusion providers, in addition to the integrated hospital systems mentioned above. (They provide infusion services to their patients in a hospital setting.)16
There are several barriers to entry that have worked to keep the marketplace so disjointed. The most obvious barrier is the complex operational and regulatory requirements of the industry.16
Also, the very site-of-care management programs we have been discussing come in to play, as they complicate the referral and billing requirements for insurers and plan sponsors. Some of the smaller players lack the infrastructure or capital to meet these requirements, let alone continue to expand.16
There is a very practical – and undesirable – consequence that stems from such a large number of fragmented, undercapitalized infusion companies: Home infusion patients can receive disconnected care.
With little money available to keep their technology current, small infusion companies have no mechanism to deliver regular updates to physicians on a patient's condition. Too often, once a physician prescribes a home infusion medication, they may not see the patient until six months to a year later.
BriovaRx Infusion Services
Fortunately, the home infusion industry is seeing increased consolidation of small individual firms and smaller networks by larger, more established alternate site infusion companies. For example, in late 2015, OptumRx acquired AxelaCare, which itself had been actively acquiring other, smaller infusion companies.
There is a strong financial logic behind this drive to consolidate the infusion industry.
BriovaRx® Infusion Services (formerly AxelaCare), expands the existing specialty capabilities for OptumRx, both geographically and in its range of services. With the biotechnology pipeline filled with more drugs expected to come to market that will be delivered via infusion, BriovaRx® Infusion Services' focus on treating patients in the home better positions OptumRx to better manage costs by delivering more care in lower cost settings.
Today BriovaRx Infusion Services is a pharmacy and nursing provider of home infusion for acute and chronic infusion therapies. It is now the fourth-largest national home infusion provider.
There are crucial advantages in becoming a large, national player backed by the resources of OptumRx. For example, our nationwide, comprehensive screening and credentialing process can now thoroughly vet all of our nurses and agencies. In addition, all BriovaRx Infusion Services nurses are trained by our own internal team to ensure quality of care and clinical expertise.
Across the U.S., there are almost 600 nurses who are directly employed by BriovaRx Infusion Services. They are supplemented by national and local agency nursing contracts that provide an extended network of over 1,000 nurses across 48 states.
Patient-centric focus
BriovaRx Infusion Services has built a reputation based on making this complex process easier and more streamlined for our patients and referral sources. A key differentiator is our patient-centric focus.
For example, as mentioned, not all patients are candidates for home infusion, so a change in the site of service may not be appropriate in every case. Furthermore, the issue is not always about cost, but in appropriately balancing opportunities for cost reduction with which site of care is most appropriate for each particular patient.
BriovaRx Infusion Services works closely with each patient's medical provider to ensure that such services are appropriate and in the interest of the best patient care. Our dedicated team of nurses and pharmacists work with each referral source to ensure the therapies they are prescribing are clinically appropriate. In this way we help ensure that our patients can get effective access to these expensive and complex therapies.
In addition to the nursing team, BriovaRx Infusion employs more than 100 home infusion pharmacists, holds 48 state licenses, and operates 32 pharmacies. Moving forward, BriovaRx Infusion is continuing to build-out the nursing network while leveraging our extensive data collection capabilities in order to deliver improved clinical quality and a decreasing cost per visit.
We are also working to deploy key enabling technologies for our nurses such as CareExchange, an industry-first electronic patient outcomes assessment technology. CareExchange is an iPad-based solution that integrates dosing information and physician notes with details gathered during each BriovaRx Infusion Services treatment.
CareExchange is a step toward solving the disconnected care problem by providing doctors with real-time, patient-specific data on each treatment regimens' clinical efficacy. The CareExchange tool is an important step forward because it's allowing us to actually quantify that each patient gets the right drug, at the right dose, and for the right duration of care. While CareExchange is currently available only to patients receiving immune globulin therapy, we will be expanding it to additional therapies and disease states.
Conclusion
Managing site of care decisions effectively is one of the most important single tools available for controlling specialty drug costs. There is a compelling business case that this is a key step toward protecting the kind of high quality health and pharmacy benefits coverage that is critical in today's highly competitive business environment.5
BriovaRx Infusion Services represents the kind of scale, scope, and technological innovation that will be required to better manage costs by delivering more care in lower-cost settings. As the biotechnology pipeline continues to deliver more and more drugs that must be delivered via infusion, BriovaRx Infusion Services is positioned, along with OptumRx, to manage a customer's entire drug spend.
[Configure Slider]
Related articles
Text
STATEMENT REGARDING FINANCIAL INFLUENCE:
This article is directed solely to its intended audience about important developments affecting the pharmacy benefits business. It is not intended to promote the use of any drug mentioned in the article and neither the author nor OptumRx has accepted any form of compensation for the preparation or distribution of this article.