Text
From biologics to biosimilars
Text
Previously we have outlined how the "patent cliff" in the years since 2012 curtailed profits for drug makers, and sent them searching for more reliable sources of revenue. In large part, this has increasingly turned them toward the promise of biologic drugs: Currently in the U.S., there are over 900 biologically engineered drugs in development, while worldwide sales of biologics are expected to grow to nearly half of the top-100 selling drugs in just the next two
years.1, 2
Remember also that the drug makers are interested in smoothing-out the "roller-coaster" effect they suffered when their old blockbuster drugs went off-patent. Regardless of how profitable the new biologics turn out to be, makers still face the same problem once their original market exclusivity runs out: How can they protect their pricing power if new competitors are free to enter their market space?
With this in mind, one of the great advantages of biologic drugs from the manufacturer's perspective is that biologics are comparatively large, complex molecules, with equally complex production processes.3 This complexity make biologics perfect for employing patent law to make it as difficult as possible for potential competitors, with potentially far-reaching economic consequences for those who pay for these treatments.
While patent litigation is certainly part of the traditional drug landscape, the fear is that drug makers can use the patent system to delay new versions of their biologics for extended lengths of time. Lengthy, strategic patent litigation could artificially extend the effective length of a brand's exclusivity – and higher cost.2
This article will explore what happens when traditional drugs reach the end of their exclusivity period. Then we will compare that process to what we see happening as the first biologic drugs approach the end of their own exclusivity.
What happens when drug patents expire?
Creating a generic form for traditional drugs got faster and simpler thanks to the Drug Price Competition and Patent Term Restoration Act of 1984 – commonly known as the Hatch-Waxman Act.4
For those not familiar with it, the Hatch-Waxman Act is more important than it may sound. Its purpose was to ramp-up the competitiveness of the generic drug marketplace in the hope of achieving lower prices.4
And in fact, it worked quite well. It established an accelerated approval mechanism aimed at showing how generic versions could be 'bioequivalent' to the original product.4 As a result, where prior to Hatch-Waxman there were generics available for only about 35% of the top-selling drugs out of patent, today virtually all such drugs have them.4
Since the Hatch-Waxman law went into effect, the transition from a traditional branded drug to a generic drug has been fairly straightforward. If it is a popular, big-selling drug, often many generic makers will apply for FDA approval for their generic products.
With the accelerated approval pathway and the relative simplicity of traditional drugs, patents are rarely in question and FDA approval is almost automatic – usually granted within 3 months of any given patent expiration.4
In some case the law permits the first generic maker to successfully file exclusive access to the market for a few months. In other cases, a branded drug will enter patent litigation with generic competitors. This happened with Crestor, one of the big patent losses we mentioned for 2016. In this instance, the result was a negotiated settlement where Crestor's maker has agreed to share the market with one competitor for 67 days.5
Eventually, if the drug in question is lucrative enough, multiple generic makers will pour into the market. (Less popular drugs may see fewer competitors, or even none.)
As we've learned, a surge of competition featuring up around 10 generic makers is the trigger that sends profits plunging by up to 90% for traditional drugs facing generics.4 This is the sales roller-coaster that we discussed in our previous article.
This graph highlights how the cost of generic drugs relative to their brand name versions continues to drop as more and more generics enter the marketplace: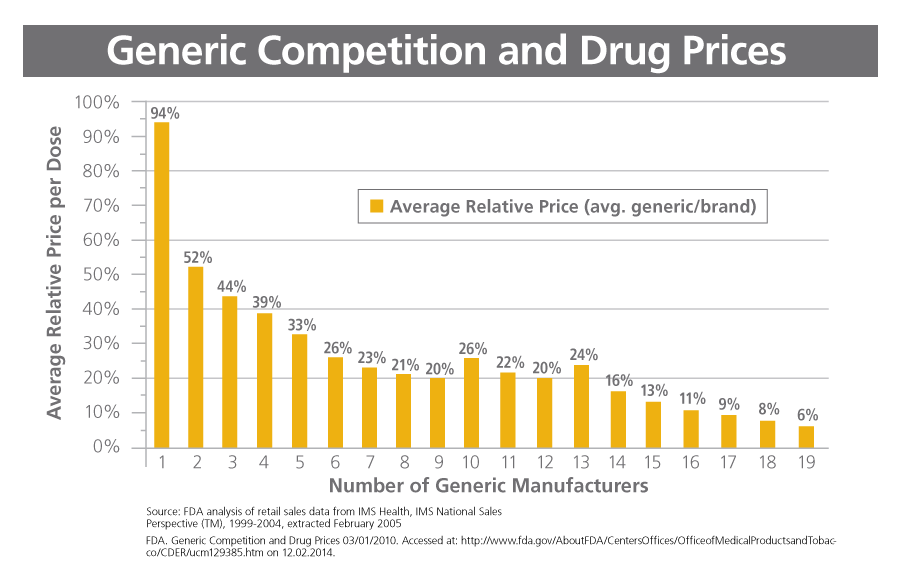 In short, while we may take inexpensive generic drugs for granted, this is not guaranteed. Competition among generic manufacturers is the key reason why generic drugs remain reliably inexpensive.6
The level of competition can ebb and flow for a particular drug for a number of reasons. It can even disappear at times. Other factors, such as the regulatory process, or the cost and complexity of producing a new version, can influence the market environment for generic drugs, which in turn can drive manufacturers' decision-making.6
We will see how cost, in particular, could make a big difference in the number of drug makers who participate in the new biosimilars market, which will affect how competitive that market in, or is not.
Biosimilars seeking to challenge biologics
Unlike traditional drugs, until recently there was no counterpart to the Waxman legislation for lower-cost competitors to follow once a biologic fell out of patent. So a new law was passed called The Biologics Price Competition and Innovation Act (BPCIA) in 2009. Its goal is to preserve new drug innovation while also stimulating competition in the biosimilar market.4
Fostering a healthy competitive climate for biologics and biosimilars is important, because one thing we know is that competition is the key that drives lower prices in the generic marketplace.7 The hope, of course, is that eventually biosimilars will come to play a similarly important role in keeping biologic drug prices down. But first, the marketplace has to make sense for the manufacturers, either generics or biosimilars.
BPCIA is undoubtedly a more complex pathway for biosimilars than the traditional generic approval process.4 Nevertheless, the process does seem to be working in its important respects.
For example, in March of 2015, the FDA approved a biosimilar version of Neupogen (filgrastim), called Zarxio® (filgrastim-sndz), the first biosimilar product approved in the United States.8 Then, about one year later there was a second biosimilar approved (Inflectra®, a biosimilar to Remicade was approved in April 2016).9
Yet despite the FDA approval, Inflectra is not yet for sale. Remicade's maker, Johnson & Johnson, has said that the company doesn't expect biosimilar competition in 2016.10
Presently, Zarxio and Basaglar (insulin glargine) are the only biosimilars for sale in the U.S.11
While technical hurdles and regulatory uncertainty are undoubtedly part of the reason for the delay in the approval of biosimilars, our limited experience to date raises the possibility that actually, patent challenges may play a larger role than many of us expected.
Perhaps the best way to understand how this may play out is to take a closer look at the way patent expiration is working for two of 2016's biggest-selling expirations: Crestor and Humira.
Crestor
Crestor is a highly-used cholesterol-lowering medication. A generic for Crestor became available for the first time in April of 2016. As mentioned, after some legal negotiations, just one manufacturer will be licensed to produce the generic until July 2016.5
However, after that very brief pause, there are at least ten different generic manufacturers who have received tentative FDA approval to make a generic for Crestor.12 While we can't know the exact timeframe now, such a large number of prospective competitors have analysts predicting a classic example of market share loss for Crestor when its patent expires. Experts predict that, once all of the competitors enter the market, U.S. revenues for Crestor are likely to drop by 90% within 12 months.13 In other words, the classic downward roller-coaster.
Humira
As we've seen, Humira is also slated to lose at least some of its patent protection at the end of 2016. Just to briefly remind ourselves, Humira is an extremely popular drug, selling over $8 billion dollars per year. Humira alone represents a significant fraction of the market for both Rheumatoid Arthritis and specialty drugs in general: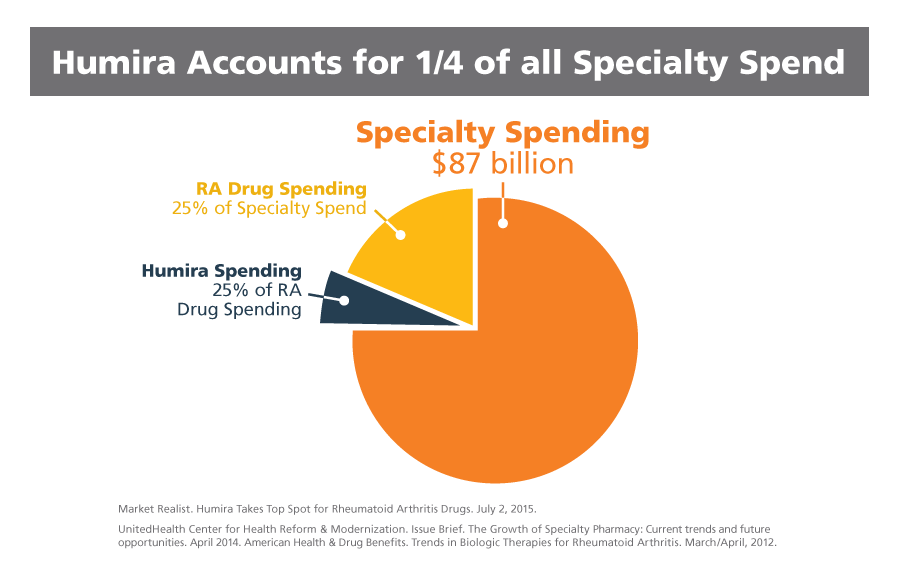 Worldwide, there are approximately a dozen biosimilar versions in various stages of development, including one approved for human use in India in December of 2014.14 In the U.S., the FDA accepted an application from Amgen for its biosimilar form of Humira (ABP-501) in January of 2016. The FDA has set an expected decision date for September 25, 2016.15
Despite this, Humira may continue to enjoy its market exclusivity for some time yet – years, perhaps. Its maker, AbbVie has said that they do not expect competition from biosimilars until 2022 – at the earliest.16
How can this be? The basic explanation appears to lie in the sheer number and complexity of patents that can apply to various aspects of modern biological drugs.
Layered defense
AbbVie Inc. depends on Humira for over 60% of its total revenue.17 In order to protect this revenue stream, they have developed several lines of defense which they believe will protect their exclusive protection period for many more years.
In this respect, it is worthwhile to refer to the transcription of the AbbVie earnings report conference call from last fall.18 The speaker (from AbbVie) is describing their view of patent protection:
The size of AbbVie's patent estate is a direct consequence of the groundbreaking work of AbbVie's scientists in the new field of biologics. […] Because they must be made in living organisms, biologics are more difficult to manufacture. In addition, because they are foreign proteins that are introduced into the human body, biologics present unique challenges in terms of formulation and treatment.
Not only is the field new, but Humira itself was a new type of biologic. It was the first fully-human therapeutic antibody ever approved by the FDA. […]
Those efforts resulted in the United States Patent Office granting AbbVie dozens of patents covering Humira. The coverage of our later-expiring patents includes methods of use for the drug in all Humira indications, methods to formulate the drug, and methods to make the drug, as well as other aspects of the Humira product such as the delivery device. Any company seeking to market a biosimilar version of Humira will have to contend with this extensive patent estate which AbbVie intends to enforce vigorously.18 [emphasis added]
Here is how AbbVie lays out each of these layers of protection in more detail:
Formulating the drug — AbbVie has 14 patents on formulating the Humira antibody that expire no earlier than 2022. Biologic drugs must be administered intravenously or as injections and can be difficult to formulate properly. These patents cover not only AbbVie commercial formulations but also other related formulations that biosimilar companies might employ.16, 18
Manufacturing process – Minor differences in manufacturing process can affect the nature of the biologic drug and even its clinical effect. AbbVie has 24 patents on the methods of manufacturing Humira that expire no earlier than 2027.18
Method of treatment – AbbVie interprets the biosimilar statutes to require a biosimilar to obtain approval for one or more indications previously approved for Humira, and have the same route of administration, dosage form, and strength. They believe that any biosimilars will infringe these method-of-use patents. AbbVie has 22 method of treatment patents covering all the indications for which Humira has been approved that do not expire until 2022 or later.18
In addition to all of the above, AbbVie has pursued hundreds of secondary patents on specific aspects of its active antibodies, formulations and crystalline forms. These are expected to remain in force as far out as 2034.17, 18
This image lays out the potential for continued market exclusivity for Humira based on the patents AbbVie claims: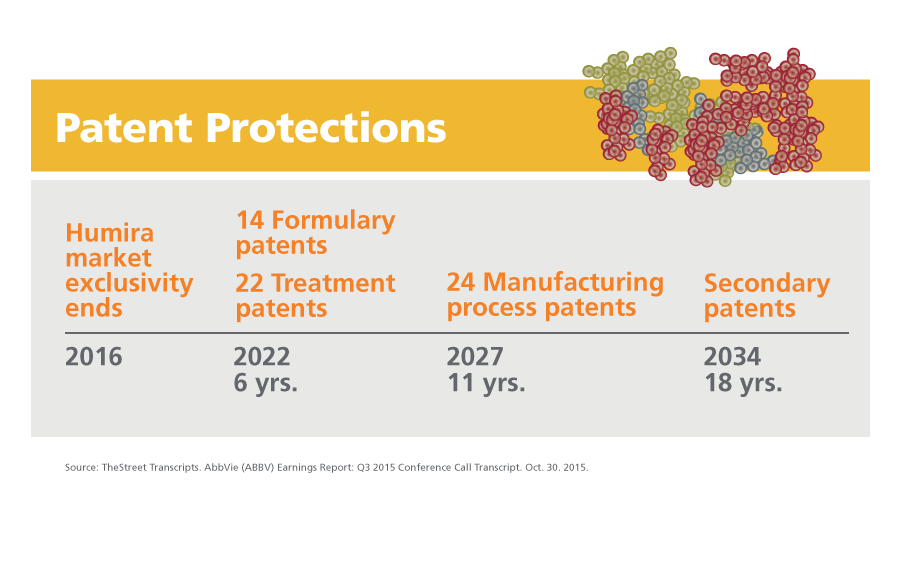 Analysts believe that patent defense lawsuits by AbbVie could extend until at least 2019, even if the company loses the case.17 This might seem like a long time, but consider that a typical pharmaceutical patent case takes around two to two and a half years to settle – even longer if an appeal is filed.17
Knowing this makes AbbVie's prediction of continued market exclusivity until 2022 begin to look rather reasonable.
What happens next?
Of course we can't know how the majority of biologic drug makers will proceed as their own drugs reach the end of their market exclusivity. Some, or even most may choose to adopt the AbbVie approach and fight for every minute of every patent. Or, perhaps the regulatory powers will intervene.
Our concluding part of this series will explore some of these alternatives and in particular, will look at the implications of continued, extended patent litigation. There is a real possibility that widespread use of the patent law in this way could affect the financial incentive structure that drives the follow-on drug market in such a way as to make it infeasible to pursue biosimilars altogether.
References
Text
STATEMENT REGARDING FINANCIAL INFLUENCE:
This article is directed solely to its intended audience about important developments affecting the pharmacy benefits business. It is not intended to promote the use of any drug mentioned in the article and neither the author nor OptumRx has accepted any form of compensation for the preparation or distribution of this article.