Text
The modern pharmaceutical supply chain is quite complex. Drugs can and do change hands many times between the manufacturer and patient.
For example, medicines are often made from ingredients sourced from different countries, with final formulations being exported. After that, there are non-technical, but still important steps like packaging, repackaging, and final sales that can happen in still more countries.1   
Some other areas of weakness in the drug supply chain include drug products not being stored under sanitary and temperature controlled conditions, or medications that are imported and introduced illegally into the drug supply. Finally, sometimes drugs that were previously dispensed to a consumer are illegally re-introduced into the drug supply without following the requirements of the law or without the oversight to maintain quality and purity of the products.
In summary, the pathways by which medications move from the manufacturer to the patient have many areas of potential weakness, which may be subject to regulatory oversight bodies.  OptumRx is not content to passively allow the regulatory process to play out. Instead, we are proactively leading the way by requiring that drug wholesalers be validated to ensure increased integrity in the drug supply chain.  The sole purpose is patient safety and prevention of fraud, waste and abuse (FWA).
Ensuring medications come from a trusted source
Patients must be confident that the medication in their bottle is original and was safely routed through the drug supply chain prior to it reaching their hands. One potential area of concern is where pharmacies obtain their supplies of drug products.  While pharmacies do their best to purchase drugs from wholesalers that they know are licensed, not all licensed wholesaler distributors have been verified by a third party as compliant with safety and efficacy standards.  
Trust, but verify
In order to eliminate this potential quality and safety gap, effective October 1, 2016, all OptumRx participating network pharmacy providers, regardless of pharmacy type, will be required to source their covered drug products from an accredited wholesaler. OptumRx is the only Pharmacy Benefit manger (PBM) in the country to require such a step.
While individual members may not be able to verify how their medication travelled from the manufacturer to their medicine chest, OptumRx decided that we could do even more to ensure member safety by requiring that our network pharmacy providers are sourcing that product from trustworthy wholesalers.
By acting to verify that the source of the product and the supply chain were not compromised, OptumRx helps protect patients.
How accreditation works
OptumRx has worked with the National Association of Boards of Pharmacy (NABP) to adopt their Verified-Accredited Wholesale Distributors (VAWD) program. The VAWD program is designed to prevent contaminated, diverted, or counterfeited products from entering the U.S. drug supply by requiring all organizations that sell wholesale medicines to hold NABP accreditation.
VAWD accreditation helps ensure that the wholesale distribution facility operates legitimately, is licensed in good standing, and that it employs security and other best practices for safely distributing prescription drugs from manufacturers to pharmacies and other institutions.
OptumRx is the first to mandate this industry-leading initiative. Today, twenty-four states recognize VAWD accreditation. Currently, three states require the VAWD accreditation (Wyoming, North Dakota, and Indiana) and other states are coordinating with NABP to begin a process to adopt these standards.  However, there is not a national requirement or consistent adoption of the VAWD accreditation.
OptumRx is bridging this gap for our clients by requiring medications to be sourced through accredited wholesalers as a standard term and condition of the pharmacy network agreement.
NABP has already completed accreditation of approximately 600 wholesale drug distributors, and more are expected to qualify. As a result, pharmacies have multiple validated drug wholesaler options to source medications for OptumRx members.
Focus on wholesalers
The reason for the focus on wholesalers is because of the complex role these companies play in the overall drug distribution system. Wholesalers can take different forms, and create quite a bit of unintended confusion when it comes to tracking the path of a specific drug.
Briefly, there are two kinds of drug wholesalers: primary and secondary. Primary wholesalers buy directly from manufacturers, while secondary wholesalers buy from other intermediaries.2
But as the illustration below suggests, the lines between primary and secondary wholesalers can be indistinct. A primary wholesaler might occasionally buy certain products from secondary wholesalers to accommodate market demand – and vice-versa.2

Text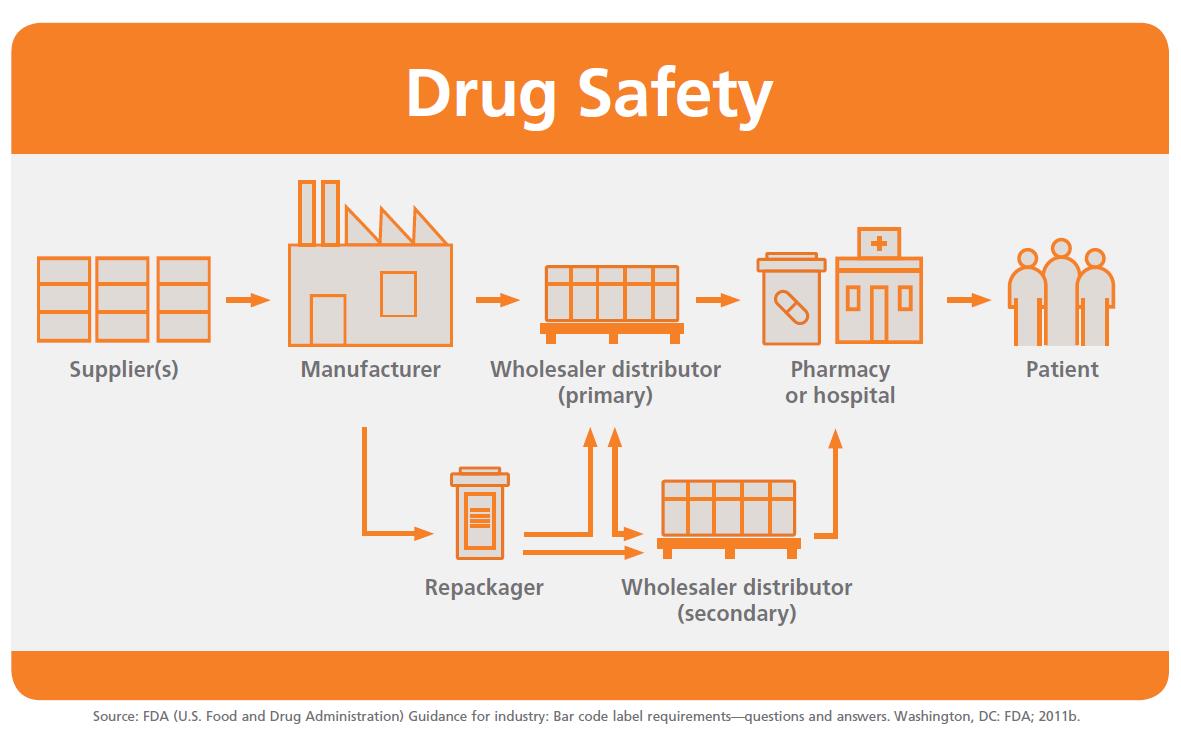 These back-and-forth sales are common among drug wholesalers.  For example, when they see that a particular medicine is scarce in one region, they can buy the same medicine from another wholesaler in a different region, either primary or secondary.2  
Products can change hands many times in such constantly fluctuating markets, which makes it critical to be able to trust the various players.  These changes of control each introduce an opportunity for contaminated, diverted, or counterfeit products to be introduced into the drug supply system.  
In today's marketplace the chain of custody for these products is manual in nature. This allows opportunities for FWA, including falsification of drug documentation. As a result, OptumRx has found significant FWA issues ranging from certain drug transactions to   illegitimate drug products.
For example, we have conducted FWA audits that discovered  pharmacies that had allegedly purchased from licensed wholesalers but, lacked proof of the sale or purchase of the drug products,  the purchase documentation was determined to be altered or illegitimate when validated with the manufacturer,  the pharmacy was unable to demonstrate chain of custody of the drug products, the drug product changed hands through as many as seven wholesalers prior to it reaching the pharmacy, or when a pharmacy was audited onsite there were notable concerns with the product packaging that raised potential member health and safety issues.
By requiring the VAWD designation, establishing tighter oversight over the products being sourced for our patients, OptumRx will help resolve these and other serious FWA and member healthy and safety issues.


Conclusion
The new the VAWD designation is by no means the only OptumRx initiative regarding member health and safety, FWA and pharmacy compliance issues.
OptumRx has a wealth of well-established network and clinical management programs like prospective, concurrent and retrospective Drug Utilization Reviews, plus detailed utilization management edits that focus on inappropriate dosing or therapeutic trends of concern.
OptumRx maintains a well-established program to evaluate and credential our network pharmacy providers to ensure they are compliant with laws and our contracts. The new VAWD designation acts to strengthen our focus on preventing FWA and member health and safety.  Our network oversight currently has a broad and best-in-class auditing and recovery process which monitors all network pharmacies to aggressively prevent FWA.
Requiring the VAWD designation is an important step, and sets a new industry standard for safely sourcing medications. We believe that requiring that covered drug products provided to our members be sourced from wholesalers who have been fully evaluated for quality is in the best interest of our clients and, most importantly, of the patients we all serve.
[Configure Slider]
Related articles
Text
References
National Academy of Sciences. Institute of Medicine. Committee on Understanding the Global Public Health Implications of Substandard, Falsified, and Counterfeit Medical Products; Board on Global Health. Countering the Problem of Falsified and Substandard Drugs. May 20, 2013. Accessed at: http://www.ncbi.nlm.nih.gov/books/NBK202523/ on 09.06.2016.
U.S. Food and Drug Administration. Counterfeit Drugs Questions and Answers. Page Last Updated: April 27,2016. Accessed at:  http://www.fda.gov/Drugs/DrugSafety/ucm169898.htm on 09.06.2016.
Text
STATEMENT REGARDING FINANCIAL INFLUENCE:
This article is directed solely to its intended audience about important developments affecting the pharmacy benefits business. It is not intended to promote the use of any drug mentioned in the article and neither the author nor OptumRx has accepted any form of compensation for the preparation or distribution of this article.