For years the Centers for Medicare & Medicaid Services (CMS) has articulated a value-based agenda to move the majority of fee-for-service payments to a value and quality basis, driving towards a value-based care model and more risk-based contracting for providers. The Medicare Access and Children's Health Insurance Program (CHIP) Reauthorization Act (MACRA) of 2015 is a fundamental change in the way clinicians will be paid under Medicare and provides best-in-class clinicians the opportunity to benefit financially from achieving higher-quality outcomes.
MACRA will affect more than 50 percent of all physicians and requires strategic, large-scale decisions over the next 10 years. MACRA reflects the policy objectives of:
Pushing clinical and financial risk onto providers
Fostering greater collaboration among physicians, hospitals, post-acute providers and payers to provide consistent, coordinated, high-quality care across the entire health care delivery system
Physicians and group practices are asking important questions as they prepare for MACRA:
Which path to MACRA path is best for our organization today and in the future?
Which quality metrics and risk/reward variables are appropriate?
Where and how do we invest and innovate to differentiate ourselves?
Compare your MIPS and AAPM choices
Two tracks are available under MACRA: the merit-based incentive payment system (MIPS) and advanced alternative payment model (AAPM). Use either to start collecting performance data as early as January 1, 2017 — the date for the first measurement period under the law.
Here's a brief comparison of MIPS and AAPM:
MIPS: Merit-based Incentive Payment System
MACRA has combined existing Medicare incentive programs, such as the Physician Quality Reporting System (PQRS), the Value-Based Payment Modifier (VM), and Meaningful Use, into one MIPS score.
The first year of the program (2017) is a transitional year, and MIPS participation options range from "do nothing" to options that grow in complexity and offer marginal revenue growth incentives. Clinicians who do nothing are subject to a 4 percent penalty in 2019.
Other MIPS scenarios offer alternatives for physician groups that are proactively implementing some quality metrics but need time and data to build population health models and quality reporting into their systems.
AAPM: Advanced Alternative Payment Models
AAPMs offer a more predictable upside bonus opportunity with no downside fee schedule.
For qualifying organizations that already have transparency around quality, data, and analytics capabilities, and have put population health initiatives in place, the transition to an advanced APM may be a natural next step and another value-based growth opportunity.
Physicians and groups have five MACRA participation choices during 2017. Each choice has both short- and long-term implications.
MIPS: Don't participate
Organizations that do not participate and send no 2017 data to Medicare will receive a negative 4 percent payment adjustment.
MIPS Test: Submit one measure for the Quality Payment Program
Organizations that submit a minimum amount of 2017 data to Medicare (for example, one quality measure) will avoid a negative payment adjustment.
MIPS Test: Participate for 90 days in the Quality Payment Program
Organizations that submit Quality Payment Program information to Medicare for 90 days of 2017 will earn a neutral or small positive adjustment.
MIPS: Participate for the full calendar year
Organizations that submit Quality Payment Program information for a full calendar year (2017) will earn a moderate positive payment adjustment.
AAPM: Participate in an Advanced Alternative Payment Model in 2017.
Organizations that participate in the Quality Payment Program by joining an AAPM, and have 20 percent of patients or 25 percent of revenue that are derived from Medicare payments, will qualify for an annual 5 percent incentive payment beginning in 2019.
How MACRA will affect your practice depends on your organization's capabilities and the route you choose.
The Optum point of view on MACRA
The MACRA program provides physicians with multiple options. The best long-term strategy for physicians is to develop a set of partnerships, capabilities and strategic plans to adopt AAPMs.
MACRA is a fundamental change in the way clinicians will be paid under Medicare, but it is also further fuel to the VBC transformation, creating a payment environment that rewards clinicians who deliver the highest-quality, most efficient care.
AAPMs represent the most sustainable models for physicians to maximize the potential of high-quality care. Moreover, AAPMs build on the momentum that both public and private payers have created with their value-based initiatives.
Each path requires weighing short- and long-term implications. The chart below illustrates financial trade-offs to consider between MIPS and AAPM options.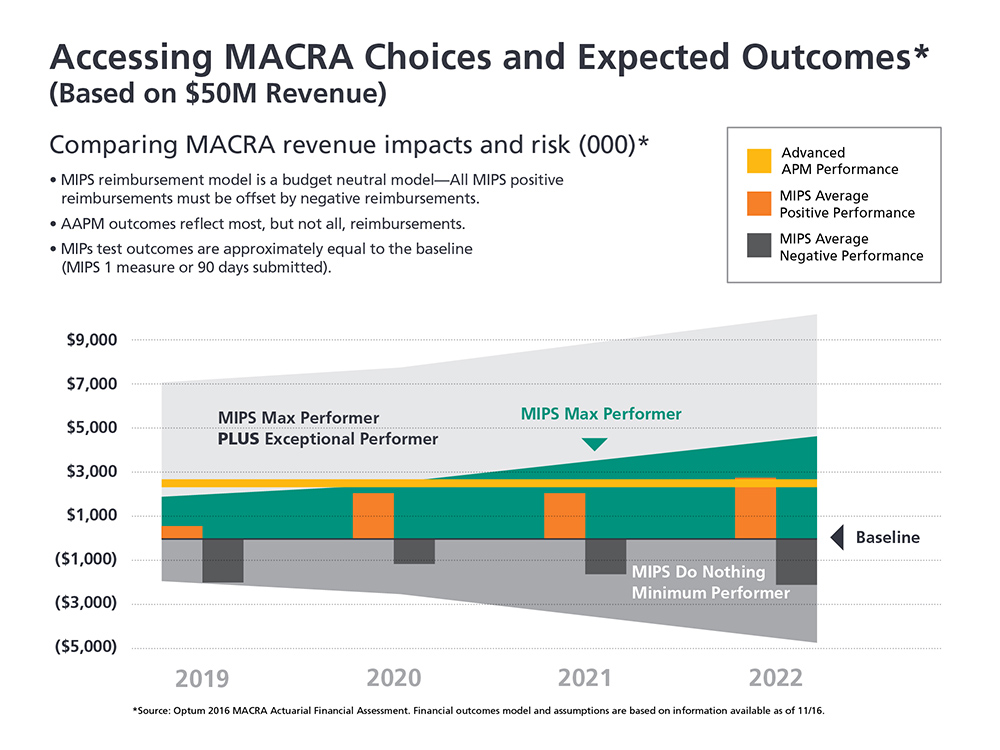 Consider the extra value in an AAPM
MIPS is a point on the path to AAPM and offers only a partial solution for VBC.
With an annual resetting of metrics and measures, MIPS subjects physicians to ongoing administrative burden and fails to address broader market dynamics that are encouraging providers toward more risk-based VBC models and driving transformative changes to care delivery.
Participation in an AAPM puts physicians at the forefront of the quality model
If clinicians can demonstrate the ability to improve quality without increasing costs, or lower costs without harming quality, they have the opportunity to earn an annual 5 percent bonus payment on Medicare payments.
Those that are successful at achieving advanced APM quality/cost metrics are in a stronger position to negotiate risk-based contracts, attract quality physicians and expand their footprint within their community.
Physician-hospital collaboration is essential to AAPM success
MACRA rules focus on physicians' Medicare Part B payment adjustments, but the impact (and opportunity) spreads to payers, hospitals and large health systems that have a vested interest in physician performance.
Understanding how to provide administrative resources and capital to support best pathways to MACRA while retaining and attracting physician talent is complex but critical to VBC success.
MACRA accelerates behaviors already encouraged by private payers
Payers want to understand the impacts of MACRA payment tracks selected by providers on Medicare Advantage plans. They are looking for ways to use their strengths to support risk-bearing providers as well as streamline quality measures and reporting requirements.
Payers will need to assess payment and quality metrics providers need for success and potential impacts to their quality programs.
Top payers are looking for physicians that can implement AAPMs or partner with high-performing health systems to share accountability, responsibility and risk for managing the total cost of care.
Map your path to MACRA
MACRA sets forth a challenging transition that will not happen overnight. The rule lays out a timeline that requires disciplined attention and steady action.
Educating your organization about the implications and opportunities is an early priority that should be followed by an evaluation of staff, resources and operations required to bring existing quality programs under one unified MACRA approach.
A good first step
Begin to assess the financial implications. Understand how your practice currently performs against existing Medicare incentives, what network models are in place for 2017, and what new measures will soon be available.
These metrics form the baseline to project financial models evaluating the strongest opportunity for growth, the cost required to adjust clinical infrastructure, and the analytics required for citing benchmarks and achieving the best metrics for reporting.
An assessment of your financial position and exposure — today and in the future — allows organizations to lay out their options and test drive them with actuarial and financial models to better understand possible risk exposure and project potential financial impacts.
Then, define strategies and a course of action that match business objectives with the strongest opportunities. Both MIPS or AAPM require a roadmap that defines top priorities for mitigating risk and helps develop the new capabilities necessary to maximize performance.
This roadmap, grounded in financial models, can help pinpoint and validate where organizations need to invest in order to excel under the MACRA requirements.

Answers to five questions from health industry experts — listen in five minutes.
Sign up to get the latest #5in5 delivered straight to your inbox.