Text
Medicare Access and CHIP Reauthorization Act continues to drive changes in how care is delivered, improves patient health and increases care efficiency over time.
Quality Payment Program (QPP) changes and newly proposed adjustments continue to restructure how eligible clinicians are reimbursed under Medicare. These changes can pose both threats and opportunities to future payer and provider revenue.
MACRA will affect more than half of doctors and requires strategic, large-scale decisions over the next 10 years on policy objectives of:
Prioritizing quality of care management
Successfully controlling the cost of care 
MACRA has financial implications for health care stakeholders across the board. Despite the many challenges of participating in Merit-based Incentive Payment System or an Advanced Alternative Payment Models, physicians, hospitals and even payers can come out on top in a MACRA world with careful planning and strategy.

MACRA and QPP will evolve, but despite policy changes, MACRA's goals remain clear and consistent. While there is no one surefire way to win or lose under MACRA, Optum® experts advise payers and providers to simply understand the impacts and stay ahead of the changes.

Text
Physicians and group practices should ask three important questions as they prepare for MACRA:
Which MACRA path is best for our organization today and in the future?
Which quality metrics and risk/reward variables are appropriate?
Where and how do we invest and innovate to differentiate ourselves?
Accessing MACRA Choices and Expected Outcomes* (Based on $50M Revenue)
Comparing MACRA revenue impacts and risk (000)*
MIPS reimbursement model is a budget neutral model - All MIPS positive reimbursements must be offset by negative reimbursements. 
AAPM outcomes reflect most, but not all, reimbursements. 
MIPS test outcomes are approximately equal to the baseline (MIPS measure or 90 days submitted).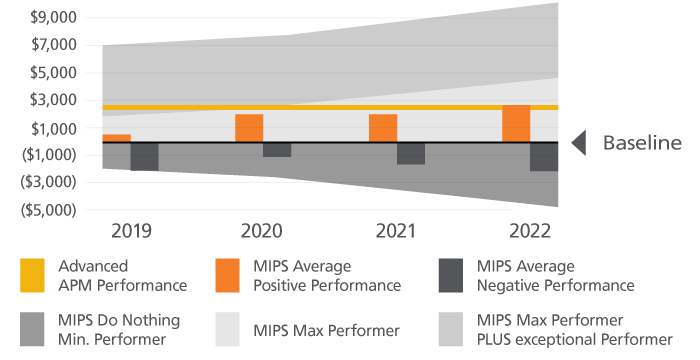 *Source: Optum 2016 MACRA Actuarial Financial Assessment. Financial outcomes model and assumptions are based on information available as of 11/16. 
Horizontal Rule
RELATED RESOURCES
Text
Optum can help you bring existing programs under one unified MACRA approach.
Uncover MACRA opportunities and implications in your organization
Text

Answers to five questions from health industry experts — listen in five minutes.
Sign up to get the latest #5in5 delivered straight to your inbox.