Text
Next-generation consumer service
Text

The digital age has brought about vast changes in the way consumers expect to do business.1 Increasingly, we call this the on-demand economy.2
An on-demand system occurs when companies use sophisticated data to meet consumer demand immediately, whether for goods or services.3 Today, consumers increasingly crave these fast, simple and personalized experiences in all of their business relationships.1
In the retail world, savvy retailers like Amazon are capitalizing on rich stores of data about individual habits and preferences to make their shopping experiences as frictionless as possible.2
Optum Health Care Advisor is an enhanced customer service model that brings the on-demand economy to the PBM industry. We have combined huge amounts of data that used to be scattered across many different places. When an Optum Health Care Advisor can access medical claims, benefit rules and pharmacy and behavioral health claims – instantly – we can create a customer service experience that is always relevant and responsive to individual needs.
Next-generation consumer service
The Optum Health Care Advisor model works because pharmacy is the most frequently used consumer health benefit touch point:
Pharmacy is the first line of therapy in 88% of care plans.4
80% of all health interactions with consumers occur through the pharmacy benefit.4
This translates into one of the most powerful advantages of the Optum Health Care Advisor model: the member calls us first. Automatically, we can be sure that they are predisposed to engage with us; to talk and to listen.
Like traditional PBM customer service or home delivery, a member will call the pharmacy number on the back of their card for questions related to pharmacy benefits or claims. The health care advisor will start by addressing the reason for the call. But, unlike traditional PBM service, that's just the beginning.
Our integrated technology systems empower our advisors with predictive information and a holistic view of each individual. So they can discover unmet needs and align members with their benefits – in real time.
A key advantage of the Optum Health Care Advisor model is that it goes beyond the member's primary reason for calling.
In this new, on-demand environment, we can exert tremendous influence. We can touch people and affect their behavior at the exact moment when they need our help. It could be something as simple as switching to a cheaper medication. Or it can mean mobilizing our clinical resources to head-off potential problems.
Through simple, personal and relevant engagements, we help connect consumers to all of the benefits they have available – even to third-party vendors not associated with Optum.
How it works
Let's take a simple example. Here we see that Amy calls our service number to get a refill on her prescription. But Kim, her Advisor, notices on her desktop consumer dashboard that one of our nurses has been trying to contact Amy on an outbound call for some time, without success.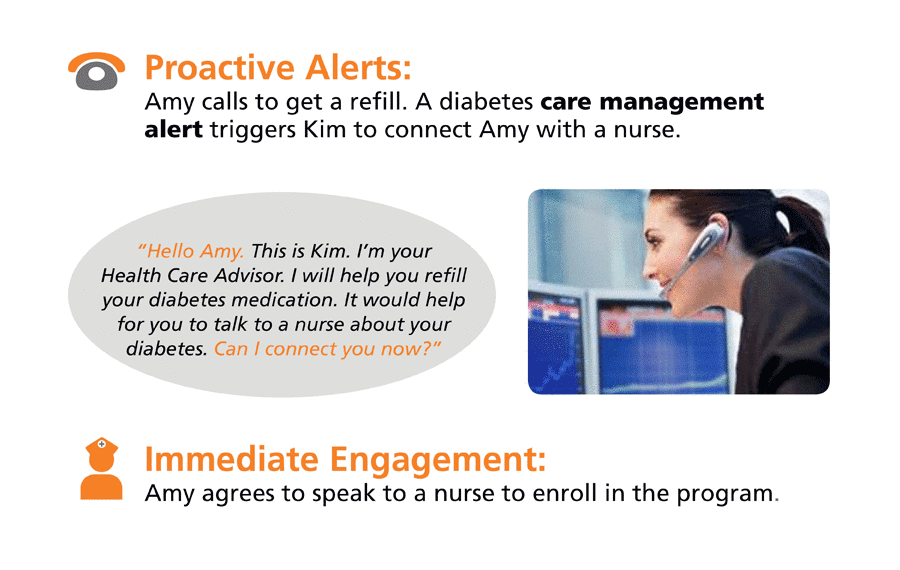 As mentioned above, members are far more receptive to offers of additional care programs when they initiate the call. In this example, Kim offers to connect Amy with a nurse who works for our diabetes program. Amy says 'yes,' just like 60% of all callers who agree to be connected to additional care through OptumRx.
The results are uniformly positive: Amy is now a far more engaged member. On average, members have shown a 43% increase in clinical services engagement through the Health Care Advisor model.5 And engaged patients get better, more efficient care, which generates cost savings for their employers.
For a vivid example of how the Health Care Advisor works behind the scenes, watch this short video: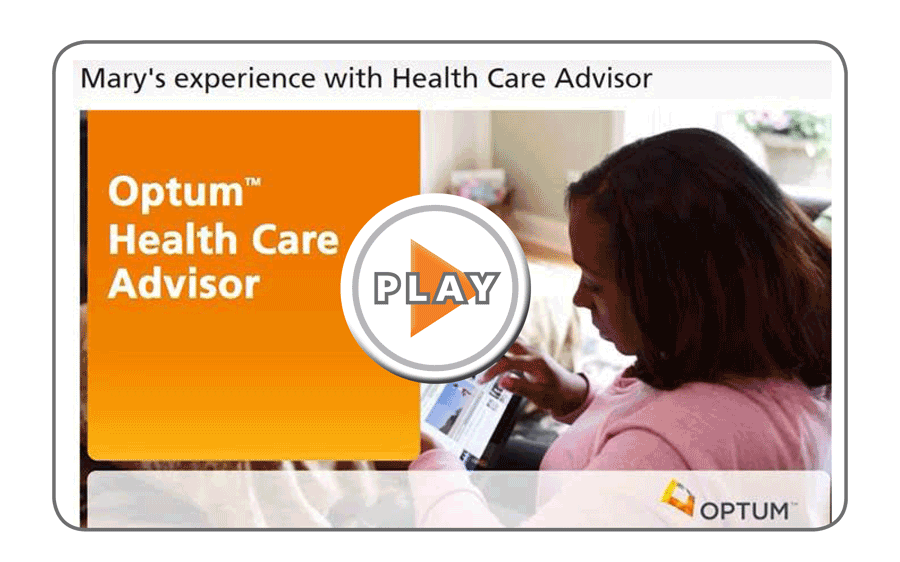 How is the experience personalized for the consumer?
The Health Care Advisor solution starts working before the consumer has even spoken to an advisor. Within moments of the call coming in, intelligent routing has matched the caller to consumer-specific analytics, which help match the caller with the right advisor, including nurse advisors and pharmacists for clinical questions or concerns.
Advisors are alerted to personalized, real-time clinical or savings opportunities through their desktop consumer dashboard: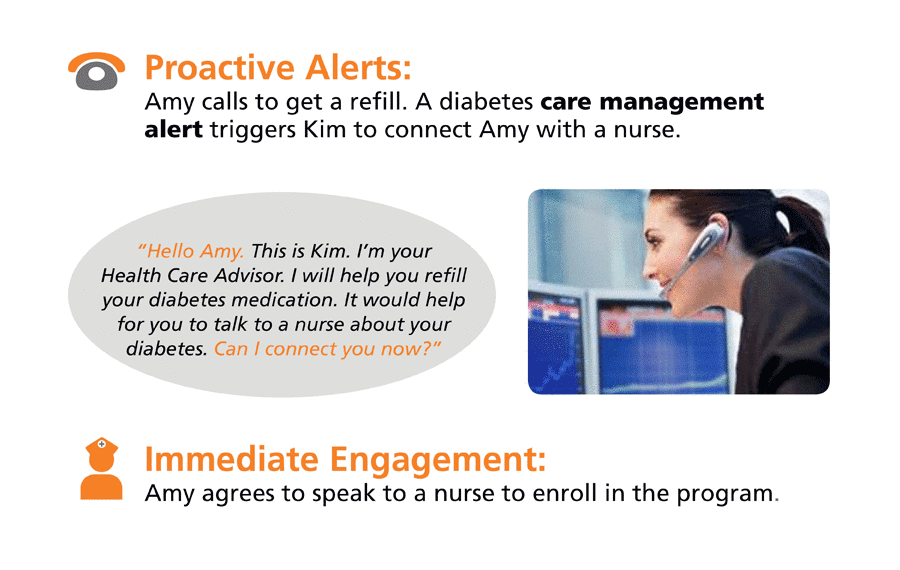 Where will the savings come from?
Advisors can help:
Navigate the systemFrom finding the right provider to understanding treatment options, members get help finding the best, most efficient way to solve their health care needs.

Navigate healthOur Nurse Triage and Case and Disease management programs are two examples of how members can be quickly steered to expert care and guidance.

Navigate benefitsGiven the right data connections, our Advisors can take health care benefits from a frustrating, compartmentalized system to a seamlessly integrated experience. We can connect the pharmacy benefit to the medical benefit and even other vendor partners such as behavioral health, no matter who they are.
The savings activities could be split into a chart that looks something like this (depending on specific utilization patterns):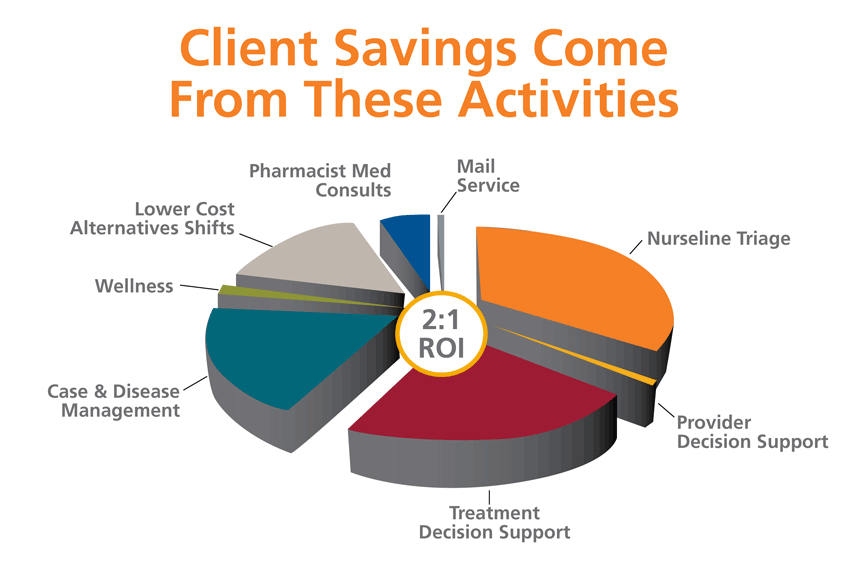 Empowered to care
Where traditional call-centers measure their success by how quickly they can conclude each call, our Advisors can personalize each conversation and ensure all that all consumer health care needs are being met – even if the consumer is unaware of them. This requires a complete redefinition of what good service really means.
For us, each member call is much more than just a transaction or a hold-time statistic. It's an opportunity to make a difference in someone's life.
While clients can still elect our traditional customer service model and PBM services, through Health Care Advisor, we partner with other health vendors and connect a consumer to their full scope of benefits as designated by the client. For more information about Health Care Advisor, please speak to your consultant, broker or representative.
[Note: Health Care Advisor is available for an additional charge. We project that all Health Care Advisor clients should expect approximately $2.00 PMPM savings based on the cost of the services.]
Posted November 6th, 2015.
References
Forbes. Will Amazon And eBay Usher Retail Into The On-Demand Economy? Jan 6, 2015. Accessed at: http://www.forbes.com/sites/gregpetro/2015/01/06/will-amazon-and-ebay-usher-retail-into-the-on-demand-economy/ on 08.26.2015.
McKinsey Quarterly. The coming era of 'on-demand' marketing. April 2013. Accessed at: http://www.mckinsey.com/insights/marketing_sales/the_coming_era_of_on-demand_marketing on 08.26.2015.
Business Insider. The 'On-Demand Economy' Is Revolutionizing Consumer Behavior — Here's How. July 13, 2014. Accessed at: http://www.businessinsider.com/the-on-demand-economy-2014-7 on 08.26.2015.
Internal analysis of 30 million UnitedHealthcare members 2013.
Based on employer's historical experience and are not guarantees of future performance, actual results may vary. 2013 data.
Text
STATEMENT REGARDING FINANCIAL INFLUENCE:
This article is directed solely to its intended audience about important developments affecting the pharmacy benefits business. It is not intended to promote the use of any drug mentioned in the article and neither the author nor OptumRx has accepted any form of compensation for the preparation or distribution of this article.