Text
Changing consumer expectations drive newly personalized service
Text

Commercial health care companies have traditionally not fared well when it comes to public perceptions of their customer service. Just recently, none were represented in a ranking of the top 100 customer service companies.1
It's not hard to understand why. Not so long ago, someone's medical records might be in one database but their prescription records would be in another. Meanwhile, their lab and x-ray results sat in yet a third location. Members who called for assistance under these conditions could endure delays, confusion and fragmented care.
Today, we take it for granted that the digital systems we encounter are getting smarter and more connected all the time. Our cars and our phones "know" us and talk to us; and every time we go online we can count on seeing search results and advertising that seems targeted to our personal needs with uncanny precision.
These capabilities have quickly passed from amazing to routine. It seems that as rapidly as our technology evolves, our expectations as consumers evolve just as fast.2
As the data revolution strengthens and gathers speed, we are just beginning to scratch the surface delivering services that cater to the rapidly-expanding dimensions of consumer demand. Consumers expect personalized data to be targeted precisely to their needs. They expect merged databases help create value for them – simply, anywhere, and at any time.2
Connected customer care
Recently the health care system has shown signs that it is evolving to meet these growing consumer expectations. Today, thanks to powerful new data connectivity, billions of member-specific data points can be gathered, analyzed and interpreted in one place – instantly.
At OptumRx, we call it Synchronization, which simply means connecting data of traditional pharmacy coverage with non-pharmacy services to show personalized connections that would otherwise not be visible.
Synchronized customer service
One aspect of Synchronization is the Optum 360 Opportunity Alert System. The alert system is backed by a coordinated data analytics engine. Once it is fully realized, it will provide targeted, real-time insight into a member's care and provide alerts for opportunities, like condition management, pharmacist medication consults, wellness programs and behavioral services.
The Opportunity Alert System leverages multiple databases, including pharmacy and medical benefits claims data, to concentrate the expertise of pharmacists, nurses and customer service representatives. The advantages for a member like Amy, shown below, are immediate and practical. For example, now we can know who isn't refilling their prescriptions, or who might need extra help from a nurse or other medical professional.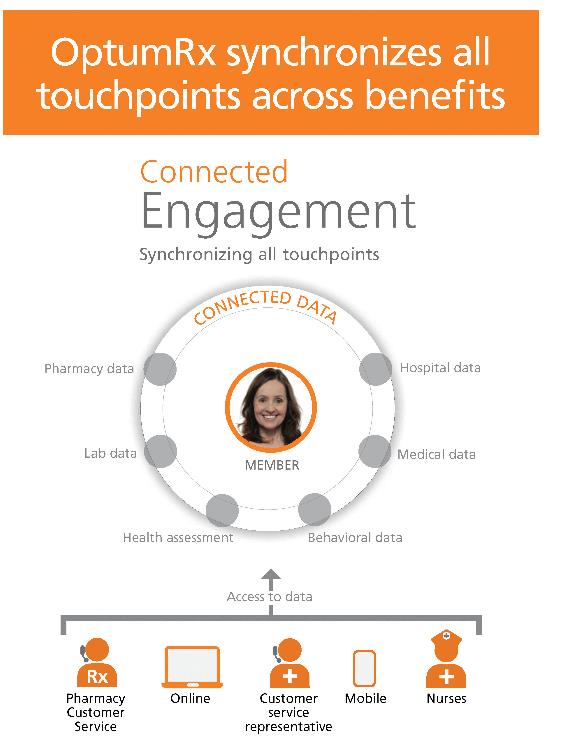 These new capabilities can help improve individual member savings and reduce overall health care spending to create real value for clients and members – simply and seamlessly.
Our customer service representatives are trained to use these alerts to proactively partner with members to become better engaged with their health care services.3 So whenever a member calls us – regardless of why – we can have timely, targeted conversations that directly address their personal health care needs.
Lower cost medications
One component of the 360 Alert System is a new standard benefit feature called Lower-Cost Alternative (LCA). LCA alerts create instant value for members because they proactively identify lower cost alternatives for maintenance medications a member currently receives. The system then issues an alert that lists up to five medications and the savings for each alternative presented.
Earlier we met Amy, who has all of her relevant health information synchronized across our systems: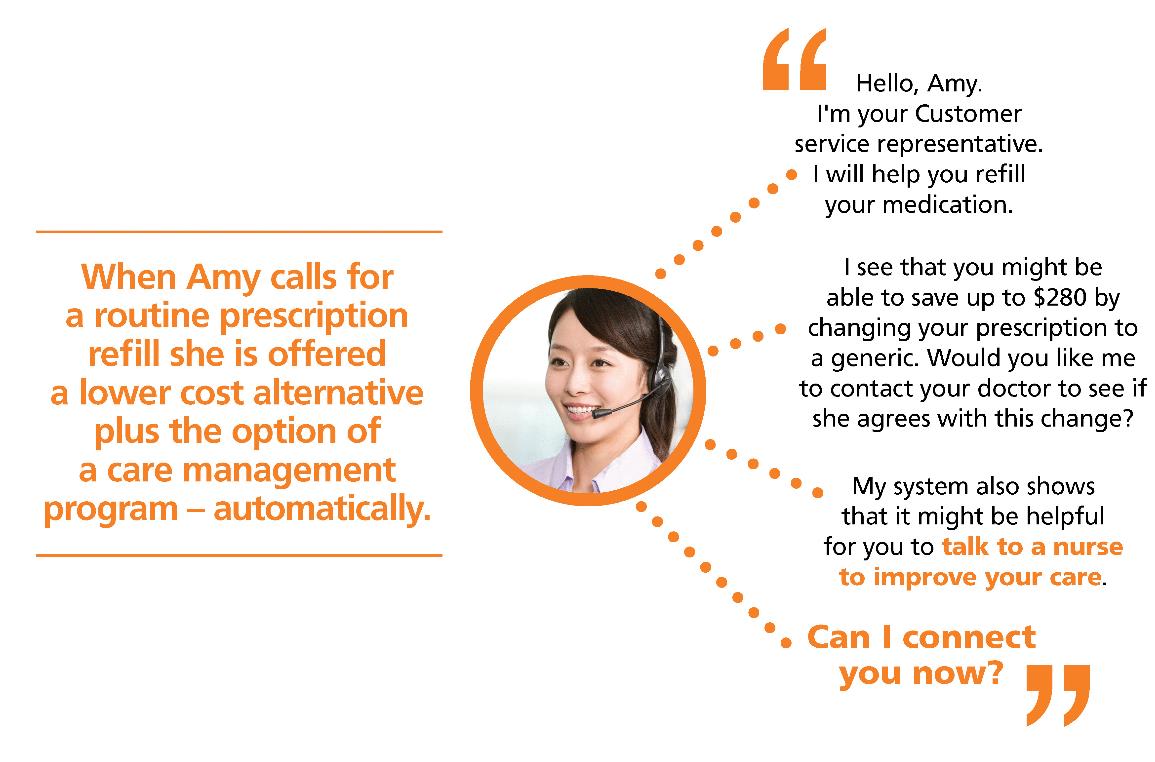 Any time a member makes an inbound call within the system, the person they speak with will also see the LCA alert and will be prompted to share the savings opportunity with the member. For maximum simplicity and flexibility, members can also now see the LCA alerts while they are on the OptumRx member website.
Taking advantage of the lower cost prescription couldn't be easier. Anyone Amy might speak to on our end (customer service, nurse, pharmacist, etc.) can begin the process to make the prescription switch for the member by contacting the member's physician.
As Synchronization continues to unfold, we will keep providing more capabilities and connected health care collaborations like LCA that enhance the consumer experience. These cumulative enhancements will take OptumRx to the next level delivering better choices and outcomes for clients and their members.
The synchronized care management model described here depends on a minimum specific set of OptumHealth care management services, plus OptumRx pharmacy services. In some cases, OptumRx direct clients may choose to supply health claims data via a separate data feed.
Please speak to your consultant or representative for more information about how Synchronization can work for you.
Posted January 6th, 2016
References
Temkin Customer Service Ratings 2014. Accessed at: http://temkinratings.com/temkin-customer-service-ratings-2014/ on 11.13.2015.
McKinsey Quarterly. The coming era of 'on-demand' marketing. April 2013. Accessed at: http://www.mckinsey.com/insights/marketing_sales/the_coming_era_of_on-demand_marketing on 11.12.2015.
The customer service model for UnitedHealthcare carve-in clients is called "Advocate for Me." For all other clients customer service representatives are called "Customer Service Advocates." Their capabilities are identical.
Text
STATEMENT REGARDING FINANCIAL INFLUENCE:
This article is directed solely to its intended audience about important developments affecting the pharmacy benefits business. It is not intended to promote the use of any drug mentioned in the article and neither the author nor OptumRx has accepted any form of compensation for the preparation or distribution of this article.