Steve Larsen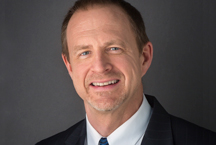 Executive Vice President, Government Solutions
Steve Larsen is the executive vice president of Government Solutions at Optum. He joined Optum in July of 2012.
Larsen previously served as Deputy Administrator and Director of the Center for Consumer Information and Insurance Oversight (CCIIO), Centers for Medicare & Medicaid Services, U.S. Department of Health and Human Services.
Prior to joining HHS, Larsen served in a number of capacities at Amerigroup Corporation, a public managed care company serving the Medicaid and Medicare populations. His roles included CEO of Amerigroup Maryland, Executive Vice President of Health Plan Operations, and Senior Vice President for External Affairs and Business Development. Larsen also served six years as Maryland Insurance Commissioner, Chief Legislative Officer for Governor Parris Glendening, Chairman of the Maryland Public Service Commission for Governor Martin O'Malley, and was a Member of the Maryland Health Services Cost Review Commission.
Larsen holds a B.A. degree from Gettysburg College, an M.A. degree in Public Policy from the Eagleton Institute of Politics at Rutgers University and a J.D. degree from Rutgers University.