Horizontal Rule
Keynote speakers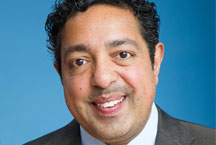 Atul Butte, MD, PhD
Director, UCSF Inst. for Computational Health Sciences
Atul Butte, MD, PhD is the inaugural director of the Institute of Computational Health Sciences at the University of California, San Francisco, and a distinguished professor of pediatrics.
Dr. Butte is also the executive director for clinical informatics across the six University of California Medical Schools and Medical Centers. 
He received his MD at Brown University, trained in Pediatrics and Pediatric Endocrinology at Children's Hospital Boston, then received his PhD from Harvard Medical School and MIT.  
Dr. Butte has authored over 200 publications. He was elected into the National Academy of Medicine in 2015, and in 2013, he was recognized by the White House as an Open Science Champion of Change. 
He is a principal investigator of three programs: California's Initiative to Advance Precision Medicine; ImmPort, the clinical and molecular data repository for the National Institute of Allergy and Infectious Diseases; and the California Precision Medicine Consortium.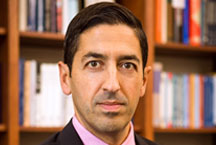 Sandro Galea, MD, MPH, DrPH
Dean, Boston University School of Public Health
Sandro Galea, a physician and an epidemiologist, is dean and Robert A. Knox Professor at Boston University School of Public Health. He previously held positions at Columbia University, the University of Michigan and the New York Academy of Medicine.
He has published more than 700 scientific journal articles, 50 chapters and 13 books. His latest book, Healthier: Fifty Thoughts on the Foundations of Population Health, was published in 2017.
Dr. Galea holds degrees from the University of Toronto, Harvard University and Columbia University.
Dr. Galea is past president of the Society for Epidemiologic Research and an elected member of the National Academy of Medicine and the American Epidemiological Society.
He has received several lifetime achievement awards for his research, including the Rema Lapouse Award from the American Public Health Association and the Robert S. Laufer, PhD, Memorial Award from the International Society for Traumatic Stress Studies.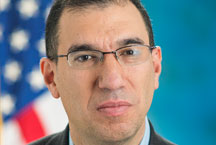 Andy Slavitt
Former Acting Administrator for the CMS
Andy Slavitt has decades of private and public sector leadership in health care.  Over his career, Mr. Slavitt has shaped some of the most significant and successful initiatives in health care impacting millions of Americans and the shape of the health care system.
For 2015 to 2017, he served as the Acting Administrator for the Centers for Medicare & Medicaid Services, where he also oversaw the healthcare.gov turnaround.
From 2003 to 2013, Mr. Slavitt worked at UnitedHealth Group, eventually serving as the group executive vice president for Optum. Mr. Slavitt recently joined the Bipartisan Policy Center in Washington, DC, as a senior advisor.
In 2016, Mr. Slavitt was named one of the 10 most influential people in health care by Modern Healthcare magazine.
Mr. Slavitt is a graduate of the Wharton School and The College of Arts & Sciences at the University of Pennsylvania, and received an MBA from Harvard Business School.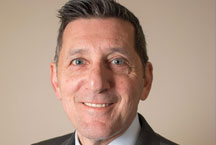 Michael Botticelli
Exec. Director, Grayken Center for Addiction Medicine
Michael Botticelli is the Executive Director of the Grayken Center for Addiction Medicine at Boston Medical Center and a Distinguished Policy Scholar at the Johns Hopkins Bloomberg School of Public Health.
Prior to this, Michael was the Director of National Drug Control Policy for the Obama Administration. He joined the White House Office of National Drug Control Policy (ONDCP) as Deputy Director in November 2012 and later served as Acting Director.      
He has over 2 decades of experience supporting those affected by substance use disorders. Prior to ONDCP, he was Director of the Bureau of Substance Abuse Services at the MA Dept. of Public Health, where he expanded nationally recognized prevention and recovery services.
Mr. Botticelli also forged strong partnerships with local, state, and Federal law enforcement agencies; state and local health and human service agencies; and stakeholder groups to guide and implement evidence-based programs.
Mr. Botticelli holds a Bachelor of Arts degree from Siena College and a Master of Education degree from St. Lawrence University. He is also in long-term recovery from a substance use disorder, celebrating more than 28 years of recovery.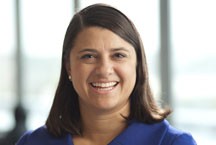 Rebecca Onie
Co-Founder & Chief Executive Officer, Health Leads
A MacArthur "Genius" awardee, Rebecca Onie, JD is widely recognized for creating the definitive framework for addressing social needs – like heat, food and housing – as part of healthcare delivery.
In 1996, as a college sophomore, she co-founded the social enterprise Health Leads to address the blind spot that, while 70% of patients' health issues are caused by social needs, our health care system simply is not structured to address them.
With its clinical partners, Health Leads created solutions to equip healthcare institutions, physicians and providers to "prescribe" food, electricity, and other basic resources patients need to be healthy, and enabling them to connect those patients to existing community resources.
From CMS to the National Committee for Quality Assurance to the American Hospital Association, key healthcare entities rely on Ms. Onie's expertise to "operationalize equity" via the intersection of social determinants, population health, and health care delivery.
Ms. Onie is an emerging luminary in healthcare leadership, having received national and international awards, including the Aspen Institute Health Innovators Fellowship. She has delivered hundreds of lectures, including a TEDMED that's been viewed nearly 1 million times.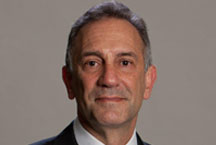 Gary Mendell, MBA
Founder and CEO, Shatterproof
Gary Mendell is the Founder and CEO of Shatterproof, the nonprofit dedicated to reducing the devastation that the disease of addiction causes families. He founded Shatterproof in 2012, after losing his 25-year-old son Brian to a 10 year struggle with the disease of addiction, to spare other families of the tragedy his family suffered.
Mr. Mendell spent decades as an entrepreneur. Prior to launching Shatterproof, he was the founder and CEO of HEI Hotels & Resorts, a multi-billion-dollar company that oversees a portfolio of 70 hotels. Previously, he was president of Starwood Lodging Trust and a member of its board of trustees.
Mr. Mendell decided to use his experience as a parent of a child with substance use disorder and his 25 years in the business world to tackle how addiction is perceived, prevented, and treated by founding Shatterproof. He has since met with White House officials and members of Congress to help formulate laws that will save thousands of lives.
Under his leadership, Shatterproof has advocated for the passage of life-saving legislation made law in 13 states, brought advocacy support to encourage the release of the CDC Guidelines for Prescribing Opioids for Chronic Pain, for the passage of the federal Comprehensive Addiction and Recovery Act, and $1 billion in funding added to the 21st Century Cures Act, all of which will prevent further lives lost.
He is a member of the Clinton Health Matters Initiative and a charter member of President Obama's Better Building Challenge. Mr. Mendell received his B.S. from Cornell University's School of Hotel Administration and his MBA with distinction from the Wharton School at the University of Pennsylvania.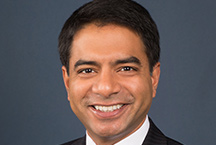 Amitabh Chandra, PhD
Professor of Social Policy, Harvard Kennedy School
Amitabh Chandra is the Malcolm Wiener Professor of Public Policy, Director of Health Policy Research at the Harvard Kennedy School of Government. He is a member of the Congressional Budget Office's Panel of Health Advisors, and is a Research Associate at the National Bureau of Economic Research.
Professor Chandra is an elected member of the National Academy of Medicine, the first-prize recipient of the Upjohn Institute's Dissertation Award, the Kenneth Arrow Award for best paper in health economics, and the Eugene Garfield Award for the impact of medical research.
In 2012, he was awarded American Society of Health Economists (ASHE) medal. The ASHE Medal is awarded biennially to the economist age 40 or under who has made the most significant contributions to the field of health economics.
His research focuses on productivity and innovation in healthcare with an emphasis on oncology and hospital care, medical malpractice, and racial disparities in healthcare. Chandra has testified to the United States Senate and the United States Commission on Civil Rights. In 2011 he served as Massachusetts' Special Commissioner on Provider Price Reform.
His research has been featured in the New York Times, the Washington Post, CNN, Newsweek, and on National Public Radio. He has been a consultant to the RAND Corporation, Precision Health Economics, Microsoft Research, and the Institute of Medicine. He serves on the advisory boards of Maxwell Health and Kyruus, and is a co-founder of HealthEngine.
Richard Moscicki, MD
Chief Medical Officer, PhRMA
Richard (Rich) A. Moscicki (Mo-shis-ke), MD, is the Executive Vice President for Science and Regulatory Advocacy and the Chief Medical Officer at Pharmaceutical Research and Manufacturers of America (PhRMA).  
Dr. Moscicki came to PhRMA in 2017 after serving as the Deputy Center Director for Science Operations for the U.S. Food and Drug Administration's (FDA) Center for Drug Evaluation and Research (CDER) since 2013.
While at FDA, Dr. Moscicki brought executive direction of Center operations and leadership in overseeing the development, implementation, and direction of CDER's programs.
Previous positions include serving as CMO at Genzyme Corporation from 1992 to 2011 where he was responsible for worldwide global regulatory and pharmacovigilance matters, and all aspects of clinical research and medical affairs. He served as a Senior VP and Head of Clinical Development at Sanofi-Genzyme from 2011-2013.
Dr. Moscicki received his medical degree from Northwestern University Medical School. He is board certified in internal medicine, diagnostic and laboratory immunology, and allergy and immunology.
He completed his residency in Internal Medicine, followed by a fellowship at Massachusetts General Hospital (MGH) in clinical immunology and immunopathology. He remained on staff at MGH and on the faculty of Harvard Medical School from 1979 until 2013.
Close