Optum fitness solutions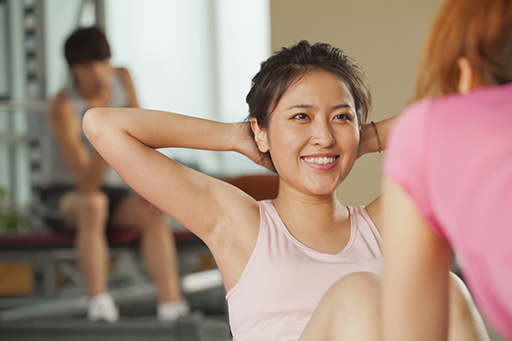 Create a center of workplace wellness
Every company has its own unique culture, but as individuals we each have this in common: Being physically active helps us stay healthy, feel less stress and be more productive. By making fitness part of the workday routine, Optum fitness solutions help employees achieve their wellness goals and do their best work. We start by assessing your organization's health risks and learning about your culture. Then we can design, implement and maintain a fitness solution tailored to your company's goals.
We help inspire and motivate behavioral change by offering:
Certified on-site wellness specialists, coaches, nurtritionists and ergonomists.
On-site, face-to-face interaction to drive high levels of employee engagement
Outcomes reporting and strategic program recommendations
On-site management
Optum fitness solutions bring fitness to the workplace to help engage employees in making healthy changes. Your organization can focus on its core business, with a healthier, more productive staff.
Our on-site staff become members of your team, so we can tailor programs and classes to suit your employees' needs and your company's culture. We manage all aspects of our wide range of on-site programs. Optum also tracks engagement metrics, and our market-leading technology solutions allows fully integrated online management of enrollment, waivers, payment and class registration.
Fitness center management
The fitness center will become your organization's wellness hub. We manage all aspects of the fitness center, ensuring a clean, safe and functional environment. At all levels of fitness, employees can take part in innovative programs coached by talented and caring staff.
Physical activity programs
Your employees can take part in a wide range of physical activity programs based on their interests. From spin and abdominals to Pilates and Zumba®, there is a class for all employees. We design these programs to be fun and have broad appeal. Activities can take place on site or in various locations.
All trademarks are the property of the respective owners.
Recreation and league management
Enhance the social aspect of work with a little friendly competition. Optum can develop and lead teams, leagues, events and outings. Let us do the planning based on your budget and your employees' interests.
Design and development
A well-designed fitness center is the heart of an effective employee wellness program. Our team of experts is experienced at designing and developing innovative wellness facilities.
Our design and development solutions include:
Program design: Needs analysis, feasibility studies and program development
Design development: Schematic drawing review, equipment layout and budget development
Project management: Fitness equipment selection, procurement, logistics and installation management
Benefits
Single point of contact: Managing multiple vendors during a design project can be challenging and time consuming. We remove this component by acting as your single contact.

Procurement power and savings: Strong relationships with leading architects and equipment vendors allow us to provide you with high levels of service, quick response time and cost savings.

Reduced liability: All components that may impact your organization's liability are taken into consideration.

Research and data for accurate benchmarking and innovative recommendations: We leverage data, research, and results from industry reports and our 250+ locations to determine the best approach for your organization.
Technology solutions
Our market-leading technology platform allows fully integrated online management of enrollment, waivers, payment and class registration. This allows the Optum fitness solutions team to maximize productivity and spend their time engaging with and supporting your employees. In addition, Optum can create a personalized health and wellness website to support employees in making healthy changes.
In addition to offering an integrated technology platform to manage your fitness program, Optum also provides a customized wellness website for your employees. Based on your organization's needs, we'll create a health and wellness website that's tailored to drive high levels of engagement. Employees use the personalized wellness website to support them in making healthy changes, with online tools, trackers and educational resources.

Benefits
Customized and personalized: Your company's health and wellness website is created to provide the best experience for users.

Efficient: Your health and wellness programs are integrated with streamlined tools, automated processes, and reporting.

Secure: The website meets rigorous security standards to ensure employees' data is secure.


We're ready to put our solutions to work for you. Let's start the conversation.
Contact Us
1-866-386-3409