Biometric solutions
Knowledge is power. When employees "know their numbers," they are empowered to take action. Optum offers biometric solutions that elevate health awareness to help guide people to programs and services that can help them live healthier lives. In addition to driving enrollment into appropriate health management programs, our biometric solutions help you understand the health risks of your total population.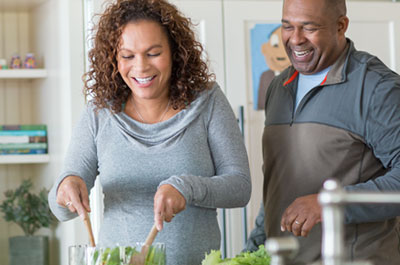 Biometric screenings are an important component of any overall wellness program. They can help individuals become aware of their health risks, and can serve as a catalyst for healthy action. We are dedicated to making it easier to administer a comprehensive biometric solution. Our flexible solution allows you to engage your entire work force by reaching people where they work and where they live.
Benefits of a biometric screening program:
Creates personal and organizational health awareness
Helps increase productivity, loyalty and morale
Creates a visible and motivating way for employees to get involved in their own health
Choose from multiple screening options, including on-site events, at-home finger-stick kits, health provider screening forms and a lab-visit option, which can be sold as standalone or added to any on-site event. You'll have a dedicated, secure website where employees can select a biometric screening option and see their results, register for a screening, schedule or change an appointment, and access FAQs.
Biometric results are reviewed with the individual, and suggested action steps are provided. An employee's biometric data is integrated into our secure health management platforms, where it is easily accessible to both the employees and our health professionals. These platforms also provide access to the health assessment, personal health record, health trackers, wellness coaching and disease management programs.
"Know Your Numbers" screenings are professionally administered and include:
Partial or full lipid panel — HDL, LDL,* TC, TC:HDL ratio, triglycerides*
Glucose
Body mass index
Blood pressure: systolic/diastolic
Height and weight
Finger-stick or venipuncture available
Same-time flu shots
Comprehensive screenings
Panel C is a comprehensive screening that includes a blood pressure check and a 36-test blood profile. This screening is similar to one doctors use to help determine early stages of many diseases and disorders, including:
Anemia, infections and certain cancers
Kidney function and electrolyte balance
Endocrine conditions (diabetes and thyroid disease)
Cardiovascular disease (heart disease and stroke)
Gastrointestinal disorders and nutrition (liver, gallbladder)
*Included in fasting screenings
The biometric screening program is administered by Optum, a health and well-being company that provides information and support as part of your health or wellness plan. On-site screening services are provided by Optum Biometrics, Inc., an affiliate of Optum, or other partner. Participation is voluntary and is not a substitute for your doctor's care. The screening and your results are provided for informational purposes only and are not intended to diagnose problems or provide treatment recommendations. Your screening results will be kept confidential in accordance with the law, and with your consent, will be shared with your plan for administration of your wellness and other plan activities.
Participation in the health assessment is voluntary. Your health assessment responses will be kept confidential in accordance with the law and will only be used to provide health and wellness recommendations or conduct other plan activities.
Resources
Case Studies
Infographics
Product Sheets
White Papers
We're ready to put our platform to work for you. Let's start the conversation.
Contact Us
1-866-386-3409