Infertility, maternity and neonatal programs
The path to parenthood is different for everyone. A couple may yearn for a baby, only to face the heartache of infertility. They may feel overwhelmed as they consider treatment options and where to turn for care — all while trying to control expenses. And no matter how excited a first-time mom is, she may welcome support and guidance in navigating the many decisions that arise throughout pregnancy and after her baby is born.

Optum™ provides infertility, maternity and neonatal programs that support women and families in making informed decisions and take ownership of their health. Our nurses offer one-on-one, specialized support by phone. They help women identify health concerns, understand treatment options and access resources to improve outcomes and lower costs. Employers offering Optum programs may experience: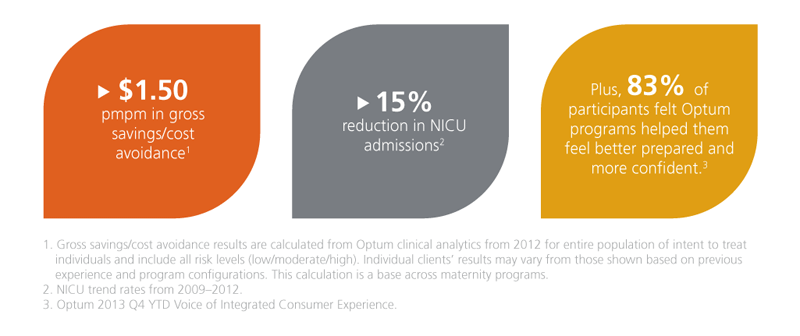 Infertility programs
Guiding families to Centers of Excellence and better treatment decisions

About 12% of couples of childbearing age seek medical help for infertility.1 Of those seeking treatment, more than half will pursue treatments that significantly raise the risk of multiple-gestation pregnancy, which increases the risk of complications for the mother. Babies born as multiples have increased risk for low birth weight, preterm delivery and disability.2
Our managed infertility and reproductive resource services help reduce infertility treatment costs and NICU (neonatal intensive care) costs related to multiple-gestation pregnancies. Our infertility specialists work one-on-one with families to provide them access to medical and pharmaceutical savings, clinical case management and an Infertility Center of Excellence network.
1. Chandra A, Copen CE, Stephen EH. Infertility service use in the United States: Data from the National Survey of Family Growth, 1982–2010.National Health Statistics Report; Jan. 22, 2014(73). www.cdc.gov/nchs/data/nhsr/nhsr073.pdf#x2013;2010.
2. Centers for Disease Control and Prevention. A public health focus on infertility prevention, detection, and management. www.cdc.gov/reproductivehealth/Infertility/Whitepaper-PG2.htm#5.
Maternity programs
Support for healthier babies and lower costs
The cost of giving birth continues to rise. For women with employer-provided commercial health insurance, the cost of vaginal delivery increased 49% from 2004 to 20101. For cesarean section delivery, the cost increase rose 41% in that same period1. Preterm births are also on the rise:
35% increase in preterm birth rates over 25 years2
75% of all dollars spent on newborn care are for those in neonatal intensive care units2
$26 billion estimated overall cost of preterm birth in the U.S.2
Our healthy pregnancy and maternity support programs provide tools, resources and experienced personal support to help women make healthy pregnancy choices and reduce costs associated with preterm birth. We work closely with expectant mothers throughout their pregnancies to identify potentially high-risk pregnancies. Nurses are available after delivery for moms who need further support or questions answered.
1. Truven Health Analytics Marketscan® Study, January 2013.
2. Managed Care, Janaury 2010
Neonatal program
Education and support for parents of newborns
In the U.S., one in nine babies is born prematurely. This can have long-lasting effects on a baby's health. It's costly as well: premature birth in the U.S. costs $26.2 billion each year, including medical costs, intervention and special education services, and lost work and pay.1
Neonatal resource services (NRS) helps guide high-risk individuals to our Centers of Excellence network. These providers have met rigorous clinical criteria for quality and efficiency. Onsite and by phone, our dedicated and well-equipped team of specialized nurses, case managers and full-time medical directors help fragile newborns receive the best possible care.
Neonatal resource services are often integrated with maternity programs to identify high-risk pregnancies prior to delivery. An Optum case manager will help educate the expectant mother about her care options and benefits of delivering at a level II or III neonatal intensive care facility.
1. March of Dimes. www.marchofdimes.org/mission/the-economic-and-societal-costs.aspx