Condition management
Our condition management programs identify at-risk individuals and assess each individual's health care needs. We work to resolve health care gaps by providing the right resources and support at the right time. This helps lower costs and make the most of your health care investment.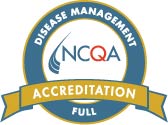 We take a whole-person approach, addressing comorbidities, medication adherence and management, and behavioral health. Remote monitoring and provider partnerships help support adherence to treatment plans and improvement of health outcomes.
$0.90 and $4 pmpm is the typical savings range1
92% of participants felt the programs helped to better understand and manage their condition2
We offer condition management programs and remote monitoring* for people living with:
Heart failure
Chronic obstructive pulmonary disease
Asthma
Coronary artery disease
Diabetes
Engage and enroll
Engage people at the right time and enroll them in programs and services tailored to their needs.
Our data and analytics allow holistic viewing and monitoring of total population health. This helps us identify individuals closer to the time they experience a change in health, when they are more likely to act and engage.
We identify opportunities before high-cost medical utilization occurs, using medical claims, pharmacy data, lab results, health risk assessments, biometric data, nurse triage and direct referrals from physicians. An integrated and proprietary identification and stratification process helps people receive the right interactions at the right time. A hierarchy is applied to help ensure the most appropriate program is offered to meet an individual's needs.
Guide
Guiding individuals to the right provider, the right care, right medications and right lifestyle.
When individuals have the resources and support they need to take control of their health, they're motivated to live healthier lives. Through integrated technology and collaboration among nurses, care teams, physicians and providers, we help people change their behavior in ways that positively impact their health.
Provide health management
Provide meaningful support by building trusted relationships.
We deliver support and outreach based on an individual's specific needs. A person with more than one condition is assessed for risk level and potential impact. We apply a hierarchy to help ensure their most immediate and critical needs are met, and they are guided to the appropriate program(s).
Nurses are at the center of our condition management program. They listen and understand, to help individuals feel comfortable with their nurse and more engaged in their own health. With access to integrated technology, and in collaboration with the individual's health care team, our nurses create strong relationships and deliver personalized care to improve outcomes and mitigate costs.
Remote monitoring
Biometric monitoring is available at home or on the go, for both heart failure and COPD programs. The individual weighs in twice a day, and responds to questions about other symptoms. The information is transmitted over their telephone line to the nurse. The nurse reviews the information daily. If there are significant weight or symptom changes, the nurse verifies them with the individual, contacts the treating physician and confirms follow-up.
Remote monitoring also helps guide conversations and questions to discuss with the individual's doctor, helping people make the most of their time during office visits.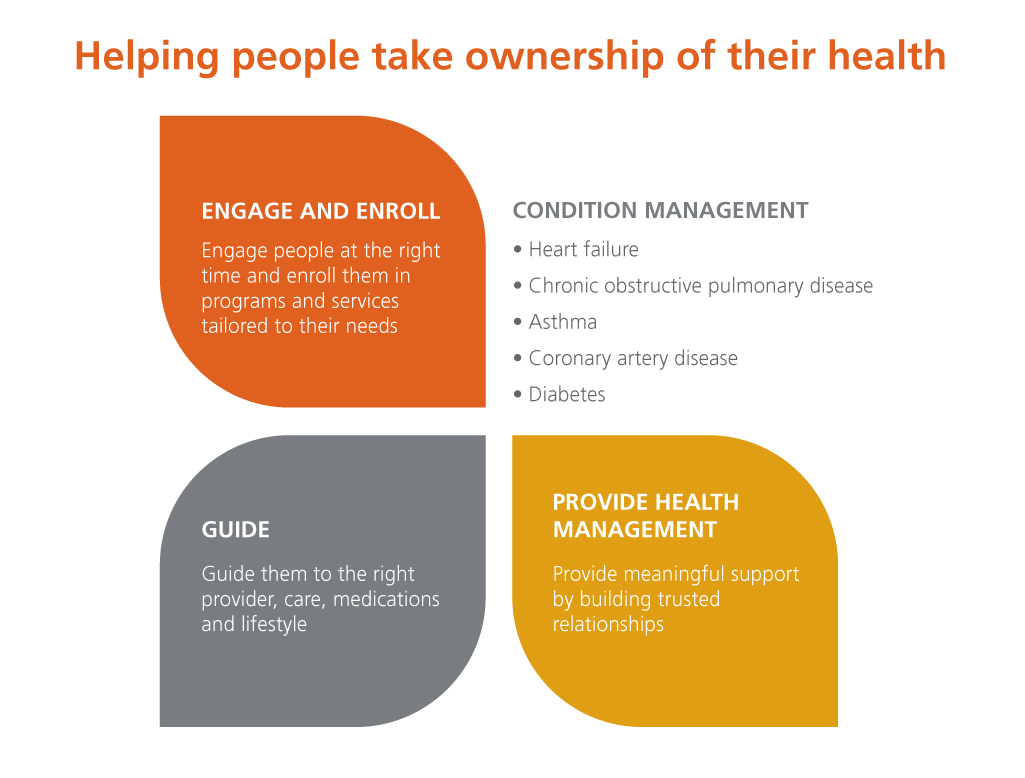 1. Gross savings/cost avoidance results are calculated from Optum clinical analytics in 2013 for entire population of intent-to-treat individuals and include all risk levels (low/moderate/high). Clinical hierarchy removes overlap between conditions. Individual clients' results may vary from those shown based on previous condition management experience and program configurations.
2. Optum, 2014 Q3 YTD Voice of Integrated Consumer Experience.
 
We're ready to put our solutions to work for you. Let's start the conversation.
Contact Us
1-866-386-3409