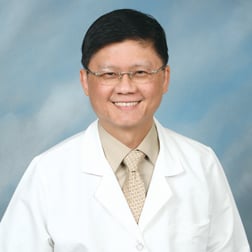 Kyaw Lyn, MD
Kyaw Lyn, MD
Internal�medicine

,

Internal medicine
Please contact clinic directly to confirm appointment availability
Board certifications
American Board of Internal Medicine
Overview
Biography
Kyaw Lyn, MD, is a board-certified internal medicine doctor. Dr. Lyn graduated from the University of Medicine 1 - Yangoon in Burma. He later completed an internship and a residency at the Los Angeles County-USC Medical Center in Los Angeles. Dr. Kyaw enjoys the challenge of being a doctor and likes to spend time with his family.
Qualifications
Internship
LAC + USC Medical Center
1995
Residency
LAC + USC Medical Center
1997
More information
Languages
I speak
Burmese,
English and
Chinese.