Text
How can we transition to comprehensive payment integrity?
Insights from Rob Mayer, Vice President, Product Strategy, Payment Integrity, Optum
If you want to maximize your ability to recover inappropriate claim payments and overpayments and reduce administrative costs, a comprehensive payment integrity strategy will help you achieve those objectives. Where most payment integrity efforts focus on post-payment, increasingly payers are exploring all payment touchpoints from avoidance to recovery and implementing a center-of-excellence (COE) operational model that oversees all aspects of payment integrity within a health plan.
Payers that take full advantage of this approach can see a 1–2% increase in medical expense cost savings — both in new incremental dollars and administrative cost savings. That can mean $100 million in potential annual savings by breaking down department silos and adding pre-payment and pre-adjudication cost avoidance to a health plan's existing post-payment recovery efforts.1
Text
What is comprehensive payment integrity?
Traditionally, payment integrity efforts have focused on post-payment recovery. In contrast, a comprehensive approach deploys analytics and strategies that encompass every step from pre-claim avoidance to post-payment.
Most payers are seeing excellent results with their post-payment efforts. It's a proven model to recoup funds to fuel growth and expansion. But over the past 10 years, the evolution of analytics and predictive modeling have enabled an even more sophisticated strategy. This is driven by demand from the Centers for Medicare and Medicaid Services (CMS) on a state level. In fact, for the past decade, state governments have used this advanced model to drive down expense and increase revenue. Now commercial payers are recognizing the dramatic advantage comprehensive payment integrity delivers.
Text
How do we get there from where we are today?
Let's start with some reassuring news: The transition to comprehensive payment integrity is not an all-or-nothing decision. You can start slow or go all-in quickly, depending on your objectives and priorities and the state of your current payment integrity plan.
Keep in mind: you are not replacing post-payment cost containment. You are adding cost avoidance to yield net new incremental savings and reduce your administrative expense.
For most payers, the first step is overcoming a fragmented organizational structure. That means identifying all the areas where payment integrity activities take place and developing one office responsible for oversight of these activities.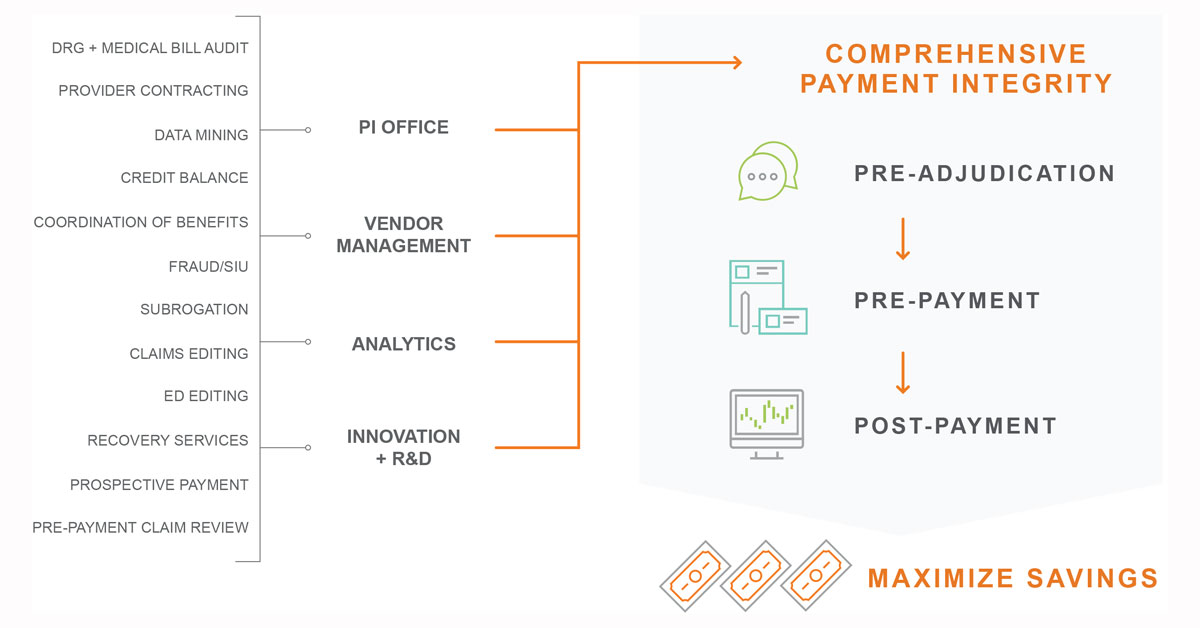 Horizontal Rule
in case you missed it
Horizontal Rule
RELATED RESOURCES
Text
What impact does this model have on our provider network?
Your payment integrity department office will also work with your provider network to ensure they understand why there may be an increase in audits and inquiries. Many providers — particularly those who work with the Centers for Medicare and Medicaid (CMS) — are already helping support pre-payment efforts.
Once a comprehensive payment integrity structure is set up and some level of maturity is achieved, any perceived disruption is greatly reduced and relationships overall are actually enhanced. Think of it this way: Comprehensive payment integrity identifies and addresses problems before money is paid, not after. This greatly reduces clawbacks — one of the most abrasive parts of payment integrity.
Text
What kind of technology does comprehensive payment integrity require?
Health plans need the right IT support to succeed. We recommend the "as a service" or "aaS" model, which delivers the services through the cloud and on behalf of our clients. In creating your ITaaS foundation for comprehensive payment integrity, you also enable future capabilities without further upfront implementation.
If we want to start slowly, where would we begin?
Start with an assessment that identifies your current post-payment successes and provides benchmark insight to see where you can achieve your first pre-payment gains. For example, if an assessment reveals that your highest risk is in cardiology and oncology, you can focus on those aspects. Predictive scoring models prioritize your efforts.
Overall, you control how aggressive you want to be in making steps towards implementing a comprehensive approach. Launch with 50 initiatives or five — or 500. It's up to you. The key is that you will know where you can get the most value for your efforts. Secure early wins utilizing what you've learned from your existing post-pay strategy. That way, you reinforce the value of the payment integrity office and the benefits of aligning efforts organization wide.
The most successful strategies have an executive-level champion able to gain buy-in from siloed departments to unify payment integrity efforts — both internally, with other departments, and externally, with your payment integrity vendors.
Text
How will we know if we are being successful?
Our benchmarking process provides the relevant comparisons to tell you state by state, product by product, what others in your market are achieving with comprehensive payment integrity. By working with a partner that has extensive benchmarking experience, you get the outside perspective to help your internal teams recognize the value this approach can deliver.
How much experience does Optum have in comprehensive payment integrity?
We've been working with the CMS and more than 300 health plans in the payment integrity space for more than 15 years. In that time, we've developed the algorithms and analytics to create the predictive models state governments and health plans use to achieve significant medical expense cost savings. Insights gained from this experience — and from our national payer clients — enable us to support you with a comprehensive strategy to identify and recover inappropriate claim payments and overpayments, and reduce administrative costs.
Text
1.For a 500,000 member health plan in the Midwest, our assessment process found an annual medical expense savings opportunity of 2.8%.
Text
Rob Mayer, Vice President of Product Strategy,
Payment Integrity, Optum
Rob Mayer joined Optum as Vice President of Product Strategy in our Payment Integrity business in mid-2016. In his current role, he leads consulting engagements with health plan clients across the Nation helping adapt and shape Optum's various product lines to help health plans solve complex business issues. Prior to re-joining Optum, Rob spent the past three and a half years working for a large non-profit health plan based in New York City. In that role, Rob reported to the CEO and focused on leading and executing on the health plan's corporate strategy. Previously, Rob worked for Optum for 12 years, leading various payment integrity units and consulting with health plan and provider clients across the country.