Text
Recruit more patients and reduce trial burden
The Optum® Digital Research Network processes streaming electronic health record (EHR) data and notes from health systems. 
By leveraging natural language processing (NLP) to get information that is typically difficult or impossible to access in a structured way, you can access key services today.
Text
Reduce trial disruption and help define the next generation of clinical research
Collaborate with pharmaceutical and device sponsors on post-market studies that leverage real-world data 

Clinical trials designed using data to fit with normal course of care
Clinical trials designed to collect data on outcomes and adverse events directly from structured and unstructured EHR data

Use the near real-time EHR as a streaming source for clinical trial data collection

Data processed, curated and archived directly from the EHR (no case report forms (CRFs), no electronic data capture (EDCs))

Text
Push the boundaries of clinical research
Query structured and unstructured data to estimate eligible patient population.

Site-specific patient counts
Rolling patient eligibility forecasts
Patient-physician attribution

Compare current standard of care to trial protocol requirements.
Maintain up-to-date registry of eligible patients based on trial inclusion/exclusion criteria.
Text
How it works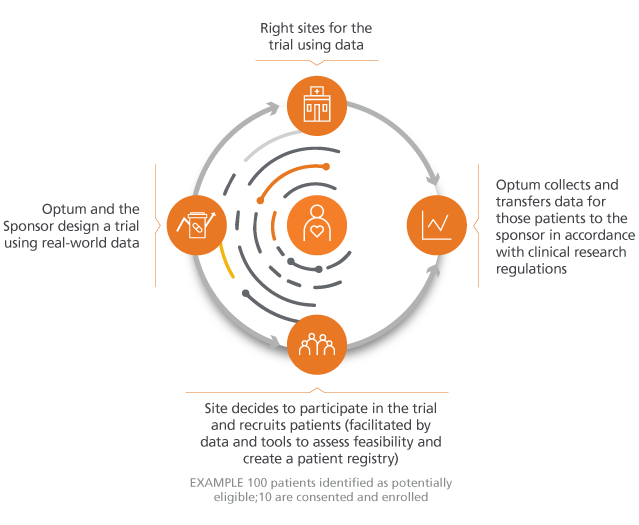 Accordion Block
Infographic showing a cycle of steps: 

Right sites for the trial using data
Optum collects and transfers data for those patients to the sponsor in accordance with clinical research regulations
Site decides to participate in the trial and recruits patients (facilitated by data and tools to assess feasibility and create a patient registry), example: 100 patients identified as potentially eligible, 10 are consented and enrolled
Optum and the sponsor design a trial using real-world data

Cycle repeats with step 1.
Text
Increase patient access to cutting-edge therapies and improve clinical research efficiency.
Text
Trial protocol, inclusion/exclusion criteria
Text
Optum analytics structured and unstructured data
Text
Trial feasibility, eligible patient population estimates and forecasts, patient registry
Text
Benefits to provider site
Trials are well suited to organization, patient recruitment/enrollment is higher
Manual data collection processes are eliminated/reduced
Real-world data allows for research insights to rapidly feed back into care processes