Text
Optum® builds integrated systems of care focused on specialty areas that complement existing networks and medical programs. Comprised of high-quality, clinically superior Centers of Excellence (COEs), our networks drive consistent outcomes and reduce overall spend.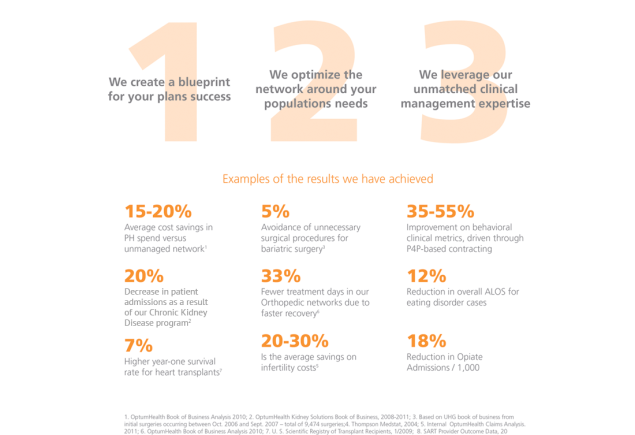 Text
AVERAGE SAVINGS
of 51 percent per transplant episode1


Text
52+ million members
with access to Optum Transplant network2
Text
Financial savings
of $7-$16K on cancer treatments3

Solution Tile Component
Horizontal Rule
LEARN ABOUT OUR SOLUTIONS
[Configure Slider]
Resource library
Text
McGillis, Z., Optum re-priced claims data, CMC Facets. 2014. Accessed August 10, 2015.
Ruppert, M., Analysis of data taken from the June 2014 SRTR Data Release. Data is for all heart transplants performed from 1/1/2011–6/20/2013. Optum network status as of 10/28/2014.
Optum internal book of business analytics; participant vs. non-participant study of 1.2 million cancer claims, 2010–2011.