Text
Musculoskeletal conditions, including neck and back pain, make up the largest portion of medical expenses for health plans.1 Spine care for neck and back pain accounts for 40 percent of estimated annual total orthopedic costs in the United States,1 adding up to $849 billion.2 Our analysis shows that more than 75 percent of spine care expense is associated with surgery, imaging, prescriptions, injections, evaluations and emergency room visits.1
Text
A comprehensive chiropractic care program
Evidence suggests, however, that unnecessary treatments could be avoided with a conservative approach of over-the-counter medication, manipulation and exercise.3 To help health plans meet this need for members, Optum® developed a comprehensive chiropractic care program — one that focuses on educating members about treatment options, including conservative chiropractic care.
Optum has developed a comprehensive program to help you address the variability of treatment plans using chiropractic care. Our approach helps you provide chiropractic benefits with confidence, through:
A high-performing provider network
Clinical support and expertise
Individual guidance and support
Efficient administration
Text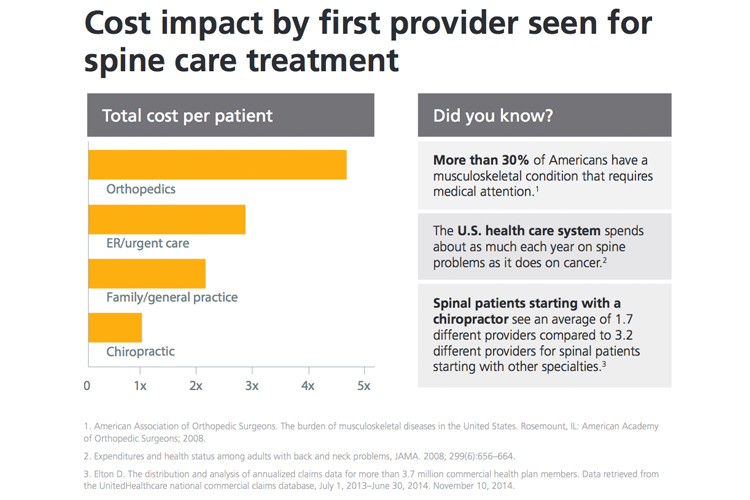 Text
High-performing provider network
Our expertise in identifying and developing a broad nationwide network supports local, regional and national access to chiropractors. We pride ourselves on fostering strong provider relationships, making the transition to our network smooth for your members.

Our current chiropractic program has:
More than 29,000 network providers with National Committee for Quality Assurance (NCQA) credentials

A tiered network of high-performing providers

Narrow network options to support specific client needs and emerging business models

A provider portal with access to evidence-informed treatment resources and guidelines
We are committed to growing where you need us, with a network staff exclusively focused on expanding and managing our coverage area. Our dedicated network-development department works closely with you to identify network needs, fill provider accessibility gaps and reduce out-of-network costs. These capabilities allow us to quickly meet and implement our clients' provider accessibility goals, minimizing disruption for members.
Text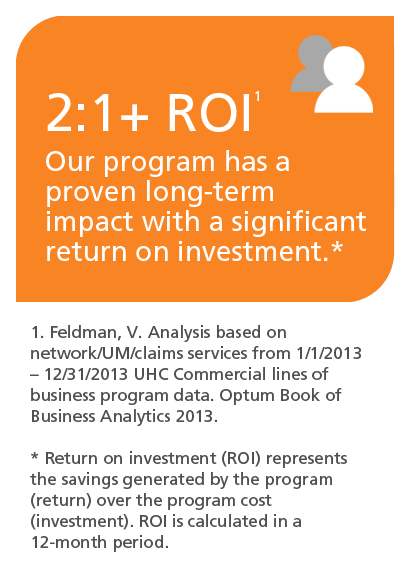 Text
Clinical support and expertise
Treatment costs and protocols for similar ailments can vary widely between chiropractors, which can drive up costs. That's why offering access to high-performing providers is a top priority for Optum.
To ensure provider quality and consistency, we:
Focus on outreach and communication. Our team of 50-plus in-house clinicians, and more than 70 external clinicians, is available to inform providers of effective, cost-sensitive solutions.

Share best practices. We carefully analyze our claims data to determine where and when to contact providers to deliver the most up-to-date support and guidance. This helps improve quality and reduce variability in treatment.
Text
Individual guidance and support
Members faced with medical conditions often seek extensive treatment options, which can have disappointing outcomes. As a result, you may be faced with higher claims costs. That's why we focus on educating members about treatment options, including chiropractic care. Self-service tools like our provider locator and back pain assessment tool empower your members to take control of their treatment.
Text
Self-service tools for consumers
Optum empowers consumers to take control of their health and treatment options with easy-to-use online tools and resources, including:
Provider Locator: Helps consumers make informed choices when searching for providers.

Back Pain Assessment Tool: Helps consumers learn self-care options and conservative care* strategies, when appropriate.
Text
Efficient administration
Our operations teams are committed to delivering service excellence. Whether it is the processing of a claim or the handling of an incoming service phone call, we strive to exceed our performance standards. Additionally, we monitor and manage compliance with changes in health care law. Services include claims administration, provider relations and reporting, as well as provider and member call centers.
Text
The value of our chiropractic program
Working with Optum to provide chiropractic services to your members benefits your organization in a number of ways. Our program helps you:
Improve savings. We work with health plans to evaluate your total spend on chiropractic, identify opportunities to reduce unnecessary spend, and develop customized solutions to impact your bottom line. Typically, health plans realize a 45 to 55 percent average contractual discount.4

Reduce variability in treatment costs and outcomes. Our focus on provider quality and consistency ensures your members have access to providers who are following industry standards. Our program has a proven long-term impact with a typical return on investment of more than 2:1.5

Encourage health care consumerism among members. Our guidance and support empowers consumers to take control of their treatment.

Relieves administrative burden. We take over the administrative and compliance challenges, allowing your organization to focus on something more important — your members.

Increase member satisfaction. Providers in our networks get high scores from patients using our network of physical, occupational and speech therapists.6
Text
Patient satisfaction with network providers
Our focus on fostering strong provider relationships pays off in high levels of patient satisfaction, as demonstrated by the 2013 Consumer Assessment of Healthcare Providers and Systems (CAHPS) consumer survey.