Text
A better way to manage specialty costs
Learn how Optum Specialty Fusion streamlines cost and care.
Text
Optum Specialty Fusion unlocks up to $15 PMPM savings across pharmacy and medical benefits
Managing the cost of specialty treatments is a primary challenge for plan sponsors. Specialty treatments are currently the biggest driver of overall spend. Costs are expected to reach $505 billion in spend by 2023 as the volume of new specialty drugs continues to increase rapidly.1
Aside from the increasing cost of specialty therapy, another factor is the complexity it is adding to the care delivery system. Specialty drugs are often biologic drugs requiring specialized handling or administration. 2 Often they require intense clinical monitoring to manage side effects as well as frequent dosage adjustments.
In addition to these challenges, the growth in specialty medications presents new coverage decisions. Specialty medications are billed or covered under the pharmacy benefit as well as the medical benefit plan. This can make it harder for plan sponsors to make the right coverage decisions.
Until recently, specialty medications sold in low volumes. In the mid-1990s, there were fewer than 30 specialty medications. These medicines usually targeted rare diseases with small patient populations, like hemophilia, human immunodeficiency virus (HIV) and multiple sclerosis. However, this has changed. Today there are more than 400 specialty drugs. 3
While specialty drug makers continue to address rare disease populations, many newer products target more common chronic diseases. This includes ailments such as rheumatoid arthritis, cancer and asthma.
A growing need for real-time provider decision support
The increasing utilization of specialty medications is driving a related increase in the amount of information required to make clinical decisions. 4 Consider the sheer volume and complex patient profile decisions available for cancer treatments. Clinicians and payers widely recognize the National Comprehensive Cancer Network (NCCN) guidelines as the standard for clinical policy in oncology. The NCCN guidelines now take up 198 pages, compared to 26 pages in 1996.
Processing all this information to arrive at an appropriate coverage decision requires sifting through huge amounts of data. This deluge of specialty medications has overburdened providers, who may not always know the best treatment at the lowest cost. The lack of clarity ultimately hurts plan sponsors, who often pay high costs, and patients, who can experience delays in receiving crucial care.
To tackle this challenge, OptumRx worked jointly with enterprise partners. Together we connected data, analytics and insights and combined it with industry-leading technology, clinical and administrative expertise. The result is Optum® Specialty Fusion TM, a first-of-its kind solution designed to drive better health outcomes and lower costs across all benefits.
Optum Specialty Fusion provides physicians real-time insight into the best clinical and financially appropriate specialty treatment options through a market-leading prior authorization tool. With the specialized clinical expertise and analytics powers of Optum, Specialty Fusion gives providers unrivaled decision support at the point of care.
To access Specialty Fusion opportunities, providers enter patient data into their prior authorization portal. The decision engine then analyzes dozens of treatment options to determine the most cost-effective, evidence-based treatment options in seconds.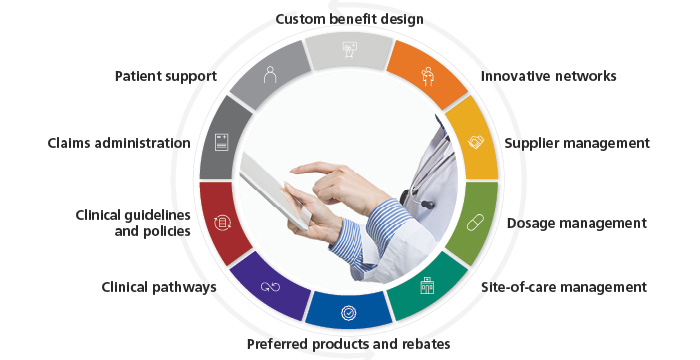 In addition to enhanced decision support, Optum Specialty Fusion also reduces a longstanding source of frustration for providers. The American Medical Association reports 85% of physicians view the prior authorization process as a high or extremely high administrative burden. 5 Moreover, it can also be time consuming, with 65% of physicians saying the process can take a business day or more to complete. 6
Optum Specialty Fusion works quickly to help providers secure treatment approval. If approval for a treatment is granted, it can be done in under 10 minutes. This reduces administrative hassle and can help provide faster access to therapy for patients. In fact, to date, we maintain a 63 Net Promotor Score from providers who use the Specialty Fusion prior authorization platform. 7
Empowering plan sponsors with customized insights
Optum designed Specialty Fusion to meet the unmet needs of plan sponsors. One unique aspect of specialty treatments is that they span across benefits. Roughly 60% are billed under the pharmacy benefit and approximately 40% are billed on the medical benefit.8 Because of this, plan sponsors have lacked a convenient way to compare costs for a given drug administered under either benefit.
Optum Specialty Fusion answers this need through a modernized analytics capability called Specialty Compass. This new analytics tool integrates both pharmacy and medical data to guide overall decision-making and deliver customized plan sponsor insights.
Diving deeper into the data, Optum Specialty Fusion also helps plan sponsors understand the impact of additional cost levers. These can include the impact site of care, rebates, copay cards and the availability of biosimilars have on the cost of specialty medicines. This comprehensive, cross-benefit analysis can unlock significant savings for plan sponsors — up to $15 per member per month (PMPM) medical and pharmacy savings. 9
Moreover, Specialty Fusion will also help specialty patients. By helping make complex specialty care simpler, Optum improves care coordination and lowers the time to therapy.
"Patients suffer from the increasing costs of specialty therapies," says Heather Cianfrocco, OptumRx, CEO. "Optum Specialty Fusion truly provides the right care at the right cost, with full transparency to all medical and pharmacy benefit options."
This leading-edge solution is a prime of example of how Optum is redefining the boundaries of what specialty management can be. Optum Specialty Fusion is currently available for employers and health plans with more than 200,000 members. It will be available for client implementation in early 2022.
For employer and health plan clients with less than 200,000 lives, many of the components of Specialty Fusion are available as point solutions. These include innovative provider networks, custom benefit designs and site-of-care management.
For more information on Optum Specialty Fusion, email us at fusionInquiries@optum.com. You can also reach out to your Optum representative to learn more about Optum Specialty Fusion and other ways you can address rising specialty costs.
Text
References
1. IQVIA. The Global Use of Medicine in 2019 and Outlook to 2023. Accessed Aug. 10. 2021
2. Academy of Managed Care Pharmacy. Concepts in Managed Care Pharmacy: Specialty Pharmaceuticals. Posted July 18, 2019. Accessed July 22, 2021.
3. CoverMyMeds LLC.  Specialty Medications: Hope for Patients, Hurdle for Healthcare. Published March 14, 2019. Accessed
4. JAMA Network Open. Changes in Length and Complexity of Clinical Practice Guidelines in Oncology, 1996-2019. Published March 13, 2020. Accessed July 22, 2021.
5. American Medical Association. 2020 AMA prior authorization (PA) physician survey. Accessed on July 22, 2021.
6. American Medical Association. Prior Authorization: AMA Perspective. Accessed on August 2, 2021.
7. Optum analysis of September 2020 book of business. Net Promoter, Net Promoter System, Net Promoter Score, and NPS are registered trademarks of Bain & Company, Inc., Fred Reichheld and Satmetrix Systems, Inc.
8. Milliman. Commercial specialty medication research: 2019 benchmark projections. Accessed on July 22, 2021.
9.  Optum internal analysis. 2021. Actual savings will vary depending on actual client programs in place
Text
STATEMENT REGARDING FINANCIAL INFLUENCE:
This article is directed solely to its intended audience about important developments affecting the pharmacy benefits business. It is not intended to promote the use of any drug mentioned in the article and neither the author nor OptumRx has accepted any form of compensation for the preparation or distribution of this article.