Text
The multiple sclerosis (MS) Insight Report is part of an ongoing series presented by OptumRx that examines some of the most complex and expensive treatment classes today.
For all of these conditions the headline story is that they are extremely expensive to cover. Our goal is to let you see behind the headlines, and understand that in each case, these conditions present their own unique characteristics.
These unique characteristics will help shape the management strategies we deploy to treat such complex conditions to achieve the best possible outcomes at the lowest cost.
In this article we will sketch the four key aspects of MS. Succeeding articles will take us into the details of the treatments, cost drivers, and management tools available to OptumRx clients.
Text
1. MS is a uniquely debilitating disease

MS is an unpredictable, often disabling disease of the central nervous system. MS is caused by damage to the nervous system by the body's own immune system, which disrupts the flow of information within the brain, and between the brain and body.1
Multiple sclerosis literally means "many scars," which refers to the lesions and areas of thick scar tissue that can accumulate in the brain and spinal cord throughout the course of the disease. Magnetic resonance imagery (MRI) is an important diagnostic tool used to detect this nerve damage.2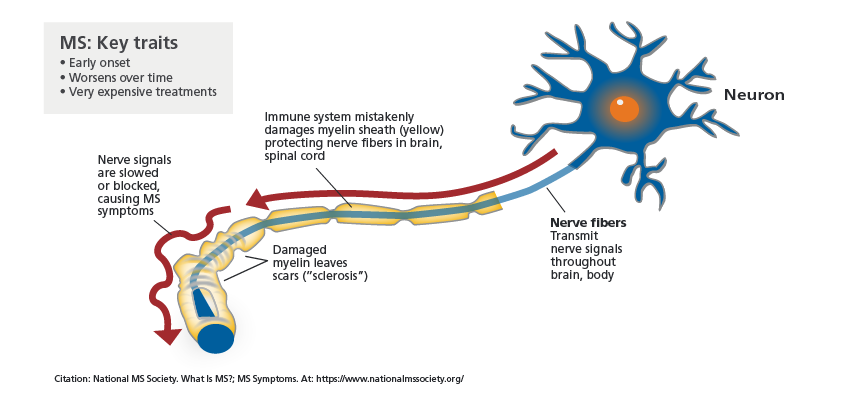 2. MS afflicts people in the prime of life

Most MS patients are diagnosed during their peak working years, between age 20 and 50.3 One study suggests that there are approximately 400,000 to 570,000 MS patients in the U.S.4
This graph shows the prevalence of MS among a large commercially insured population, (which varies somewhat from the population at-large):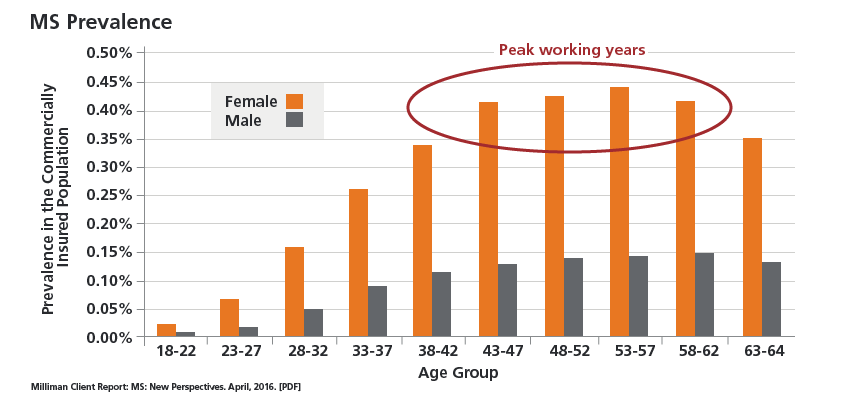 Other demographic factors include:
MS is not contagious or directly inherited.3
MS is at least two to three times more common in women than in men.3
MS is thought to be triggered by a combination of one or more environmental factors that interact with approximately 60 different genes.3
Forms and symptoms
New diagnostic criteria and tools, in particular magnetic resonance imagery MRI, are helping to uncover new cases of MS sooner than before. This is vital, as MS damage to the nervous system is irreversible, and some people may already have experienced some functional decline before they are even diagnosed.4
MS presents as four different disease courses. Relapsing MS (RRMS) is the most common of the four disease courses, accounting for 85% to 90% of patients. Relapsing MS is characterized by a disease flare up (relapse) followed by a recovery period (remission).5
Approximately 10-15% of MS patients have primary-progressive MS (PPMS). In this form, patients typically see steadily worsening neurologic function, largely without remission.5
Note: MS categories have recently been revised. For the record, the two other recognized MS courses are:
Clinically Isolated Syndrome (CIS): A first episode that could become MS if additional inflammatory activity occurs.4
Secondary Progressive MS (SPMS): Following an initial relapsing-remitting course, the disease becomes more steadily progressive.4
Regardless of the diagnosis, no two people have exactly the same symptoms.6
Horizontal Rule
Most Commonly reported symptoms of MS
Text
Milliman Client Report: MS: New Perspectives. April, 2016. [PDF]
Text
While the progress, severity, and specific symptoms of MS are unpredictable from person to person, in the worst cases, MS can render a person unable to write, see, speak, or walk.7
Text
3. Treatments options abound but are expensive

Today, MS treatments are centered on the drug class called Disease Modifying Therapies, or DMTs. DMTs work by suppressing the immune system so that it doesn't attack the nerves.8
While DMT medications do not cure MS, they do work to slow disease activity while reducing the severity and frequency of flare-ups. Additionally, DMTs may delay disease progression, delay disability, and increase longevity.8
Most MS patients (65%) use DMTs:
Text
Milliman Client Report: MS: New Perspectives. April, 2016. [PDF]
Text
Unfortunately, DMT medications are very expensive – in fact, substantially more than other biologically-engineered pharmaceuticals.9 The good news is that MS patients who begin DMTs early and maintain them over time show lower absenteeism and improved productivity.9 And, when used consistently, DMTs are associated with lower overall health care costs.4
Text
In addition:
There are over a dozen DMTs currently approved by the Food and Drug Administration (FDA) to treat the most common form of MS (RRMS).
Most DMTs have an FDA indication just for RRMS.5
This graph shows some of the more commonly-prescribed DMTs and their average annual acquisition costs as of mid-2017:
Text
4. MS can be managed

MS is a potentially debilitating disease with high treatment costs, mainly due to high prices for MS drugs. But early treatment, paired with robust management strategies to ensure efficient medication use, can help employers successfully control the costs of MS and retain the services of valuable employees.
We recommend that clients take advantage of Optum Specialty Pharmacy, as well as available formulary and clinical utilization management (UM) programs.
Please see the upcoming "Management Strategies" section for more about how the broad suite of financial and clinical tools OptumRx uses to manage MS costs.
Text
STATEMENT REGARDING FINANCIAL INFLUENCE:
This article is directed solely to its intended audience about important developments affecting the pharmacy benefits business. It is not intended to promote the use of any drug mentioned in the article and neither the author nor OptumRx has accepted any form of compensation for the preparation or distribution of this article.