Text
EBOOK
Using 'Moneyball' to transform health care
Text
How analysis of big data can cut costs, improve outcomes.
Text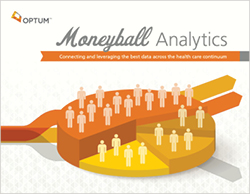 Text
Famed Oakland A's manager Billy Beane used a controversial approach to building a better – and cheaper – baseball team. He started using data differently. The idea inspired the book and movie - Moneyball.

Health care has the chance to rethink its use of analytics and similarly spark a revolution – one that can improve outcomes and cut costs.
Text
In the free eBook Moneyball Analytics you'll read about:    
The basic components of high-quality data

Creating a more complete patient profile

How to get started, manage the middle of the journey, and continue the work to find value-based care success
Horizontal Rule
Complete the form to download
Text
Please complete the short form to download the eBook.