Image - Responsive Rendition Support

Text
SPECIAL REPORT
Measuring attitudes and adoption of AI
AI is proving transformative in modern health care delivery. Coupled with the right expertise, it can enhance decision-making and turn "smart" tasks into game-changing tools and technologies for patients, care providers, business professionals and researchers.
The second OptumIQ™ Annual Survey on AI in Health Care asked 500 health care executives key questions about AI implementation and investment. You may have seen recent coverage on the press release from Forbes, TechTarget, Healthcare IT News and more.
Our special report goes behind the numbers to reveal:
How rapidly AI adoption is growing among health care leaders
Clinical applications or administrative functions — where is trust in AI highest?
Three years? Five years? What is the forecast for ROI in AI?
How quickly will the industry see more investments in AI?
Access subscriber-only insights
When you subscribe to updates from Optum, you'll receive exclusive access to third-party research, articles, videos and more. Please complete the form to subscribe for access to the results of the second OptumIQ™ Annual Survey on AI in Health Care.
Text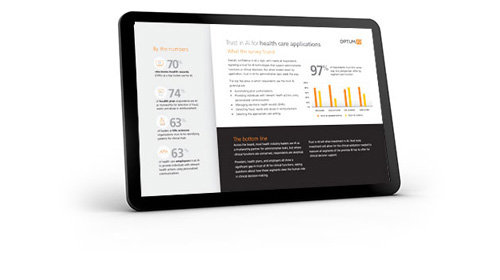 Text
OptumIQ
Please complete form below to subscribe and access the special report.