O4 1 Column (Full)
O4 Text Component
Customizable and comprehensive solutions
The ongoing effects of the COVID-19 pandemic, including those for employers, will be felt for months, if not years, to come.
The need for testing and vaccination support will continue as you work to bring employees back to the workplace. And other issues, like those associated with the deferral of care and mental health, will need to be addressed quickly.
We can support these needs with customized, comprehensive solutions designed to help employees return better.
O4 50-50 Content Block
The many faces of pandemic recovery
As the COVID-19 pandemic continues to unfold, it is important to understand that recovery looks different for everyone. But there are important steps employers can take to help.
O4 Simple Cards
O4 Simple Card
Address Mental Health Challenges from COVID-19
Attend to the explosion of need due to COVID-19.
O4 Simple Card
COVID-19 Vaccine Support
Discover what employers need to know about COVID-19 vaccines.
O4 Simple Card
Creating a Safe Return-to-Worksite Strategy
What types of COVID-19 resources suit your worksite needs?
O4 Simple Card
Support a Return to Routine Care
Find accessible care to reduce risks and close critical gaps.
O4 Complex Card
Infographic
COVID-19 vaccines
See how we're partnering with employers to help operationalize their COVID-19 vaccination programs.
O4 Complex Card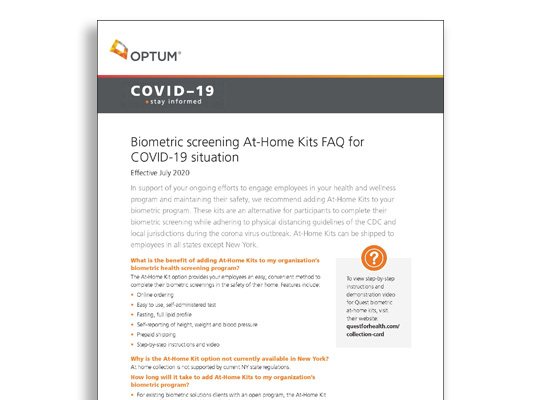 Fact sheet
Biometric screenings for the COVID-19 situation
Support employee health and well-being by adding at-home kits to your biometric program.
O4 Complex Card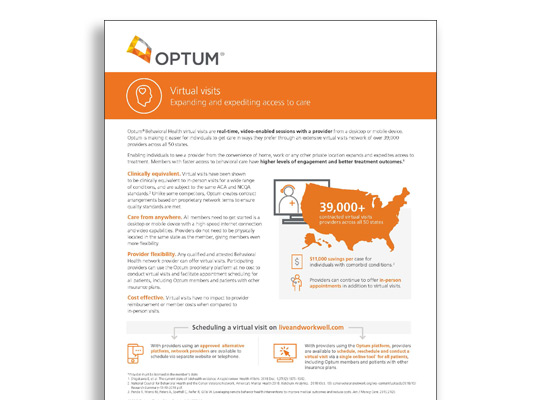 Fact sheet
Behavioral Health virtual visits
Optum Behavioral Health virtual visits are real-time, video-enabled sessions with a provider.