O4 1 Column (Full)
O4 Text Component
High costs of treating CKD and ESRD
Chronic kidney disease is progressive and often evolves slowly with few symptoms. As the disease progresses, the prevalence of other, simultaneous conditions such as diabetes, hypertension and cardiovascular disease increases.1 Individuals who have reached the disease's end stage (ESRD) must go on dialysis and may begin to be hospitalized frequently. These complexities contribute to the high costs of treating CKD and ESRD.
O4 1 Column (Full)
O4 Text Component
Identifying and treating every stage of chronic kidney disease
We offer a range of products and services to address kidney disease concerns. Whether an employee is in the early stages of chronic kidney disease or experiencing kidney failure, we offer comprehensive solutions.
O4 1 Column (Full)
O4 Text Component
By addressing lifestyle, diet and management of underlying conditions, our comprehensive kidney disease program engages employees in mid- to late-stage CKD to positively impact outcomes and control costs. Our experienced nurse advocates help your employees coordinate care, delay or avoid dialysis, and mitigate risks associated with comorbidities.
Using national clinical guidelines for treatment and evidence-based medicine, our pre-dialysis program includes:
Early disease identification and management through provider referrals and comprehensive claims-mining capabilities

Education on a kidney-friendly lifestyle and options for treatment, including pre-emptive transplant


Management by a nephrologist for individuals with stages 4 and 5 diseases

Slow disease progression by working to manage the underlying cause(s) of kidney failure and prevent further kidney damage

Reduced medical complications associated with the disease


Managed transitions to dialysis via proactive planning and quality, in-network dialysis facilities
O4 1 Column (Full)
O4 Text Component
End-stage renal disease program
For patients who are receiving dialysis, we work with their providers and caretakers to help them receive appropriate care. We focus on mitigating risks due to the underlying cause of renal failure as well as risks related to ESRD, such as cardiovascular disease, anemia, poor nutrition and depression.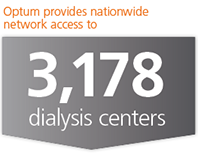 Our holistic approach means that our renal-trained nurses focus not only on the clinical, but also on the social and financial implications of ESRD. Our experienced nurses help your members by:
Educating them on the disease and encouraging their participation in treatment decisions

Providing techniques to help them stay on track with their treatment plans and reduce risks

Monitoring therapy, identifying gaps in care and addressing gaps with their providers

Reducing overall costs by encouraging evaluation for kidney transplantation and monitoring transplant progress

Directing them to quality, network dialysis facilities

Assessing their behavioral health, safety, home health care and durable medical equipment (DME) needs, and coordinating appropriate referrals


Helping them find and use support organizations, community-based services and governmental programs
Discover how to partner with Optum today