O4 1 Column (Full)
O4 Text Component
Identification, treatment and management
Early engagement is critical for managing chronic kidney disease (CKD). Asymptomatic in the early stages, nearly 90% of adults with CKD are unaware they have the disease.1
Through our curated data, analytics and expertise, we identify and engage employees before their kidneys fail and dialysis is required. Prompt identification allows timely education on preemptive transplantation, which has been shown to have the best outcome.
Comprehensive Kidney Solution (CKS) is our disease management solution, comprised of two integrated, evidence-based condition management programs:
CKD stages 4/5: Pre-dialysis program focusing on delaying disease progression and preparing individuals for renal replacement therapy

ESRD: Program to manage the population on dialysis, which is characterized by frequent hospitalizations and multiple comorbidities
CKS enables excellent clinical and economic outcomes for both CKD and ESRD with proven material savings and improvements in quality of life in the months preceding initiation of dialysis.
O4 Text Component
Dialysis network access
The Optum kidney dialysis network maximizes accessibility, outcomes and savings. We partner with top dialysis centers across the nation to provide needed quality care at negotiated rates.
Access to the more than 6,100 dialysis centers can reduce dialysis costs by an average of 55%, ranging from 35 to 70%.
In situations where patients cannot conveniently access a contracted dialysis center, we will negotiate patient-specific agreements or use partnership agreements with PPO networks to get the best possible discount.
There are more than 6,100 dialysis center locations nationwide, including Fresenius and DaVita.

99% of centers are Medicare-certified.
O4 Complex Card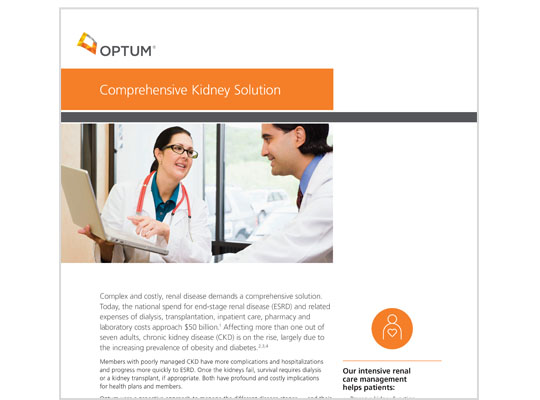 Comprehensive Kidney Solution (CKS)
Complex and costly, renal disease demands a comprehensive solution. Download the fact sheet to learn more.
O4 Complex Card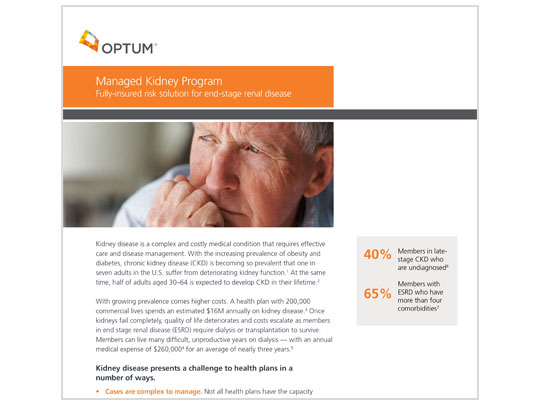 Managed Kidney Program
Learn more about the Managed Kidney Program, a fully insured risk solution for end-stage renal disease.
O4 Complex Card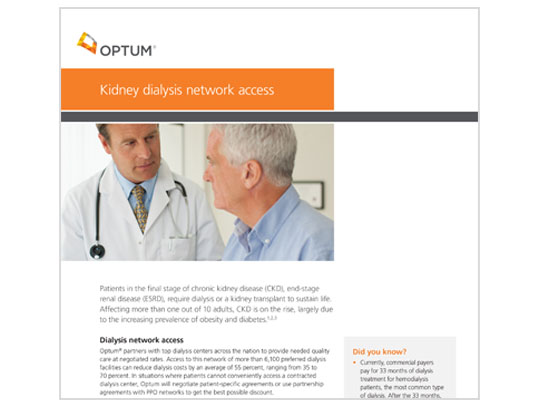 Kidney dialysis network access
Patients who are in the final stage of CKD or ESRD require dialysis or a kidney transplant.
Discover how to partner with Optum today